Julis Bullock Expands Harawi in Aix
Choreographed Drama by Zack Winokur
By:
Susan Hall

-

Jul 22, 2022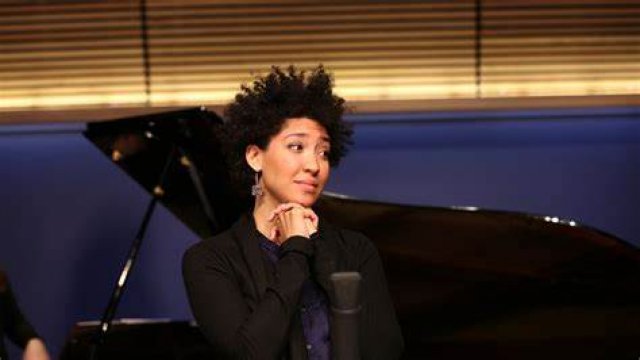 Julia Bullock came to the music world's attention in her charming performance as Vixen in the Janacek opera at Juilliard in 2013. Then the range of her voice, its delightful textures and phrases were immediately apparent. Since her Juilliard debt, Ms. Bullock has performed in major opera houses across the globe. Peter Sellars brought her to Teatro Real in Madrid. John Adams cast her in a leading role in his most recent opera, Girls of the Golden West. Bullock has made an opera career outside of conventional wisdom and molded it with her own sensibility and choices.

Bullock is billed as a grand singer. Olivier Messiaen, intrigued by the human voice, wrote his song cycle based on this large and dramatic voice. Lincoln Center presented Bullock in a Tyshawn Story take on Josephine Baker. The Metropolitan Museum of Art repriesed this event on its main steps of its central hall.
Bullock is brave to take on Harawi, Messiaen's songs of love and death. The cycle of twelve songs is written in French and from time to time features words in Quechuan. The text is surreal. Isolated symbols are released from their grammatical and syntactical constructions. Words can be wordless. Peruvian love songs are mixed with the myth of Tristan and Iseult, written from the point of view of Piroutcha, the Iseult character.
Birdsongs, Quechua syllables that sound like ankle bells, and staggering sonic depictions of the huge and divine world are suggested. The singer and pianist face challenges that seem impossible, and yet are achieved. She likes this zone.

So does Alphone Cemin who stepped in as pianist at the last moment. As a soloist, he has performed under the direction of Pierre Boulez (Pierrot Lunaire), David Robertson and Mathias Pintscher. In 2010, he was HSBC Pianist of the Aix- en-Provence Festival Academy and in 2013 he received the Stockhausen Kurse Ku?rten Performance Award. In 2017 he won the Gabriel Dussurget prize at the Aix-en-Provence festival. He is a remarkable accompanist and performer.
The Harawi piano part is often helter-skelter, offering characteristic chiming notes at the top of the keyboard and harsh percussive sections. Mr. Cemin holds the work together, yet primarily responds to Ms. Bullock's sense of timing and dynamics.
Bullock mixes sensual love and sacred mystery. She is an interesting performer. While you sense that she deeply understands the meaning of what she sings, insights have been internalized. What emerges in notes is a rich mix of feeling, ideas and the character of the singer. It is less a road trip than a stunning dramatic tone mix into which the listener can dive. Beauty and variety of tone are melded. Bullock dares to explore the extremes, musician and emotional. She pushes to a screech at the end of Repetition Plantarie. No hint of danger. Seemingly simply there in the tone.
Two dancers, choreographed by Bullock's American Modern Opera Project colleague Zack Winokour, are offered. The dancers. Bobbi-Jean Smith and Or Schraiber, move in orgiastic rhythms. Smith is a green dove, her movements smooth and punctuated with yoga-like postures. Schraiber picked up jazzy rhythms to accompany sometimes frenzied singing in the songs like 'Syllabes', 'L'Escalier redit', 'Gestes du soleil' and 'The Staircase Retold, Gestures of the Sun.' He danced amusing and ragged movements moments full of surprise and delight.
The lighting focuses on Bullock, yet she is generous and collaborative. She shares her bench with Smith. She embraces Schraiber and does a foxtrot with him. All the gestures are spellbinding.
Bullock's remarkable voice is central. Over the years, each of her special talents has been enlarged. Her voice has become large, not by making it louder, but by enriching breath. Her quiet notes remain textured whispers. Always there is a special quality, whether Bullock is challenged by rapid rhythms or wide leaps. She remains a consummate actor who delivers great pleasure.