Murder for Two
Reopening Ivoryton Playhouse
By:
Karen Isaacs

-

Jul 23, 2021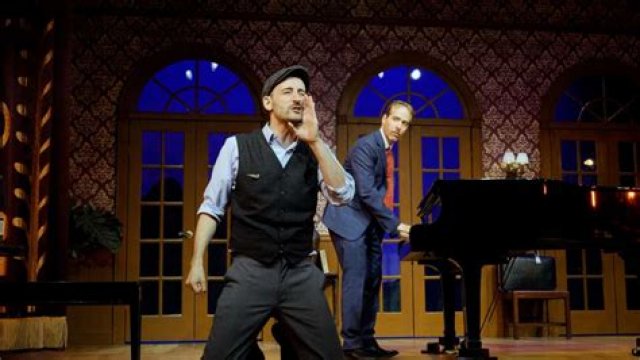 Blending several different theatrical genres and making it all work is a challenge. Murder for Two, which is reopening Ivoryton Playhouse combines elements of farce, murder mysteries and musicals.
Murder for Two, running through Sunday, Aug. 1, is based on the familiar murder mystery genre where all the suspects are in one place and each has a motive. Agatha Christie used the idea multiple times with different detectives.
This show adds a twist or two. It is a semi-musical; two actors play all the roles; and both play the piano.
The setting is the New England mansion of author Arthur Whitney. Scenic designer Martin Marchetto has created a very elegant and upscale main room where friends and family have gathered for a surprise birthday party. It really is a surprise; Whitney is shot in the forehead as he is arriving at the party. (Don't ask why he wasn't at home that evening; some happenings occur to make the plot work.)
Marcus Moscowitz of the local police force arrives on the scene; though not a detective he aspires to be one and while the "real" detective is in route, he sets out to solve the case.
Who are the suspects? First is the wife, Dahlia who feels that Whitney had lured her into marriage with promises of making her a star and then reneged on the plan. She's still looking to do her "big number." Then there's the ballerina Barrett Lewis who has been a "special friend" to Whitney. Another guest is the psychiatrist Dr. Griff who has apparently treated everyone at the party (and Moscowitz, as well) and knows all their secrets. Finally there is Whitney's niece, who wants to help Moscowitz. Add in three street smart kids (Timmy, Yonkers and Skid) who are the remaining members of a choir hired to perform and some others and the stage is set.
Ian Lowe plays Moscowitz as a relatively alert detective wannabe, telling his assistant, Lou, and later Steph to "stick to the process." He quickly realizes that Whitney revealed the secrets of each of the guests in his various books; getting the information from Dr. Griff. But Moscowitz has his own secret about a doomed love affair with a former partner, Vanessa. Thus everyone has a motive.
Lowe's portrayal is spot on; a bit plodding, a bit oblivious, and at times dense. The real detective is gettomg nearer and nearer.
Joe Kinosian, who composed the music for this show that debuted in 2011, plays all the other roles. At times, he is a little frantic but he does capture one distinctive element for each character. It might be Steph's "valley girl" voice, or Lewis' dependence of ballet poses, but he makes each character recognizable. It is an exhausting job.
Both Kinosian and Lowe play the piano to accompany the songs; sometimes individually and sometimes together.
Kinosian and Kellen Blair who wrote the book and lyrics, have provided some tuneful songs – from "Follow the Process," to "A Perfectly Lovely Surprise," to "He Needs a Partner" and others.
The main problem with this production was the sound quality and levels. It may be because I was seated in the balcony, but at times the piano drowned out the actors. Also, many spoken and sung words were difficult to understand. My guest was totally confused by what was going on because so many lines were muddled.
The other issue is the play loses focus at about the one hour mark. It seems that the whodunit becomes a side issue from the antics of Kinosian as various possible suspects. The show would be funnier if it were shorter.
Yet, Murder for Two is successful enough to justify the many productions and tours it has had since its debut.
When you attend, try to sit in the orchestra (the seats are widely spaced); the words may be clearer there.
For tickets or information visit IvorytonPlayhouse.org.
This content is courtesy of Shore Publications and zip06.com .