Peerless by Jiehae Park in Pittsfield
Affirmative Action Via Macbeth
By:
Charles Giuliano

-

Jul 25, 2016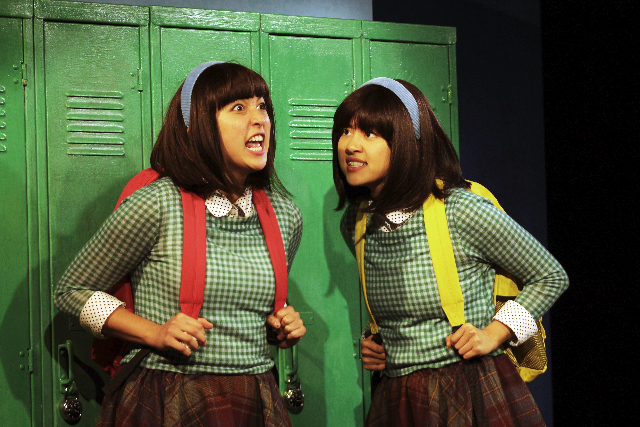 Peerless
By Jiehae Park
Directed by Louisa Proske
Scenic design, John McDermott; Costumes, Elivia Bovenzi; Lighting, Oliver Wason; Sound, Jeremy S. Bloom
Cast: Adina Verson (Dirty Girl/ Preppy Girl), Laura Sohn (L), Sasha Diamond (M), Ronald Alexander Peet (BF), Ethan Dubin (D/D's Brother)
St. Germain Stage
Barrington Stage Company
Pittsfield Mass.
June 21 to August 6, 2016
The competition for admittance to top colleges is murderous. So much so that some teens will kill to secure a coveted spot in the college of their choice.

Literally.
In a dark comedy with a dash of Macbeth that is the premise of the edgy, over-the-top play Peerless by emerging playwright Jiehae Park.
On some levels this new play at Barrington Stage Company is fresh, sanguine and challenging but with a gaping generational disconnect it may be a hard pill to swallow for the generally older and conservative Berkshire audience.
The progressive mandate of artistic director Julianne Boyd, as she informed the opening night audience, is to bring challenging theatre to her patrons and subscribers. At times, however, it's a stretch and calculated risk.
There is much to like about this play which is being given a super charged, energetic, and deeply committed production.
The degree of difficulty in the rocket fueled pace of the staccato dialogue is indeed daunting and remarkable in execution. There is an immediate sense of something we have never seen before. Perhaps, if we were more familiar with emerging, off off Broadway theatre it might feel less unique.
To borrow a line from Bob Dylan's Ballad of a Thin Man "Because something is happening here- But you don't know what it is- Do you Mr. Jones."
The Asian twins Laura Sohn (L), and Sasha Diamond (M) are plotting in the manner of Macbeth and Lady Macbeth. The prophesy of "Thane of Cordor" or admission to the college of their choice is delivered by a crusty, disruptive, clairvoyant classmate Dirty Girl (Adina Verson).
Under a mass of blonde rasta locks she spooks them by knowing of their every move and criminal plots.
We first encounter the twins in school-girl, plaid skirt uniforms (costumes by Elivia Bovenzi). At blistering speed they reveal the essentials of a plot to game affirmative action, regional quotas to their advantage.
As an Asian woman with a vagina, at the top of her class with all the right extra-curricular activities, M proclaims that she is a lock for the single annual slot for a rural Midwestern high school. Her twin L is deliberately a year behind to follow her to a top college.
But shit-damn that well laid plan has gone to hell. It seems that M has been edged out by the less qualified D (Ethan Dubin) a total nerd who it seems is one sixteenth Native American. Also in the mix is M's African American BF (Ronald Alexander Peet).
The exposition scene was taken at such warp speed pace that I was totally exhausted trying to keep up with the dialogue and plot points.
Looking at my watch (generally an indication that a play is not going well) I noted that, drats, just ten minutes had lapsed. It would take real stamina to hang in for the more or less 90 minutes of the one-act play.
The dialogue as written by Park, and performed by a remarkable cast, is so compressed that if taken at a more reasonable speed it would comfortably stretch out as two, one-hour acts.
This spewing out of thoughts, words and deeds reveals something about twenty-somethings. In their furious communications there is no measure given to thought, reflection, insight or, good grief, poetic irony. Which of course, Macbeth, the inspiration for this total gonzo romp, is full of.
For the emerging generation, irony died with Sartre and his quaint but dated No Exit.
What the heck happened to tried and true existential crisis in theatre? Kids just don't have time for that crap.
Keep in mind that Park is conjuring the medieval Macbeth and not the modernist "to be or not to be" of Hamlet.
Have you ever seen kids texting with thumbs pecking out messages fast and furiously and wondered just what they are communicating? This play, for better or worse, is an apt reflection of that mind, or mindless set.
For the most part, although utterly exhausted by the end, I enjoyed catching up with a paradigm shift in pop culture.
As an indication of how the play knocked the stuffing out of me, however, after a nice dinner on the deck I fell sound asleep in front of the tellie at 9 PM. Then was bolt awake at 3 AM with this review racing through my anguished head.
Being a theatre critic can be hell. Like getting into college for kids.
There is a lot of bing bang boom in this production. The set by John McDermott is rough and minimal. With its sliding flats there is a Seattle grunge band feeling. That raw look was augmented by the booming, shake the fillings out of your molars, sound design of Jeremy S. Bloom. There was also the occasionally blinding glare of lighting by Oliver Wason.
All of the production values were intended to enhance the shock rock zeitgeist of kids gone bad.
The twins were truly, gut wrenchingly, obnoxiously evil. Arguably, with their remarkable performances, brilliantly so.
When M abruptly breaks up with her PC/ BF the last minute date to the prom is the uber nerdy D. The twin L hooks up with his handicapped brother who we don't see at the prom but makes a cameo appearance late in the play.
With the guidance of a therapist D is still a fat kid in a now slimmer body. To emphasize the weight loss he wears an oversized, shabby jacket. He is just thrilled to pieces to be the date of the smartest and prettiest girl in his school. But he has all the wrong moves as the twins exchange glaring glances.
It's all a setup to lure him in and bump him off. It seems he has a fatal allergy to tree nuts. He carries an epipen, as well as essential Native American id card, on a chain around his neck.
Having knocked him off M assumes that she will move up to take his spot. But like Macbeth getting deeper and deeper into blood BF has absconded with her slot at a traditionally black college. So he has to go as well.
The rasta witch of course plays them to their tragic end.
For the evil twins Birnam Wood comes to Dunsinane.
With a caveat of look before you leap consider seeing this play. It may enhance your understanding of kids nowadays.

Now it's time for my nap.