Giulio Cesare in Egitto
The Handel Opera
By:
Victor Cordell

-

Jul 26, 2022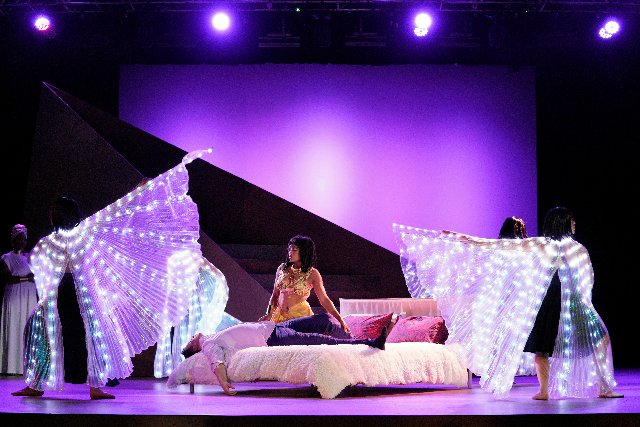 Although Julius Caesar ranks high as a memorable political and military figure in history, he is probably most remembered for Shakespeare's creative reenactment of his brutal assassination than for his accomplishments. Handel's 1724 opera masterpiece "Julius Caesar," dealing with Caesar's victories in Egypt in 48-47 B.C.E. shortly before his return to Rome and death in 44 B.C.E., may be considered a prequel to the theatrical masterpiece. And while two great leaders die in the process of the opera, Caesar is not one of them. West Edge Opera's production presents a cast of superb vocalists; a wonderful supporting orchestra conducted by Christine Brandes; surprisingly interesting choreography; and visual power through simplicity.
Their production of "Giulio Cesare in Egitto" (being the Italian title) marks the peripatetic company's inauguration of their new home for the 2022 festival season, the Grand Auditorium of The Scottish Rite Center in Oakland. Unlike some of their repurposed past venues, this one is designed for performance, with proper acoustics; is physically stunning, including a production-appropriate classic colonnade on the circumference of the high walls; and possesses permanent seats with perfect sight lines in sloped rows (which WEO habitués will appreciate!).
Quest for power drives the plot. Members of the informal First Triumvirate, Caesar and Pompey, vowed to share power. Betrayed, Caesar led an army to Egypt to defeat Pompey. However, the latter was killed by Ptolemy, who, with his sister Cleopatra, ruled Egypt as a puppet state of Rome. Despite his conflict with Pompey, Caesar was devastated by the wanton murder. Meanwhile, Ptolemy tries to eliminate Cleopatra, as she and Caesar fall in love. Both lovers vow vengeance, but their claims are superseded by Pompey's widow Cornelia and son Sesto.
Opening night performance did not begin auspiciously as it seemed that some performers' voices were underpowered for the size of the house, but it turned out that they were just not warmed up. In due time, all were fully audible and mostly in good voice, mastering the heavily decorated Baroque trill associated with music of the time. This opera presents modern casting challenges as two of the major roles were written for castratos. If males are used in those parts, countertenors are the modern-day substitute, but they are a rarity, and it is fortunate that WEO was able to attract Aryeh Nussbaum Cohen as Caesar and Cenk Karaferya for Ptolemy. Cohen showed well on the hunting aria "Va tacito," which is also significant for the prominence of the French horn. Handel was one of the first opera composers to use horns in the orchestra, and the solo by the brass instrument in this aria is believed to be the first in all of opera.
Other highlights include two duets, each showcasing two voices in beautiful contrast. In one, Caesar and Cleopatra respond upon hearing Ptolemy seeks to kill Caesar. Soprano Shawnette Sulker as Cleopatra dazzles here (and throughout, especially her Act 2 aria). The other duet pairs Cornelia and Sesto in "Son nata a largrimar." Mezzo Katherine Pracht sings Cornelia, while mezzo Sarah Coit, in a trousers role, portrays Sesto. While all of the principals were well received by the audience, the mellifluous and clarion Coit received the biggest support.
Director Mark Streshinsky's instincts for the look of the production work wonderfully.
Scenic Designer Liliana Duque Piñero's fixed set comprises of one fixture - a large, fanciful, angular staircase structure that narrows as it rises. Otherwise, props and moveable furniture, such as a bed, luminarias, and potted plants, decorate the stage as needed. The spareness works particularly well for the period of the action, like a Greek drama that is set in ancient times. Ron S. McCan's mostly contemporary, mostly black costumery and Pamila Gray's highly variable lighting fill out the appearance of the staging.
Choreographer Marcos Vedoveto offers two striking ensemble dance numbers. One near the finale is a nicely designed and executed conventional ensemble. For moves, think the Bangles song and dance "Walk Like an Egyptian" or Steve Martin's parody on Saturday Night Live. The other number occurs on a darkened stage in which four dancers surround the love bed of Caesar and Cleopatra. The dancers wear see-thru capes with several strings of small light bulbs, perhaps symbolizing stars, that emanate from the necks of the garments. The modern dance moves with the light arrays create a captivating scene.
One decision will displease a fair portion of the audience. As a result of the characterization of Ptolemy as a flamboyant bisexual (I think) with a boy toy entourage, there is a good deal of low brow humor. Surtitles use modern jargon including references to people as assholes and worse. Truly, this opera can be slow and repetitive in parts with frequent da capo set pieces (having an A-B-A song structure), so a little spice doesn't hurt. The problem is that farcical humor becomes hard to contain to the places it is intended. Some in the audience become conditioned to laugh and do so at the wrong times, which can break the spell for those who are focused on the drama.
This opera is one of the finest from the Baroque era, with excellent music, fine characterizations, and meaningful conflict in the context of historically significant events. As expected, West Edge Opera provides a professional quality production.
"Julius Caesar" ("Giulio Cesare in Egitto") with music by George Frideric Handel and libretto by Nicola Francesco Haym is produced by West Edge Opera and plays at The Scottish Rite Center, 1547 Lakeside Drive, Oakland, CA through August 4, 2022.