Sunday in the Park with George
Sondheim at San Francisco Playhouse
By:
Victor Cordell

-

Jul 29, 2018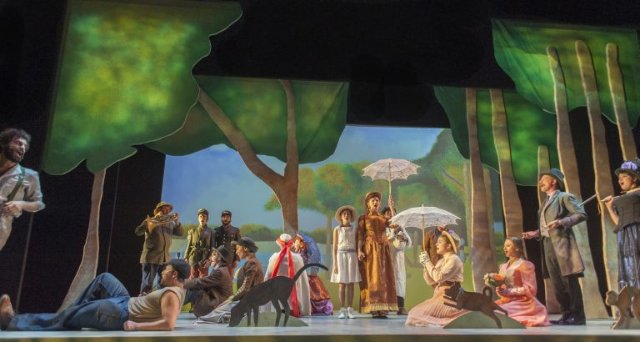 Stephen Sondheim is noted as perhaps the most intellectual among composers of musicals. His lyrics are always literate and his dissonant-light music always complex and creative. For this musical, mix in a high-brow topic – a fictionalized biographical slice of the life of painter Georges Seurat – and a slow take-off in the early scenes. You might be expecting one of those "yes, but" entertainments – high marks for intelligence, but middling for emotion. In time, however, characterizations become richer and situations more involving. In the end, most will appreciate this as a parcel of Sondheim's fully-evolved oeuvre. Director Bill English and his creative team certainly do it justice with a polished and entertaining production.
Seurat's innovation of pointillism in the mid-1880s extended the Impressionist's use of different colored dabs to represent an overall hue. But he pixilated to the point of dots so small that at a distance, the eye will see violet, but up close, it will see points of red and blue. Seurat also flattened the perspective of figures and blurred their facial features to anonymity. Akin to van Gogh and Gaugin, Seurat was unsuccessful in selling his works during his lifetime. However, the total output of several masterpieces from his short life would be greatly appreciated aesthetically and financially after his death, and his scientific approach to light and color would have profound influence on future painters.
James Lapine's book of Sunday in the Park with George focuses on change, not just change in art, but in life. Two events in the play symbolize social change. At the time that Seurat was completing his second and grandest painting, "A Sunday Afternoon on the Island of La Grande Jatte" (usually referred to as "La Grande Jatte"), the Eiffel Tower was in the planning stages. George is clearly an engine of change, while his mother represents social stability, railing against the construction of the steel monstrosity at the expense of trees and the way things are. The other displacement comes when characters close to George leave for America to start a new and different life. That voyage will also become the rootstock of the second act, which takes place a century later at an art gallery in the United States.
The central story elements concern the painting of "La Grande Jatte," which took three years, and Seurat's relationship with his model/girlfriend, aptly named Dot. As Seurat, John Bambery nails the look and demeanor of a great but tormented artist – insistent in his belief in his creations, isolated by his intractable nature and selfishness. Bambery's singing equals his acting. Sondheim demands extremes of vocal production in this role from rapid-fire lyrics to unbelievable range and voice shifts – in one instance while rolling around like a dog. Nanci Zoppi excels as Dot, the lover who seeks gratification from the obsessed artist. Along the way, we meet and learn about a bevy of visitors to the park who enliven the action.
Structurally, Sunday in the Park with George is clever as it extracts all of the characters but George from the painting and gives them voice and linkage to the artist. Except for its length, the first act seems almost like a full play with a final climax. The radical shift in time and location make the second seem almost like its own playlet, but it appropriately connects to the previous century.
Throughout, Sondheim's uncanny rhythms and rich lyrics combine with music that, despite its darkish tone, is highly listenable. The title song is perhaps its greatest musical moment when George explains what it is to be a painter. He muses about "White – a blank page or canvas; The challenge – bring order to the whole; Through design, composition, tension….." He has fun with another highlight "The Day Off," in which he observes life as fodder for his canvas and creates little stories in his mind about the denizens in the park. Of course, the anomaly is that for all of the subjects, Sunday is a day of relief and relaxation different from any other, but for George, it's just another working day.
Director English handles set design as well, and the staging seems uncommonly rich given that it is dominated simply by projection designer Theodore Hulsker's stage-wide projection screen, often showing "La Grande Jatte" and a few two-dimensional trees. But the variety of images and the humor, including erasing a tree from the screen provide continuing interest. Michael Oesch's lighting design is a spectacular complement to the staging, while Abra Berman's outstanding costumery mimics the painting but with exquisite period detail that makes the staging more complete. Dave Dobruski's musicians complement the singing with a full, mellow sound. Altogether, this is a musical that many aficionados of the genre will appreciate, and perhaps it can convert others with its class and inventiveness.
An annoying and unnecessary falsehood in the play is that Manet, Monet, and other Impressionist painters withdrew from the Eighth Impressionist Exhibition of 1886 in protest because of the group's scandalous agreement to display Seurat's "La Grande Jatte." This would suggest that the innovators of several years before who had become the received wisdom of art were intolerant of challenges to their primacy. In fact, Monet did participate in the exhibition. Manet did not as he was three years dead.
Sunday in the Park with George with music and lyrics by Stephen Sondheim and book by James Lapine is produced by San Francisco Playhouse and plays on its stage at 450 Post Street, San Francisco, CA through September 8, 2018.
Posted courtesy of For All Events.