The Many Loves of Eleanor Roosevelt
Harriet Harris in Eleanor
By:
Sarah Sutro

-

Aug 02, 2021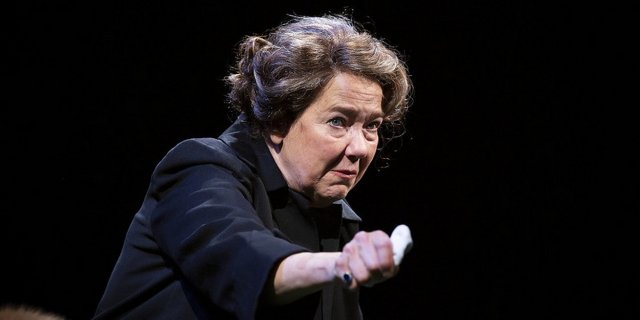 Eleanor
Barrington Stage Co., Pittsfield, MA
Performed by Harriet Harris
Written by Mark St. Germain
Directed by Henry Stram
July 16-Aug. 7 Boyd-Quinson Stage
30 Union St., Pittsfield, MA
When the play opens an older woman in a chalky blue dress is sitting on a bench in a graveyard. Soon Harriet Harris, as Eleanor Roosevelt, is looking back on her life from the grave. Interred with Franklin Roosevelt, she reflects on her life with him and others she loved in a monologue that takes in the sweep of her 78 years. Almost dowdy, in the proper, modest dress elderly women wore in her time, with closed thick high heels, her hair held up with pins, - her voice comes across, appropriately, as nearly shrill, patrician, English-accented. Who is this woman? Harriet Harris is about to tell us, through her narrative of the first lady's life, her family, the people who influenced her, her infamous marriage and later, her independent life and role on the world stage.
Harris has caught Eleanor's mannerisms well, her physical motions exactly - living in the age of newsreels, her figure, her speech, her presence are indelible in public memory. Harris begins to recount stories from Eleanor's life, not necessarily in chronological order, as background projections designed by Brian Prather change from foliage to the Augustus Saint-Gaudens sculpture of "Grief" in Arlington Memorial Cemetery (that comforted Eleanor during difficult times in her marriage), to soft panels of color suggesting seasons and emotional climate. The set mirrors the dramatic waves Harris projects abstractly, lifting the audience out of the specifics of Eleanor's life and into the world of feeling.
In the voice of her mentor and teacher, the French Marie Souvestre, whom she met at an elite boarding school in England, Harris recounts that the main point is to make choices in life. Harris then proceeds to embody those choices. Brilliant at miming, she continues to recreate subordinate but crucial characters, Eleanor's 'loves,' throughout the play. Surely Souvestre is one of those, guiding Eleanor toward independence and integrity. Louis Howe, an early political advisor to FDR, is another, shaping Eleanor's political education, her ability to make effective speeches, pushing her to make more of her life and position. Harris mimes his speech well, creating a scene where the two ugly ducklings (Howe is as gnome-like and unattractive as Eleanor is plain and ungainly) share feelings about this, as their mutual understanding grows.
Harris gently leads us through the tangle of Eleanor's childhood in an upper class, chilly family, through the early deaths of her distant mother and her beloved alcoholic father. Teased and bullied by her cousin Alice Roosevelt, she manages to develop, through social suffering, the presence of mind and heart to survive 'coming out' in society, the expectations of her gender and class, and marital betrayals. Harris convincingly narrates her life as Eleanor through this.
It is rare to have such a bare stage project a whole life (except perhaps in Beckett), but here it works. The single park bench supports, drapes her – through the summer when Franklin comes in from swimming at Campobello Island, their Maine retreat. Harris describes how Franklin steps up the stairs to bed in slow motion, the last steps he will ever take: he wakes up not able to move his legs, the result of polio that will limit his movement for the rest of his life. Louis Howe and Eleanor nurse him through the illness and seven years of recuperation, eventually standing him on his feet again, literally and figuratively to make him the man, then the candidate who becomes president. Harris fluidly becomes that younger woman, then later the woman with five children who discovers her husband has betrayed her with his secretary Missy LeHand. Harris as Eleanor asks for a divorce, is persuaded against it and issues a list of demands.
The truly seminal point at which Harris becomes the Eleanor history knows is when she begins working at a settlement house in NYC, deciding to enter the building to be with children of the poor instead of standing outside with the rest of the Junior League. Points of light begin to build in her – you can hear it in Harris' voice, turning from being less a matron of a certain class, with a hat pinned on just so, to a being who has integrity, someone who has much to say. She learns to speak in meetings and to crowds, visits army men in hospitals overseas, heads organizations. Before our eyes, through Harris's ability, she transforms into a real person who has direction. She acquires friends, has a deep relationship with a woman reporter, Lorena Hitchcock and a warm, loving one with her bodyguard, Earl Miller. Harris flows into these roles, demonstrating Eleanor's increasing belief in herself and her entitlement to a life of emotional fulfillment.
The only criticism I have of Harris' portrayal of Eleanor, who outlived Franklin by 17 years, is that she seemed to lack a certain fire, power and fierceness possessed by the historical Eleanor Roosevelt, who led a vigorous and passionate life in the world, while also being an extremely powerful influence on Franklin's humanitarian administration. I never felt that passion in the stage character. Yet Harris captured Eleanor from child to widow, through layers of sadness, joy and the grief of betrayal, through her parents' early deaths, and tough personal circumstances. Ironically, Franklin, doted on by his domineering mother, made less vital by his encounter with polio, the mantle of the presidency ultimately upon him – simply stayed true to his role. We see Eleanor wrestling with these circumstances and creating her own life despite them. She seizes the opportunity to recreate herself.
Towards the end of the play Harris, as Eleanor, reflects at what makes a partnership – each person has the chance to become more than what they are. At the end of her life, having forsaken an intimate marriage with Franklin after his several infidelities, she joins him in the grave, a more experienced, developed person for all the suffering. For Harris, this was an acting task, indeed.