Eliogabalo Composed by Francesco Cavalli
Produced by West Edge Opera
By:
Victor Cordell

-

Aug 03, 2021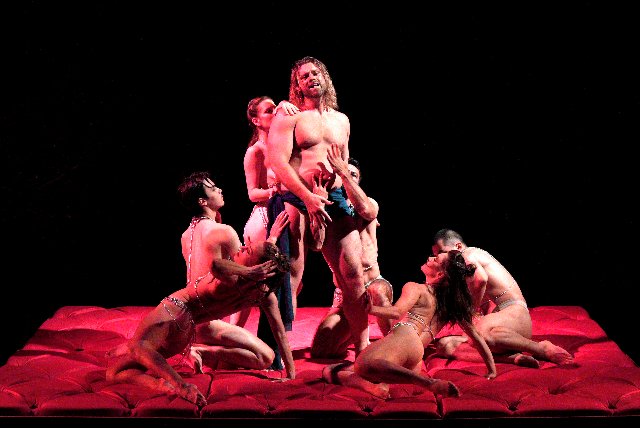 Perhaps unique among performed operas, Francesco Cavalli's 1667 "Eliogabalo"'s world premiere was delayed – by over three centuries – until 1999 to be precise. Why, one might ask? Interestingly, an aficionado today can evaluate an opera simply on its own merits, mindful of how appealing it is within its own idiom. But at the time of its composition, an opera is judged largely within its context.
For instance, while "Madama Butterfly" is one of the most beloved operas in the repertoire, the contemporary detractors argued that Puccini had not advanced his oeuvre sufficiently beyond "La Boheme" and "Tosca." Most contemporary opera lovers will appreciate "Butterfly" independent of its place in history.
In Cavalli's case, he was the most successful composer of his era in the field of small orchestra opera with 38 operas to his credit before his composition of "Eliogabalo." But his musical style for this work was deemed passé for the tastes of the Venetian audience of 1667 – an issue that bears little meaning in the 21st century. The composer would be pleased to observe that this historical oddity has now benefitted by performances from nearly a dozen companies. West Edge Opera's delightful rendition with well-sung beautiful music, bawdy humor, orgyistic eye-candy production numbers, and an edge of tragedy validates the work's delayed recognition.
The libretto is loosely based on the life of a teenage Roman emperor who reigned from 218 to 222. Though officially Antoninus, he became known in death as Elagabalus, named after the God he worshiped. In his brief life, he defied and debauched all religious and sexual conventions. What's more, his incompetence was matched perhaps only by his tyranny. The emperor lived by the notion that "the law does not pertain to me" and didn't really care about his people, stating that "he who does not follow me blindly is guilty." Does this resonate with frightening currency?
A charismatic Randall Scotting aptly portrays the self-indulgent, sexually ravenous title character. The countertenor is himself a massive contradiction. Scotting physically commands the stage having a Samson-like appearance with hunky muscularity. Thus, his lilting, high voice seems anomalous. Though his voice is profound, as is common with countertenor voicing, it doesn't project the power of other voice types.
Eliogabalo's main quarry is Gemmira, who is otherwise spoken for, but that doesn't deter the predator. The evasive maiden is played by Nikki Einfeld whose silky lyric soprano voice features well in arias and blends beautifully in several ensemble numbers.
But the liveliness in the production comes largely from secondary characters. Cavalli adopts the older, unfiltered maid/nurse meme in Eliogabalo's enabler, Lenia, who is played in drag by Jean-Paul Jones. As it happens, Jones is not only an opera singer but also a professional drag queen. Remarkably, his squawk-box, false alto voice is well controlled, and he switches back and forth to a sonorous baritone with humor and ease. Director Mark Streshinsky has given Jones liberty to go campy and off script, and the results are hilarious.
Lenia's sometime partner-in-crime is the henchman-looking harem master Nerbulone. He also ad libs, including dropping into the audience to solicit additions to the harem. Like Lenia, he occasionally lapses from Italian to English with great comic effect. Nathan Stark plays the role with great verve, and his baritone range is rich and pleasant. But while he hit his notes in the low bass end, his power is depleted there, perhaps because of the outdoor acoustics.
Cavalli's medium of farcical dramedies set in ancient times was common when he was active. The lasciviousness of "Eliogabalo" was maybe a bit extreme for its time, but the West Edge audience supported it completely. The baroque score is surprisingly melodious and engaging with many charming arias and small ensembles. Conductor Adam Pearl's orchestra of seven includes period instruments and delivers a remarkably full and mellow sound. Kudos to the other principals Derek Chester, Aura Veruni, Mateus Koura, Shawnette Sulker, and Jonathan Smucker, whose voices and acting added to the overall enjoyment.
The look of Evan Streshinsky's spare set is thematically appropriate, comprised of a huge, tilted bed and eight vertical panels. All appear to be in a tufted red latex look, like straight out of a cheap honeymoon motel room. But against that canvas is a recurring spectacle of writhing semi-naked and ninja-like dancers that provide the visual pop.
West Edge Opera has once again shown its skill and daring in its 2021 Festival. This third and final offering of the season is a welcomed addition that is delivered with great professionalism and flair. Although the opera has been trimmed somewhat, at two hours and forty-five minutes, it could benefit from further cuts.
"Eliogabalo," composed by Francesco Cavalli with libretto attributed to Aurelio Aureli is produced by West Edge Opera and plays at Bruns Amphitheater, 100 California Shakespeare Theater Way, Orinda, CA
Courtesy of CordellReports.com