August Wilson's Masterpiece
Fences at Shakespeare & Company
By:
Charles Giuliano

-

Aug 04, 2023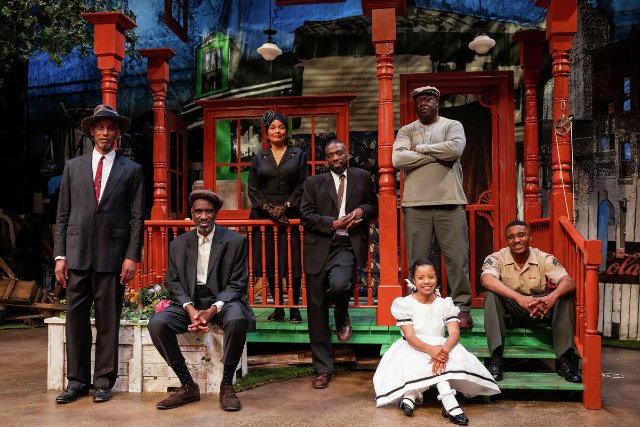 Fences
By August Wilson
Directed by Christopher V. Edwards
Cast: "ranney" (Troy Maxson), Ella Joyce (Rose), JaQuan Malik Jones (Corey), L. James (Lyons), Kenneth Ransom (Jim Bono), Brian D. Coates (Gabriel), Ashley McCauley Moore (Raynell)
Shakespeare & Company
Tina Packer Playhouse
70 Kemble St., Lenox
Through Aug. 27; 2 p.m. Tuesdays through Sundays
2 hours, 40 minutes (including one intermission)
413-637-3353; shakespeare.org
Fences, by August Wilson (1945-2005) is regarded as the masterpiece by one of the foremost American playwrights of his generation.
Meticulously directed by Christopher V. Edwards it has been given the magnificent production that it deserves.
On the thrust stage Jon Savage has provided an evocative set, with pillared porch, of a modest single family in Wilson's beloved Pittsburgh. In the sound design of Caroline Eng we hear delta blues, soul music, and snippets of radio broadcasts of games by the Pittsburgh Pirates. Blues and baseball are formative elements of the taut and riveting drama. Lighting by AJA M. Jackson aptly creates transitions between scenes and times of day.

The 10 plays of Wilson's Century Cycle, define decades of African American life and culture during the 20th century. Fences, his most produced work was written in 1983 and premiered at Yale Repertory Theatre in 1985. It moved to Broadway in 1987, winning the Pulitzer Prize for Drama and the Tony Award for Best Play.

Set in 1957-1958, it was Wilson's sixth play in the American Century Cycle. A number of his works premiered at Boston's Huntington Theatre where we saw several of them.
The power of Fences derives from the mastery with which he conflated the mojo of the blues with the paradigms of Greek tragedy. This play is as intricately structured as works by Sophocles and Aeschylus. While rooted in the African American culture of Pittsburgh, Wilson was at heart every bit a classicist.
The fulcrum of the drama is the deeply flawed, brutal, bellowing and abusive Troy Maxson. He is played as a tsunami of wildly fluctuating emotion by the actor known as "ranney." While he controls the flow and flux of the drama several times he faltered through lines and timing.
As a young migrant from the South he was homeless and turned to crime. In an attempted robbery he pulled a knife while the other man shot him in the chest. Lunging forward his knife killed the man for which he was sentenced to fifteen years. In the slammer he refined baseball skills which he pursued in the Negro League. But for skin color he is bitter for not making the Major Leagues as did Jackie Robinson in 1947.
Sports dashed his dream and he does not want the same fate for his son Corey (JaQuan Malik Jones) who has been offered a college football scholarship. He will not sign the papers and that ship sails as the boy is forced out of the home upon high school graduation.

Troy insists that he can get him a job in the sanitation department where he works as a garbage collector.
Coming clean after prison Troy has a steady job, devoted wife Rose (Ella Joyce), home, best friend Jim Bono (Kenneth Ransom) and dependent uncle Gabriel (Brian D. Coates).
There are rituals on Friday paydays. He and Bono sit on the steps and down a pint of gin. A sportin' life son by a prior relationship Lyons (L. James) slides by for a loan. He did a three year stint for hanging paper and has delusions of making it in music.
Gabriel, just one step from the funny farm, has a trumpet lacking a mouth-piece slung around his neck. There is a tin plate in his head from a war injury. The tender and fractured character hangs by the Pearly Gates talking with the saints.

As his uncle's guardian Troy uses some of the Government money to pay the mortgage on the home where, until recently, he has lived.
While the drama flows around Troy's shenanigans and abuse Rose, as is often the case, centers and grounds this African American family. While a supportive and loving wife of 17 years, she intervenes in his abuse and goes toe-to-toe with him. Her performance is immense creating much needed balance as Troy is ever more in orbit.
It seems that he has a little something on the side. The woman dies in childbirth. In a stunning moment Rose takes in the infant stating "This is a motherless child and you are a womanless man."
The blues in this production pervaded my heart and soul with Howlin Wolf, Robert Johnson, and Aretha Franklin. Troy sings about his dog Blue as do siblings Corey and young Raynell at the end of the play.
Troy has fits in which he recalls seeing God and the Devil in a near death encounter when he was shot. He is convinced that he has fought off Death who is coming to get him.
Building Fences is a metaphor for keeping evil out of his home.
Seems the Devil caught up with Troy.
As Robert Johnson put it.


Early this mornin'
When you knocked upon my door
Early this mornin' whoooo
When you knocked upon my door
And I said 'Hello Satan'
I believe it's time to go


Me and the Devil
Was walkin' side by side
Me and the Devil, whooo
Was walkin' side by side
Was walkin' side by side
And I'm going to beat my woman
Until I get satisfied