The Mount
Schedule of Events
By:
Mount

-

Aug 06, 2021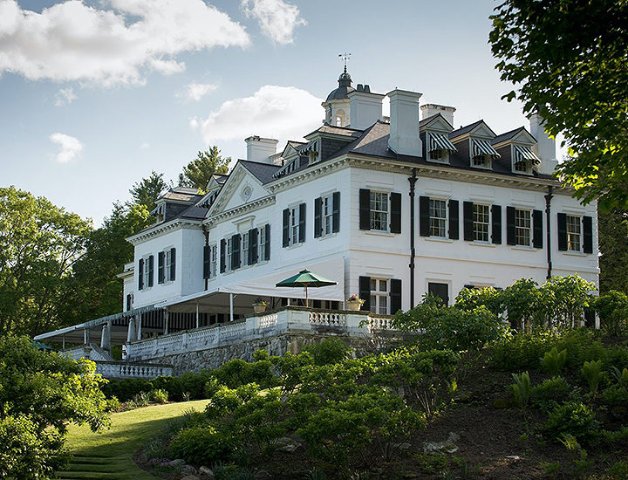 The Mount, Edith Wharton's Home
2 Plunkett Street, Lenox
EdithWharton.org, 413-551-5111
The Mount is open for guided tours through October 31. Tours can be booked online at EdithWharton.org. The grounds are open, dawn to dusk, unless otherwise posted. SculptureNow returns to The Mount with a new contemporary sculpture exhibit. A variety of programs including bird walks, yoga in the gardens, music, lectures, and dance are presented outdoors. The Mount will also continue to offer online programs. Please visit our website to stay up-to-date on all our offerings.
2021 SEASON
RECURRING EVENTS
Outdoor Yoga
May 4 – August 31
Tuesdays, 8:00 AM
$20
Join us every Tuesday from May 4 to August 31 for an outdoor, all-level yoga class. Instructors from Lenox Yoga will guide you through a gentle morning practice as you immerse yourself in the beauty of The Mount's grounds and gardens.
StoryWalks at The Mount
Monthly
Free with reservation
Each month The Mount presents a new walk inspired by a children's book. Opening day for each walk is sponsored by Southern Berkshire Kids and will included timed reservations to view the walk and receive a gift bag. The walk will remain up for viewing, without reservations, for the following weeks
SculptureNow 2021 at The Mount
June 1-October 13
SculptureNow returns to The Mount with a brand new exhibition of 30 large-scale contemporary sculptures. On Sunday, June 20, there will be an opportunity for visitors to meet and speak with the artists. Monthly artist-led tours will be given July-October.
The Summer Lecture Series
Mondays in August at 4:00 PM
Tuesdays in August at 11:00 AM
Members $25, General $30
Our popular Summer Lecture Series is back! Join us, under an open-air tent, for lectures from today's leading biographers and historians.
Concerts in the Dell
Thursdays in August, 5:00 – 8:00 PM
Members $15, General $20, 18 and under free
A brand-new music series presented each Thursday evening in August on our newly build stage in the gently sloping field just below the stable. SoMA Catering will be onsite with a food truck and pizza oven.
Thursday, August 5: An evening of jazz-klezmer fusion with clarinetist with Paul Green
Thursday, August 12: An evening of swing and gypsy jazz with The Lucky 5
Thursday, August 19: An evening of jazz and R&B with The Wanda Houston Band
Thursday, August 26: An evening of blues and blues infused jazz, funk and soul with the Misty Blues Band
SculptureNow Artist Led Tour
Sunday, August 15
Sunday, September 12
Sunday, October 10
2:00 – 4:00 PM
$15 adults; $12 for seniors and youths, 10 and under are free
Each month, an exhibiting artist will lead a guided tour through the 2021 SculptureNow exhibition. Entry will be timed and by reservation only. We ask that you do not bring dogs to this tour.
Ghost Tours
July - October
Fridays
$25 Adult; $20 Youth (12-18)
Take a special guided tour of the most eerie parts of the estate to find out who, or what, may still call The Mount home! Times and exact dates on our website.
Family Ghost Tours
July – October
Fourth Friday of month at 5:30 PM
$12 per child
Our ghost tour guides share tales of ghostly encounters at The Mount, especially tailored for children ages 7-12. The tour starts at the top of the property and continues through the grounds into the empty rooms of the mansion. Parent or guardian must accompany child.
Pop Up Bistro at The Mount
Thursday Evenings in September, 5:00 PM – 8:00 PM
Our popular outdoor Bistro is back! Once again, we are collaborating with SoMa to bring you a unique dining experience on the grounds. A selection of craft beers, wine, cider, and specialty cocktails will also be available. Please note there is no pop-up on September 30.
OTHER EVENTS
Storytelling & Improve with Matthew Dicks
September 3, 6:00 PM
General $10, Free for Members,
Bestselling novelist and 7-time Moth GrandSLAM champion Matthew Dicks is back for an evening filled with storytelling and improv centered on the theme of "Transformation." Matthew will be telling hilarious and heartfelt stories of parenting mishaps, classroom calamities, life-and-death struggles, and disastrous decisions all leading to hope and perhaps a little redemption.
Family Storytelling with Ty Allen Jackson
September 4, 10:00 AM
Free
This one-hour workshop will be an entertaining blend of learning and fun, geared toward children in late elementary to early middle school. Registration is recommended.
True Conversations with Martha Hall Kelly & Heidi Pitlor
Tuesday, September 7, 4:00 PM
General $20, Members $15
An engaging conversation as Heidi Pitlor, editor of The Best American Short Stories, delves deep into the writing life of best-selling author Martha Hall Kelly.
Elijah T. Grasshopper and Friends
Sunday, September 12, 12:30 PM
Free
Join Elijah & Friends for some super-duper interactive kids' music and a hopping good time! Best for 3-7 year-olds. Sponsored by Lenox Cultural Council and the Mass Cultural Council. Registration is recommended.
Voices of Poetry
Sunday, September 12, 4:00 PM
General $15, Members $10
Join us for an afternoon of great poetry featuring: Robert Carr - Developmental Editor, Indolent Books; Frederick-Douglass Knowles II - Poet Laureate of Hartford, CT & Professor of English, Three Rivers Community College, Steve Kuusisto - Director, Interdisciplinary Programs & Outreach, Burton Blatt Institute, Syracuse University, Heather Treseler - Associate Professor of English, Worcester State University.
Molly Rideout and Matt Tannenbaum in Conversation
Sunday, September 19
General $10, Free for Members, 4:00 PM
Molly Rideout, the 2021 Edith Wharton Writer-in-Resident, and Matt Tannenbaum of the Bookstore in Lenox will discuss her residency and how it led her to Augustus "Aug" Martin, an amateur photographer, barber, house-painter and all-around reveler, from the small community of Lenox Dale in the early 1900s. Her research on Martin inspired her public art installation, 'The Farewell," on view at The Mount and The Bookstore. This program will also celebrate the launch of her limited edition, hand-bound artist book, which includes the full text of her essay "The Farewell."
Wharton's Woods, Wetlands and Meadows: Human History and Ecology at the Mount Saturday, Oct. 2, 9:00 AM
Free with reservation
Explore the intersection of human history and ecology while enjoying the beautiful woods, meadows, wetlands, and lake views and the full expanse of Edith Wharton's original estate, including recently conserved trails leading to Edith Wharton Park on Laurel Lake. Presented as part of the 2021 Housatonic Heritage Walks.