If I Were You.
Composed by Jake Heggie with Libretto by Gene Scheer
By:
Victor Cordell

-

Aug 07, 2019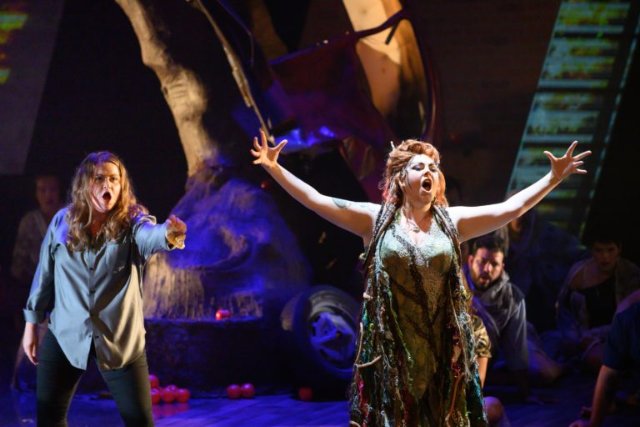 Composer Jake Heggie and librettist Gene Scheer have emerged as a powerful creative team in the opera world, most notably with the widely acclaimed and produced Moby-Dick and most recently with the San Francisco Opera premiere of It's a Wonderful Life. Add to their distinguished catalogue the Merola Opera Program commission and premiere of If I Were You. Based on the novel Si J'etais Vous by Julian Green and updated by librettist Scheer, this contemporary operatic version of the Faustian legend sizzles with the support of great singing and production values. Though the concept of making a deal with the devil has been worked many ways over time, regrettably, it is yet a story of our political and social times.
From the dissonance of the opening orchestral strains and the stage dominated by a wrecked car standing on its nose, it is clear that this is not a wonderful life. The protagonist, Fabian, has suffered a potentially fatal car accident.
The devil, in the female manifestation Brittomara, offers Fabian the opportunity to live forever and for his soul to occupy the bodies of others. The one troubling proviso is that if he should ever return to his own body, he would die. More than anything, he hopes to embody a host who will appeal to Diana, a woman whom he desires. Along the way, we observe the misadventures of the characters whose bodies Fabian inhabits.
The composer has demonstrated in numerous works his ability to craft operatic music in the modern mode, but which appeals to the ear. Here, he adds new forms of non-tonal harmonies full of lyricism. He also exhibits influences from other sources and genres, and in this case, there are hints from the likes of mambo rhythms, West Side Story, Porgy and Bess, and more. But this is perhaps his darkest and most assertive score, with an uncommon level of high energy and high volume pyrotechnics in keeping with the car wreck that initiates the storyline.
Although the central character is Fabian, a different artist portrays each incarnation that he embodies. Thus, Michael Day who is Fabian, appears mostly in only two of the 12 scenes. But what a performance. The tenor is charged with generating maximum volume for longer than seems reasonable, yet his attacks are consistently strong, and he maintains excellent pitch and control.
Two female leads remain constants. Cara Collins plays Brittomara and her various incarnations. Ester Tonea is Diana. Both women exhibit exemplary vocal quality, one better than the other. Their lower ranges are occasionally overpowered by the orchestra, but their upper ranges brim with urgency and are overpowering. Together in duets they are more remarkable.
It should be noted that the lead roles in this production are double cast, so that different, but presumably, artists of equal stature will appear in the alternate performances.
If I Were You possesses a compelling score with drama to match. Full of symbols of soul transporters and apples and grieving elephants as well as contrasting venues from offices to bars, it stimulates the ears and eyes and holds the attention throughout. And while the overarching tone is serious, including death, comic relief comes in typical situations and people that we all know from car repair shops and drinking holes. One issue with the libretto however is that the uninitiated may be confused by the proceedings. While the program details the compact between Brittomara and Fabian and its implications, there is considerable shorthand on the stage that could easily be clarified.
One might look askance at an established composer accepting a commission from a "training program," but Heggie knew exactly what he was doing, and this opera should have legs. Everything about this production is totally professional. Voices are superb throughout the cast. The orchestra, conducted by Maestra Nicole Paiement, more than meets the challenge. Director Keturah Stickann assembles a great creative team whose visual elements accentuate the contours of the score. Particular recognition goes to Liliana Duque Piñeiro's clever set designs and Lucas Krech's striking lighting.
If I Were You, composed by Jake Heggie with libretto by Gene Scheer, is produced by the Merola Opera Program associated with San Francisco Opera and plays at the Veterans Memorial Building's Herbst Theatre, 401 Van Ness Ave., San Francisco, CA through August 6, 2019.
Courtesy of For All Events