A Moon for the Misbegotten in Williamstown
Astonishing Production Stars Audra McDonald and Will Swenson
By:
Charles Giuliano

-

Aug 09, 2015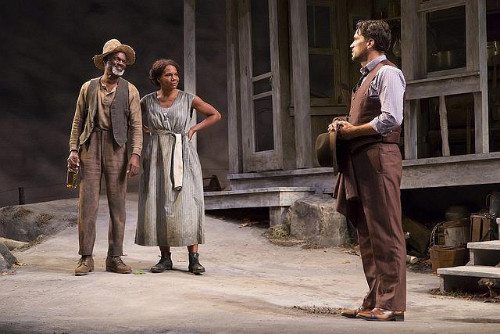 A Moon for the Misbegotten
By Eugene O'Neill
Directed by Gordon Edelstein
Original scenic design, Ming Cho Lee, Restored and adapted by Lee Savage; Costumes, Jane Greenwood; Lighting, Jennifer Tipton; Sound, John Gromada; Wig design, Tom Watson; Fight director, Thomas Schall; Director of Production, Eric Nottke;
Cast: Audra McDonald (Josie Hogan), Howard W. Overshown (Mike Hogan), Glynn Turman (Phil Hogan), Will Swenson (James Tyrone), Aaron Costa Ganis (T. Stedman Harder)
Main Stage
Williamstown Theatre Festival
August 5 to 23, 2015
After a season of so so premieres, for the anchor leg on the Main Stage, the Williamstown Theatre Festival presents a magnificent production of a "reimagined" American classic, Eugene O'Neill's riveting A Moon for the Misbegotten.
It is the fourth time that Long Wharf artistic director, Gordon Edelstein, has worked with this play. To give fresh creative energy to his interpretation he transformed the Connecticut tenant farmer Hogan family, from down on their luck Irish, to African American.
Originally O'Neill explored the class conflict and tension between the reviled Irish immigrant working class and old money Yankees. That related to audiences. Today that conflict is accomplished by morphing dirt poor Irish to African American.
The play, which was written in 1939 and first produced unsuccessfully in 1947, is set in the prohibition era of the 1920s. Accordingly alcoholism is a demon that dominates the characters and serves as a crucial plot point.
The reconfiguration from Irish American to African American allows for the casting of the truly remarkable, multiple Tony and Grammy winning, Audra McDonald to star as the earthy, bawdy, big boned Josie Hogan. She has long been smitten with their rakish, drunken landlord James Tyrone. He is played with incredible synergy by her husband Will Swenson.
Part of the coup of luring McDonald to Williamstown was the rare opportunity for them to share a working vacation in the Berkshires. It has been suggested that this production may have legs after Williamstown and this was seen as a chance to work on the play under the critical radar.
If Moon for the Misbegotten is approached as a work in progress it would be difficult to find any aspect in which it might be improved. It is as polished a work as we have seen over many seasons.
In every sense Edelstein knew exactly what he wanted from the play and every member of the cast has delivered. It just doesn't get better.
Start with the Broadway level production values.
Taking our seats we marveled at the set design by Ming Cho Lee that has been restored and adapted by Lee Savage. The rendering of the transparent farm house of the Hogan family resembled an Edward Hopper painting. The attention to detail was absorbing. There is an expansive blue sky behind the house. In the foreground the grade slants leading up and away for the passage of characters. Well crafted rocks and boulders bookend the stage. There is a water pump which is functional and integrated to accent the story line.
Transitions of day to night, as well as interior lighting of the cabin, have been brilliantly accomplished by Jennifer Tipton.
As we awaited the arrival of the actors on stage there was a long musical interlude setting a proper mood by John Gromada. Patrons in front of us continued to explore their cell phones and programs until the theatre went dark prior to the first scene.
The youngest of the brothers Mike (Howard W. Overshown) like three before him is escaping the farm. Lovingly Josie fusses over him, adjusting his coat, and thrusting some money on him. It is stolen from their father and he doesn't want it. She insists it is for wages never paid.
Now alone, aging, and unmarried she will stay and care for her drunken, abusive, unruly father (Glynn Turman). When he comes staggering home from the tavern with a fine glow on she awaits him with a stick. Discovering that Mike is gone and money has been stolen he will be particularly mean.
During the first act Phil Hogan is a dominant and fascinating presence. He is essential to setting up the plot points for the second act in which he appears only toward the end. Turman has made the most of the role but never overplayed it.
There is banter between the wasted Tyrone and Phil about back rent. They have hard drinking at the tavern as a commonality. The will is about to clear probate court and Tyrone will soon be off to New York. There he will indulge a predilection for hard living and Broadway whores. Overall he has a dim view of women exacerbated by the distemper of demon drink.
Although a Yankee Tyrone pursues the Irish suicide of drink which plagued the playwright.
The character of James, a holdover from A Long Day's Journey Into Night, is said to have been modeled after O'Neill's tragic brother who was unable to find peace or closure in his life. In this play that happens in a compellingly poignant manner under the dyspeptic spell of moonlight.
There has been a longstanding understanding that when James settles his inheritance and heads to the city to spend it he will sell the farm to the Hogan's for just $2,000. Real or imagined he now has a better offer of $10,000, with $5,000 up front, from a fatuous, Yankee neighbor, T. Stedman Harder (Aaron Costa Ganis). He appears in a single absurdly comic scene culminating with a pratfall into the pool of water. By curtain call the actor took bows in a change of clothes.
To save the farm there is a scheme for Josie to seduce James by getting him drunk and lured into her bed. It is unclear if she is a virgin, which James believes, of just another chippie.
The second act is dominated by this misadventure which morphs from a trap and seduction into an emotional meltdown and denouement from James.
She insists that he keep drinking providing him with real bourbon, which he much appreciates, rather than rot-gut booze. It seems her father earned a case of the good stuff by allowing a bootlegger to store his hooch in the barn.
That plan was for her father to show up with witnesses after she was deflowered. With threats of public exposure he will be forced to marry her.
Something else happens in the moonlight. The exchange between them with charismatic and palpable synergy provided an unforgettable evening of theatre. On and off stage they are great artists. We were just blown away by their ability to reveal every nuance of conflicted, complex and daunting characters.
More than deliver lines McDonald performs with her entire body. Every gesture rings true to life with an indelible naturalism. While widely acknowledged as one of the finest actors of her generation with astonishing brilliance Swenson is inspired by and matches her every move.
When this production moves to New York it is likely to run the table during awards season.