Summer Stock by Cheri Steinkellner
World Premiere at Goodspeed
By:
Karen Isaacs

-

Aug 10, 2023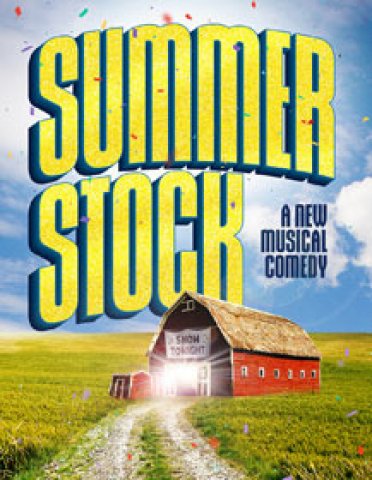 Summer Stock is a new old-fashioned musical bringing joy to audiences at Goodspeed. The world premiere runs through Sunday, Aug. 27.
It is unabashedly old-fashioned. The plot is the stranded actors-putting-on-a-play-in-a-barn, coupled with the non-professional performer saving the day and becoming a star. Add in some romance and lots of dancing.
The result is a delight. Yes, it needs tweaking. But author Cheri Steinkellner should be able to make the changes required.
If the title sounds familiar, fans of 1950s musicals may recall it. It was a 1950 film starring Judy Garland and Gene Kelly. Garland played a farm girl while Kelly was the ambitious stage director who lands in her barn. The score for the film wasn't particularly memorable except for the song "Get Happy." It also became known for an iconic scene (which was repeated in other films) in which Garland sings that song in a tuxedo jacket with a fedora pulled down over her face.
While the basics of the plot remain the same, there've been some significant changes. The farm girl (Jane) is older and is running the family farm for her elderly father. Jane is trying to keep the farm going despite the machinations of their wealthy neighbor Margaret Wingate (Veanne Cox), who wants to buy it to complete her late husband's dream of owning all the land in the area.
Jane's sister, Gloria, dreams of being a star, but it turns out her real talent is producing, planning and running things.
So, we have three strong women who know what they want and are not afraid to go for it.
One of Margaret's schemes is to have her son, whom she dominates, marry Jane. Here Steinkellner has inserted a subtle modern twist: Orville Wingate is more attracted to Phil Filmore, the associate choreographer than he is to Jane.
Director Donna Feore handles all of this with great subtlety. Things are suggested: you are allowed to draw your own conclusions. Too often, subtlety has been lost in modern productions in an effort to "make them relevant."
None of this would work without top-drawer talent; once again, Goodspeed delivers.
Corbin Bleu as the director and star Joe Ross and Danielle Wade as Jane create real chemistry on stage. Add in that Bleu is a terrific dancer – you won't miss Gene Kelly – and that Wade has a gorgeous voice. They truly inhabit their characters – Joe Ross as the confident go-getter and Jane is more down-to-earth and balanced. They make beautiful music together.
The supporting cast is excellent – from Stephen Lee Anderson as Pop, Jane and Gloria's crusty father to Gilbert L. Bailey II as the associate choreographer and Will Rowland as Orville Wingate.
Veanne Cox, as Margaret Wingate gives us the perfect starchy, focused, and ruthless wealthy woman. Yet, she includes a hint of softness, particularly in her adoration of the so-called star of the show, a slightly over-the-hill actor, Montgomery Leach. (Is it a coincidence that Cary Grant's birth name was Leach?). J. Anthony Crane plays the role with over-the-top abandon, which is exactly what it needs.
Arianna Rosario as Jane's sister Gloria has a tricky role. Initially, she seems manipulative as she makes a much-too-obvious attempt to get Joe, missing all the hints that he isn't interested. But she becomes more likable when she finds her calling as the producer of the show. The touch of sibling rivalry is true to life.
Besides "Get Happy," which was written by Harold Alen and Ted Koehler, only a few of the original songs from the movie are retained. These were all written by Harry Warren and Mark Gordon. Only the most diehard movie musical fan will recall any of them.
Instead, Steinkeller has used popular songs of the 20s, 30s and 40s that are in the public doman, from "Accentuate the Positive" to "The Best Things in Life Are Free" to "It Had to Be You" and others.
The choreography by Feore is some of the best I've seen at Goodspeed in many years. Doug Besterman's music arrangements and orchestrations and Adam Souza's musical direction make sure that every song captures our interest.
Now a few quibbles. This is a show-within-a-show, but we are never sure what the show they are rehearsing is about. We are focused on off-stage actions and people. Due to this, many of the songs, while delightful and hummable, seem to just be dropped in. How do "It's Only a Paper Moon," "Til We Meet Again," "How Ya Gonna Keep 'Em Down on the Farm" and others fit in? At other times, the lead-in to the songs is overly abbreviated. More flow between the elements is needed.
I'm sure these and some other things will be fixed. If it doesn't head to Broadway (and it should), it will become a staple on tour and in regional and community theaters.
For tickets, visit Goodspeed.org.
This content courtesy of Shore Publications and zip06.com