New Musical The Boy from Oz
Based on Songs and Stories of Peter Allen
By:
Nancy Bishop

-

Aug 11, 2015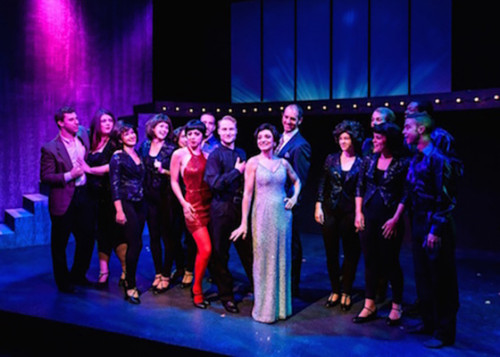 Pride Films and Plays' new production of The Boy From Oz is an exuberant, splashy musical based on the songs and story of Peter Allen, the Australian songwriter and entertainer, whose life became intertwined with Judy Garland's and Liza Minnelli's.
Chris Logan plays Allen (he's onstage constantly for the two-and-a-half-hour show) and heads a cast of 18 actors, singers and dancers. David Zak's skillful direction of this sort-of-bioplay is greatly enhanced by well-choreographed dance numbers and great costumes, courtesy of Cameron Turner (choreography) and John Nasca (costume design). A six-member band makes the music come alive.
The performances and production values of The Boy From Oz provide a pleasant evening's entertainment. It's too bad that all that talent and energy isn't based on better underlying raw material. The book by Martin Sherman and Nick Enright is lackluster. The storyline moves methodically and chronologically as if we were reading from Allen's diary.
Few of Allen's disco-era songs are memorable or hummable. I didn't leave the show with a melodic refrain stuck in my head. (To be fair, however, a number of his songs were successful when covered by other artists.)
We meet Allen as a dance-obsessed kid (played by Garrett Hershey) growing up in rural Australia, then forming a duo and performing in clubs. A chance meeting with Judy Garland (Nancy Hays) results in Allen opening for Garland in London and the U.S. and marrying her daughter, Liza Minnelli (Michelle Lauto). The marriage lasts seven years with both partners occasionally straying; Peter is in denial about being gay. Later he comes out and forms a long-term relationship with Greg (Luke Meierdiercks), who becomes producer and designer of Allen's shows. In act two, Greg dies of AIDS, as Allen did in 1992. Many interludes tie Allen back to his life in Australia and his relationship with his mother Marion (warmly played by Michelle McKenzie-Voigt).
The ensemble dance numbers are some of the best moments of the play, especially the glitzy version of "Everything Old Is New Again" In Allen's 1981 show at Radio City Music Hall, and the finale, "Rio."
The Boy From Oz benefits from some excellent performances. Logan as Peter Allen is a slender, wiry song-and-dance man and flirtatiously relates to other performers and to the audience in some of his diary commentary. Both Hays and Lauto become their mother-daughter characters by suggesting their personas, rather than trying to imitate them.
Katie-Bel Springmann's set design is simple and workable, with the requisite dancers' stairs on the left and a large screen that projects images and continuity to carry out the plot. The piano keyboard graphic over the proscenium is a clever visual touch.
The six-member band led by music director and arranger Robert Ollis is excellent and really revs up the quality of the production. Derek Fitting on trumpet and flugelhorn and Adam DeGroot on alto sax and clarinet are especially fine.
The Boy From Oz is staged by Pride Films & Plays at Stage 773, 1225 W. Belmont, through August 30. Performances are Wednesday through Saturday at 7:30pm and Sunday at 5pm. Tickets are $25-40 and can be purchased online or by calling 773-372-5252.
Courtesy of Nancy Bishop and Gapers Block.