Exploring Mexican Cuisine
Vallarta Food Tours
By:
Susan Cohn

-

Aug 14, 2015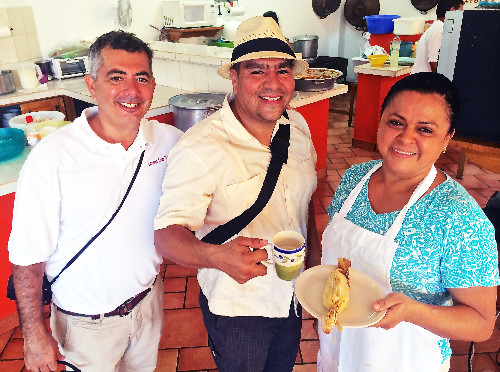 EAT, EXPLORE, EXPERIENCE: PUERTO VALLARTA'S PITILLAL NEIGHBORHOOD SERVES UP LA COMIDA DELICIOSA.

Paul and Lindsay Mayer met in Puerto Vallarta while they were traveling through Mexico. They loved Mexico, travel and food, so it was natural in 2011 for them to start Vallarta Food Tours to share these passions with visitors to their city. Now, every day (and some evenings) of the week, Vallarta Food Tours helps travelers in this world famous resort sample its culinary delights. Delicious discoveries can be found is some of the town's not so famous areas. A case in point: Three days a week, a small group (no more than 10 people) explores Pitillal ("pee-tee-yall"), a charming neighborhood a few miles from the historic center of Puerto Vallarta.

In about three-and-a-half hours and a mile of flat walking, the tour visits nine tasting locations that offer samples of, among other things, local specialties such as carnitas (slow-cooked pork), handmade tamales, birria (a slow-cooked meat stew marinated in red chiles and served in tacos), and Mexican-style popsicles. The history of the authentic dishes and their ingredients is provided along with the delicious fare. Vallarta Food Tours' guides enjoy sharing the unique aspects of the Pitillal neighborhood.

Guide Ricardo Lopez said, "I think the biggest reaction that I get from our guests is surprise. Surprise not just with the taste but also with the complexity and history of Mexican food. Surprise that our vendors do not take shortcuts. For example, they still make tamales by hand all day without the aid of kitchen appliances. Surprise of the pride and happiness that they have in carrying on with these traditions. I love my job because not only do I see smiles and full bellies everyday at the end but I have made them fans of Mexico, its food, people and culture!"
AND THERE'S MORE THAN FOOD ALONG THE WAY.

Woven into the food walk are glimpses of the history, architecture and culture of Pitillal. The first stop, across from the main square where the group assembles, is San Miguel Archangel Catholic Church, where a monumental (over 20 feet tall) carved wood sculpture of Jesus seems to float over the altar. Just a few blocks away is La Regional talabarteria, which since 1957 has been making spectacular hand carved and embellished saddles. Tour participants are welcomed to the upstairs workshop where the labor-intensive fabrication in underway. Leather belts and decorative quirts make good souvenirs.
A HIDDEN CULTURAL GEM.

The Mayers said, "Our Taste of Pitillal Food Tasting Walking Tour is ideal for Puerto Vallarta residents and travelers eager to discover the culinary secrets and authentic traditions of this extraordinary, off the beaten path neighborhood. Whether you're vacationing in Puerto Vallarta for the first time or a proud Vallarta resident we guarantee that you'll walk away with a greater understanding of this hidden cultural gem."
VALLARTA FOOD TOURS PARTICULARS:

In addition to the Pitallal neighborhood tour, Vallarta Food Tours offers a day tour that explores Puerto Vallarta's centro and old town neighborhoods, with sampling of mole enchiladas, traditional ceviche tostadas, tacos from an authentic taco stand, traditional drinks, and regional candies.

An evening taco adventure visits the night street foods of Vallarta with tastings of pozole, sopes, churros, and marlin quesadilla. Full portion samples, enough for a satisfying lunch or dinner, are included in the ticket price. Private groups tours are available. Suitable for all age groups, but participants must be able to be on their feet for the majority of the 3-plus hours. Not recommended for vegetarians. For more information, visit www.VallartaFoodTours.com or call 1-888-457-2210.
AND REMEMBER

Do we really want to travel in hermetically sealed popemobiles through the rural provinces of France, Mexico and the Far East, eating only in Hard Rock Cafes and McDonalds? Or do we want to eat without fear, tearing into the local stew, the humble taqueria's mystery meat, the sincerely offered gift of a lightly grilled fish head? I know what I want. I want it all. I want to try everything once. Anthony Bourdain.
Susan Cohn is a member of the North American Travel Journalists Association, Bay Area Travel Writers, and the International Food, Wine & Travel Writers Association. She may be reached at susan@smdailyjournal.com. More of her stories may be found at http://ifwtwa.org/author/susan-cohn.