Candide by Voltaire with Bernstein's Music
Sante Fe Opera Celebrates Composer's Centennial
By:
Victor Cordell

-

Aug 18, 2018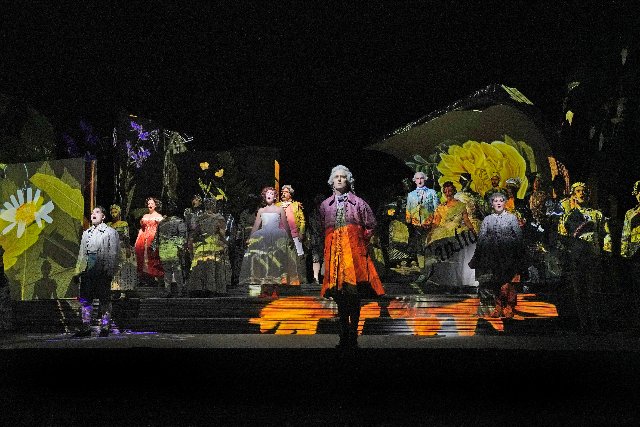 From its inauspicious Broadway debut in 1956, Candide has led a checkered existence with revisions continuing through 1988. But, despite whatever flaws, it possesses wonderful music, is highly literate and stingingly political. Its real narrative weakness is that there is too much of it. The theme gets driven home too many times with repetitious vignettes that add little. That said, Santa Fe Opera commemorates the Leonard Bernstein centennial with a superior and visually spectacular production of this important work.
Based on Voltaire's 1759 novella of the same name, Candide was a reductio ad absurdum of philosopher Gottfried Leibniz's theory of deterministic optimism. In the voices of his characters, Voltaire repeatedly lauds our existence as "the best of all possible worlds," and each time ridicules the notion with accounts that contradict the claim. Somehow, defenders of the moral dictum of deterministic optimism rationalize collective personal displeasures as leading to good for the whole. Real life examples in the novella and operetta that are dismissed by its adherents include the loss of 30,000 lives in an earthquake in Chile; the auto da fé (literally "act of faith" but really the burning of heretics by the Spanish and Portuguese Inquisitions); and war in general.
The story line follows a group of characters centered on the illegitimate, naive title character, who was adopted into a baronial family. Under the tutelage of Professor Pangloss, he and Cunegonde, the daughter of the baron, absorb the teachings of optimism.
But when Candide asks the baron for Cunegonde's hand, he is banished. Ultimately, the couple, the professor, and Pacquette, a maid, depart the facetiously named castle Thunder-ten-tronckh. Frequently separated, they observe, suffer and even perpetrate an endless number of catastrophes on their journeys to over a dozen locales throughout Europe and South America. Time and again, main characters are "killed" only to survive and reappear.
The sparkle of this production is effected by a creative team with world-wide cred that conceived a staging that would bring glory to the most storied opera houses in the world. Stage designer Chantal Thomas's stark opening set is incredibly versatile and effective. Several huge all-white representations of partly opened books and drooping sheafs of paper dominate the stage, but some rotate or move or have flexible sheets that fold down, and all become projection screens that color the world.
Voltaire is played by Kevin Burdette, in front of an army squad. The back wall is open in this production. On the right you can see the Santa Fe sunset above a silhouette of mountain crests.
Director Laurent Pelly not only manages the action with nimble skill but designed the costumes. And, oh, what costumes! Principal characters wear traditional period dress. But in the many group scenes, choristers are clad in crisp Tyvek white outfits, often with sharp black cartoon-like printed accents that create a stunning look of graphic artistry.
Stage and artists are brilliantly lit by Duane Schuler who uses spots along with mottled light of white and gold to create remarkable images. And finally, 59 Productions' projections turn the many shapes of the white set into cornucopias of color from duochrome red and black to an Henri Rousseau-like primitive garden scene at the climax.
But the main draw in opera is the music and its performance. Bernstein has composed a number of singable tunes and lyricist Richard Wilber and others have penned clever words. By design, words and music are often humorously out of sort. To bright, upbeat music, the chorus sings "Auto da fé" with bloodthirsty anticipation of burnings. Candide and Cunegonde sing "Oh, Happy We" about the ideal marriage they will enjoy. But oblivious to one another, he sings of a modest little farm and Sunday picnics, while she expects yachts and costume balls. Of course, the lovely overture, the thematic "The Best of All Possible Worlds" and the finale "Make Your Garden Grow" must be mentioned as highlights.
The artistic pinnacle, however, is the scintillating "Glitter and Be Gay." If most of the songs fit comfortably in lightweight genres, this aria is a soprano's challenge of high order, with extreme range and rapid runs in operatic style. Brenda Rae as Cunegonde lifts the roof with masterful vocalization and broad humor while physically floundering around. It is amazing.
Alek Shrader as Candide and Kevin Burdette as Voltaire and Pangloss excel in their roles as well. Perhaps the most charismatic performance comes from the charming and funny Helene Schneiderman as The Old Lady whose sufferings include having one of her butt cheeks removed. All of the supporting cast and chorus make for lively entertainment.
So why did Candide fail initially, and why should we embrace it now? In 1956, the McCarthy era and the wildly popular film version of Oklahoma were fresh in memory, and the Motion Picture Production Code was in force. Against this backdrop, a sophisticated and subversive show with creators who were listed in Red Channels, which revealed "known communist sympathizers," was out of step with Broadway's taste. In fact, it did not comply with the features of an American Musical, which was the mode.
Ironically, Bernstein was featured in a TV series, hosted by Alistair Cooke, called Omnibus. In one episode, he gave lengthy exposition on the difference between a musical and an operetta. Among the distinctions, the former is spoken and sung in the common vernacular; the story has American setting and themes familiar to the audience; and many of the songs are generic and could be interchangeable with other musicals. Conversely, Candide has many stylized manners of speaking and singing including some foreign tongues; it is replete with numerous exotic settings, personages, and themes; and the songs are distinctly about the action in the show and drive the plot forward. It is definitely an operetta that did not mesh with audience preferences of the day.
Apart from the many revisions that presumably improved the product, sensitivities have changed. Concerned people will now look at Candide differently and consider it more interesting and relevant. Our cynicism matches Voltaire's. We revolt against abuses of power. We are offended by discrimination. It is unclear at what point in the work's evolution the gay and crossdressing motifs appeared, but they would be received with greater comfort and sympathy now than in the '50s. And as opera goers, we have expanded our reach to include musical forms that are not shackled to the traditional operatic mold.
Few more than Leonard Bernstein have been victimized by their own limitless talent and acclaim. Renowned as the first American music director of the New York Philharmonic and the star of multiple television programs on music, these diversions limited his legacy as a brilliant composer. He did find time to write the music for West Side Story, On the Town, Trouble in Tahiti, and numerous works for the concert hall. And as a critical figure in spanning musical boundaries, he composed the witty, luminous, yet socio-politically provocative Candide. It is a fine contribution to the canon, and Santa Fe Opera serves the creators' work well.
Candide an operetta composed by Leonard Bernstein with book by Hugh Wheeler based on Voltaire's novella Candide and lyrics primarily by Richard Wilber is produced by Santa Fe Opera and plays at its opera house at 301 Opera Drive, Santa Fe, NM, through August 25, 2018.
Posted courtesy of For All Events.