Tristan and Isolde by Richard Wagner
Santa Fe Opera
By:
Victor Cordell

-

Aug 22, 2022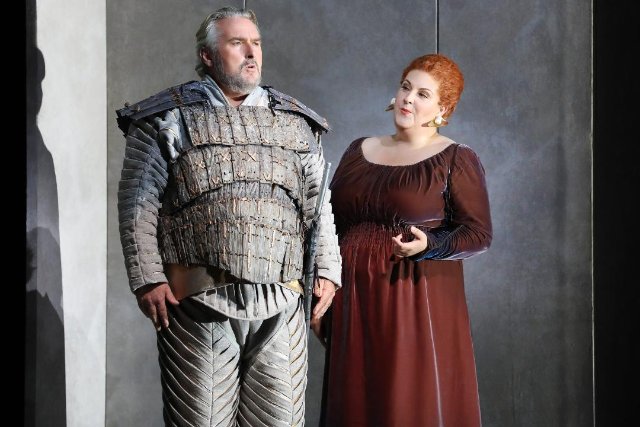 Many people envision life in the Middle Ages as a study in austerity - common people inhabiting featureless hovels and nobles inhabiting dank castles. Directors Lisenka Heijboer Castañón and Zack Winokur and Scenic Designers Charlap Hyman & Herrero Company depict 12th century Cornwall and Brittany as well as a ship that transports ill-fated lovers in symbolic simplicity. Similar to Maya Lin's Vietnam War Memorial - a gash in the landscape – the mottled walls appear a sterile yet somehow fertile canvas. For those who relish stark elegance or appreciate concert versions of opera, the virtually featureless backdrop means little clash of visuals with music. For those who prefer the pageantry of the stage, it is time to let the imagination run wild and to remember that there will be other days. But opera lovers be heartened, as Santa Fe Opera's "Tristan and Isolde" delivers all the power and passion that can be extracted from this most significant opera.
The invariable element of this opera is its formidable music. Premiered in 1865, Wagner's heroic love story presented difficulty in orchestration and near insurmountable vocal challenges. The composer led the musical world to the brink of atonalism with uncommon chord structures and harmonies never heard before, that were largely unappreciated at the time.
Its opening chord receives special recognition as "The Tristan Chord," which more than any several seconds of serious music, changed the trajectory of the art. It's not just that it is dissonant. But true to the material, the strains refuse to resolve through four-plus hours until the very end, thus seeming a repeatedly deferred sensual gratification of Tristan and Isolde's torturous love. Only with the beautiful closing "Liebestod" (love-death) motif does any climax occur. Many consider the long unresolved dissonance of the score to act as the gateway to modern atonal music.
"Tristan and Isolde" is distinctive and distinguished on many dimensions. Consistent with later Wagner, the large orchestra not only carries much of the melody and complexity of the music, but also the symbolism of the story with its leitmotifs, which Wagner first revealed in this work. Conductor James Gaffigan heeds the composer's wish that orchestra challenge singers to extract their maximum output, and at times the orchestra can overpower even the strongest singers.
That said, this cast possesses seriously Wagnerian vocal style and strength. For all five principal leads, the word powerful aptly describes their voices. The demands of the roles are formidable, but for the artists portraying the title characters, their stamina is remarkable given the size of parts and length of the opera.
The central characters match well as evidenced in their duets. As Tristan, Simon O'Neill boasts a substantial resumé as a noted Wagnerian tenor. Possessing a clear instrument, he deftly navigates the dangerous contours of the vocals. In a role debut as Isolde and claiming little Wagner experience, Tamara Wilson boldly announces her arrival. With a glass-shattering soprano's high end that pierces the air and relentless vocal force, she should now be able to attract Wagnerian heroines to whatever extent she wishes.
"Tristan and Isolde" differs from most operas in its reflectiveness. Action is limited and plot points are infrequent. Rather, the composer largely addresses the thoughts of the characters, and he is far from sparing with the detail. Long tracts of the opera are monologs and dialogs, eloquently expressed and philosophical. Although the music is always exquisite, the sheer length of the opera and stasis that dominates the narrative and visuals will discourage many from appreciating its assets.
Wagner brings personal baggage to "Tristan and Isolde." He especially obsesses with forbidden love, as it was suffered by him in his passion for Mathilde Wesendonck, the wife of his patron. This relationship is mirrored in the opera, as Tristan travels to Ireland to convey Isolde to the bridal altar. Her intended is King Marke of Cornwall. Tristan is an exemplary person in every respect and Marke's loyal nephew. Since the King's wife had died long before without producing an heir, he had designated Tristan as his successor, yet Tristan sacrifices all when he falls in love with Isolde.
Wagner's other obsession is death, which he links to perfect love, feeling that love transcends death. And in the footsteps of Romeo and Juliet, Tristan and Isolde will face eternity together, as with both literary couples, the death of one prompts the other's need to follow the lover into the afterlife.
Three other principals deserve recognition. Widely recognized mezzo Jamie Barton is Brangäne, Isolde's maid, who consistently shows better judgment than Isolde. Her counterpart is Kurwenal, Tristan's cautious and faithful servant, portrayed by young, clarion bass-baritone Nicholas Brownlee. Finally, esteemed, smooth-voiced bass-baritone Eric Owens portrays King Marke, who is forced to contemplate Tristan's romantic betrayal against his lifetime of loyalty and good works.
While the production is spare, the set works most effectively in Act 2, when the romantic leads are unable to resist one another. Lighting Designer John Torres' low illumination and striking shadows create a haunting atmosphere, as the lovers face gigantic shadows of each other on the walls. The light behind the several sharply cut doorways produces a chiaroscuro effect, much like a Giorgio de Chirico painting.
Despite whatever discomforts may be associated with "Tristan and Isolde," it endures as a monumental piece. A production with this level of quality should be experienced by every opera lover.
"Tristan and Isolde," with music and libretto by Richard Wagner, is produced by Santa Fe Opera, and appears on its stage at 301 Opera Drive, Santa Fe, NM through August 23, 2022.
Courtesy of CordellReports.com.