Little Shop of Horrors at Lyric Stage
Plant Makes Lunch Meat of Actors
By:
Matt Robinson

-

Aug 30, 2019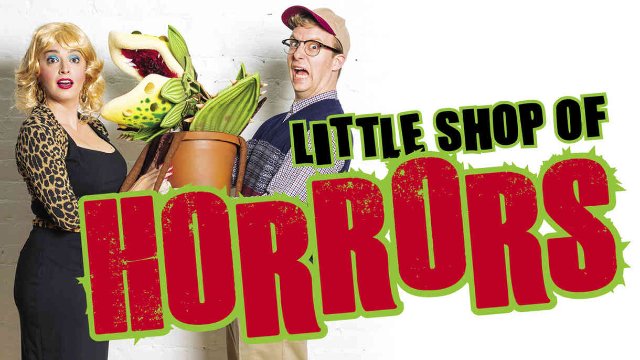 Where can you see the story of a barely-sentient being that promises everyone whatever they want but ends up eating them alive?

No! Not on the nightly news- It's The Lyric Stage Company of Boston's revival of "Little Shop of Horrors" which is being staged through October 6 at 140 Clarendon Street in Boston's Back Bay.
Billed as a "horror comedy rock musical," "Little Shop" was created by the dynamic duo of writer Alan Mencken and the late lyricist Howard Ashman (who have also collaborated on such hits as "The Little Mermaid" and "Beauty and the Beast"). Opening off-Broadway in 1982, it tells the tale of a time when (according to an offstage voice) the human race "suddenly encountered a deadly threat to its very existence" – a mystrious plant that comes to life. And while that threat may not have access to "The Button," it does know how to push people around. Among tis main push-ees is Skid Row orphan Seymour Krelborn who purchases the plant and, in his weet, innocent way, names it "Audrey II" after his dream girl, Audrey. Sadly, while the original Audrey makes Seymour's blood pump faster, her namesake wants to take it all away.
In the Lyric revival, (which kicks off a 219-202 season that will also offer "Agatha Christie's Murder on the Orient Express," "The Cake, "The Treasurer," and "A Gentleman's Guide to Love and Murder") Seymour is played by Dan Prior and Audrey by Katrina Z Pavao. For Pavao, "Horrors" marks her return to the Lyric after appearing in last year's "Kiss of the Spider Woman." It also marks her return to an early stage favorite.
"I was in a production of 'Little Shop of Horrors' my sophomore year of high school," Pavao recalls. "It was one of my most favorite memories!… [The] production inspired me to continue working as hard as I could to create more incredible stories like this one. "
As she has been in love with the show for so long, Pavao was elated when she received the call from the Lyric inviting her to play Audrey.
"Audrey…never gives up," he states. "Even in the final moments of the show, she is selfless and looks for the good in every moment of life… even when life isn't always good to her. She is a beautiful person, and I am looking forward to bringing her to life for our audiences. "
In fact, Pavao adds, the role of Audrey has been "a dream role of mine ever since I first performed this show all those years ago." And when she found out who else was in the cast and crew, she was, to quote Audrey, "Over the moon."

"This show is so ensemble-driven," he observes, "and everyone does incredible heavy lifting. If there is one weak member in the cast, the show can drag and limp along. Everyone in this cast is a superstar. It is full of top-tier talent and impeccable work ethic. When I heard who I'd be playing with, I knew we had something special on our hands!"
Part of that "special" team is Prior, for whom this will represent his first show with the Lyric. For him too, however, it also represents a return.
"I was cast in this show as Mr. Mushnik when I was 13," he says, "and it was an incredible experience! I was the youngest in the cast, getting to work with incredible professional actors… It was an experience I'll never forget, and cemented the show as one of my all time favorites!"
As he so loved the show and knew the reputation of the company, Prior was also thrilled to not only be asked to be part of the Lyric production, but to be the lead.
"It was the most incredible feeling," he beams. "It was a sense…that all the work I've been doing was noticed and trusted! It was also a bigger push to work even harder than ever before!"
And while the costumes and music of the show (which has twice been made into a film- the 1960 version that featured Jack Nicholson and that inspired the stage play and the 1986 version starring Steve Martin, Bill Murray, and Rick Moranis that was inspired by it) may hearken back to an earlier, simpler time. In fact, one of the most famous numbers – "Somewhere That's Green" – literally sings the praises of snuggling while watching "I Love Lucy" on a "big, enormous twelve-inch screen"), both leads maintain that it has an appeal that transcends time.
"I think this show remains so popular because these characters and themes are very relatable to this day," Pavao premises. "At its core, the show is about what we will do for love and, while the characters go to extremes, everyone can share in the moments of true love, exciting success, and desire for more. Also, the music is outstanding! I never get tired of listening or singing to this show."
Prior sees the universality of the show as going much further back than the time in which it is set.
"It follows one of the seven basic plots of Greek tragedy," he points out, thespianishly, "overcoming the monster. It is the type of story we have been telling for centuries, just with some modern trappings and a bit of camp."
As for why this time is "perfect" for a revival, Pavao points out that, as it offers "a hard reality of what greed and power can do to a person," the lessons of the show remain important.
"The final line of the show is 'Don't feed the plant,'" Pavao points out, citing this as "a cry for help." With this in mind, she suggests that, "the more society feeds into the ego of these people, the more we fall apart as a community and then the wrong people (or alien plants) take over."
Again, Prior agrees.
"At the heart of this story is a cautionary tale of what happens when we are complacent," he observes. "If we are not vigilant and we give in to our base desires, then we invite tragedy and ruination into everyone's lives."
While these deeper questions may have been passed over for the sake of laughs in other productions, Pavao praises the Lyric team (especially Director Rachel Bertone) for using the company's intimate space to focus more on them without losing the show's sense of fun.

"The Lyric Stage…works to create a show and environment that asks tough questions and makes their casts and audiences leave each show with a new understanding of society and what they can do to make the world a better place," Pavao says.
And while it may be great for the audience, Prior adds that working at the Lyric is also "an actor's dream."
Whether on the stage or feet away from it, Pavao hopes that everyone involved in the performances comes are "reminded of their love for this show and brilliant comedy."
As for Prior, he hopes that people take some time to think about the larger and perhaps darker issues involve din the show, but emphasizes his desire that they come away with a sense of release.
"This is a funny, heavy, campy, dark and joyful show with a lot of heart," he assures. "I want people to walk away having escaped into our fantasy…forgetting their own woes. On top of that I want people to hum the music while they ponder perils presented and steer clear of Seymour's pitfalls."