Fire and Ice Sculpture by Natalie Tyler
Berkshire Artist-in-Residence at Chesterwood
By:
Chesterwood

-

Aug 30, 2022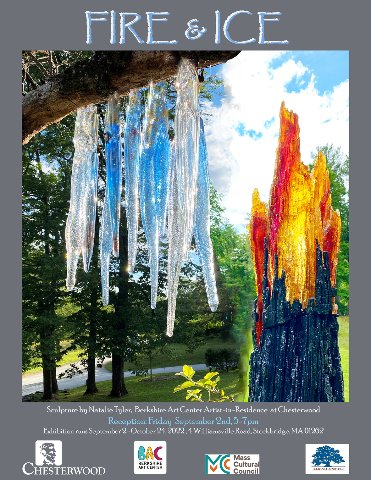 Fire and Ice
Sculpture by Natalie Tyler
The 2022 Berkshire Artist-in-Residence at Chesterwood
On view through October 24
During her summer-long residency, Natalie Tyler has created an outdoor sculpture inspired by the natural landscape. "Fire & Ice" explores the fragile and forceful elements of nature. Her most recent sculptures are about the effects of climate change on the environment.
Chesterwood is the historic home, studio and gardens created in 1896 by America's foremost sculptor of public monuments, Daniel Chester French and is best known as the studio where Daniel Chester French modeled the seated figure of Abraham Lincoln for the Lincoln Memorial in Washington, D.C. Chesterwood is recognized as both a National Historic Landmark and a Massachusetts Historic Landmark. For more information and resources about the life and art of Daniel Chester French as well as photos and videos, please visit Chesterwood.org.
Open May - October, Thursdays - Mondays, 10am - 5pm
Closed Tuesdays & Wednesdays.