Boca Stage Moves
Relocates to Larger Space
By:
Aaron Krause

-

Aug 30, 2023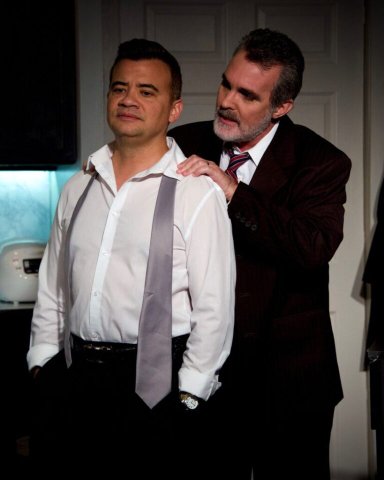 Boca Stage has a new home – the Delray Beach Playhouse.
An increase in sold-out performances and a growing subscriber base prompted the need for more space, said Keith Garsson. He is Boca Stage's founder and artistic director.
With its move from Boca Raton to the Delray Beach Playhouse's home venue, the nonprofit, professional Boca Stage gains that extra room. Specifically, the company will be able to seat more than 140 patrons compared to 70 in its former home, the Sol Theatre in Boca Raton. Boca Stage will mount its shows in the black box/cabaret hall of Delray Beach Playhouse and will serve as the venue's resident professional, Off-Broadway theater company. The playhouse's location is at 950 N.W. 9th St. in Delray Beach at Lake Ida East Park.
"We are very grateful to Kevin Barrett and the staff at Delray Beach Playhouse for this opportunity to co-produce our works in a bigger venue," Garsson said. "We are anxious to provide additional quality productions to add to this historical venue which has served the larger community for over half a century. They couldn't (have been) more helpful; they took us right in, they took over our administrative staff, (and) they absorbed us in less than a month."
Barrett said he is glad to work with Boca Stage.
"We are always looking for new shows and talent to bring to our patrons each season and Boca Stage has an excellent reputation honed over the years," he said. "We are very pleased and many of our current patrons were already subscribers so it was a good fit for us."
In fact, Barrett said that Boca Stage brings something new to the Delray Beach Playhouse.
"They have a certain directorial viewpoint that differs from our normal fare, focusing on edgier type of shows," he said.
Boca Stage, formerly called Primal Forces, mounts a wide variety of works – from topical, timely, and edgy works to classics and comedy. Garsson and his staff gear Boca Stage's programming toward theatregoers of all ages and stages. And the company's recent productions have garnered excellent reviews along with full houses. In fact, Garsson said that recently, Boca Stage sold out more than half of its performances. Also, the number of subscribers has grown from 160 in the company's first year to 589 subscribers when Boca Stage left the Sol Theatre, where it had been a tenant since 2017.
By being one of several companies at Delray Beach Playhouse, "we get to leverage their existing marketing (and) box office staff so that we can focus on just producing the shows," Garsson said. While Delray Beach Playhouse staff will deal with customers, Garsson and Boca Stage director Genie Croft will focus on the production end.
"I'm really excited about (the) new move and am looking forward to new opportunities in a different space," Croft said. While Croft said Boca Stage's and the former Primal Forces' experience at the Sol Theatre was "wonderful," the company needed more space.
"We really needed to expand. That's basically what we needed to do. But it was really wonderful to work (at the Sol Theatre)."
Speaking of the Sol Theatre (www.facebook.com/soltheatre), it will continue to offer programming in areas ranging from Shakespeare to Children's theater.
Croft said Boca Stage's new space will allow the company to offer more programming such as a reading series. However, the immediate focus is Boca Stage's 2023-24 season, which will kick off in October. The new season includes two shows that have occupied Garsson's "Bucket List" for a while.
"It's divine providence that they fit in nicely with the vision of Delray Beach Playhouse," Garsson said.
The upcoming season will consist of three very different pieces: an updated version of the classic suspense thriller Wait Until Dark; Boeing Boeing, a 1960s comedy about airlines and timetables; and America's Sexiest Couple, a comedy featuring two of South Florida's finest actors
"I'm very excited about the upcoming season," Croft said. "The pieces are unique and they're each different and they deal with dynamic relationships."
"We still thrive on the best scripts and hiring the best actors around," Garsson said.
If you have recently tried to visit Boca Stage's website, you likely noticed it was down. That is because Boca Stage and the Delray Beach Playhouse are working together on establishing an updated website. In the meantime, go to www.delraybeachplayhouse.com.
The playhouse, which opened its doors in 1947, offers an arts academy, summer camp, and an annual line-up of shows.
"It can truly be said that the continued success of the Delray Beach Playhouse for these many years has been of the dedication of many individuals in the community who, through their contribution of time, talent and generosity, have worked to bring the fun and culture of live theatre to the Greater Delray Beach area," according to the venue's website.
That group now includes Boca Stage.
The following is Boca Stage's season at a glance. For more information, go to Home - Delray Beach Playhouse. Boca Stage's new website is under construction. You can also call (561) 272-1281.
Wait Until Dark
By Frederick Knott
Adapted by Jeffrey Hatcher
October 27 – November 5, 2023
Forty-seven years after Wait Until Dark premiered on Broadway, Jeffery Hatcher adapted Frederick Knott's 1966 original, giving it a new setting. In 1944 Greenwich Village, Susan Hendrix, a blind but capable woman, is imperiled by a trio of men in her own apartment. As the climax builds, Susan discovers her blindness just might be the key to her escape.
Directed by Keith Garsson
Boeing Boeing
By Marc Camoletti
Translated by Beverly Cross and Francis Evans
January 19 – 28, 2024
This 1960s French farce features a self-styled Parisian lothario, Bernard, who has Italian, German, and American fiancées, each a beautiful airline hostess with frequent 'layovers'. He keeps "one up, one down, and one pending" until unexpected schedule changes bring all three to Paris, and to Bernard's apartment, at the same time.
Directed by Keith Garsson
Starring: Angie Radosh
America's Sexiest Couple
By Ken Levine
April 19 – 28, 2024
Two actors, who 'America's Sexiest Couple' on a popular '90s sitcom reunite for the first time in 25 years. They face a lifetime of unresolved issues, longings, resentments, and regrets. Plus, the network wants to reboot the show. Career and personal aspirations collide – professionally and personally, where do they go from here?
Directed by Genie Croft
Starring: Kim Ostrenko and Wayne LeGette
**********
In other Delray Beach Playhouse news, its annual festival of new plays will take place on Oct. 21 and 22. Nine one-act plays by local playwrights, and read by local actors, will showcase the diverse and talented theatrical community of South Florida. The event will take place at the Delray Beach Playhouse.
The Playwrights' Project enlists local playwrights in Palm Beach and Broward Counties to submit one-act, 10-minute, unpublished plays on any subject matter. Then, a playhouse reading committee selects between eight to 10 plays for production. Auditions take place for actors to portray the characters in the selected works. These are staged readings. As such, there is no blocking, line memorization, or sets to work around. In addition, there are no costume changes.
Auditions in July saw 68 actors turn out to read for 27 characters.
In true festival fashion, the performances will run over two days. You can buy tickets for five shows on Saturday and/or five shows on Sunday. A Festival Pass for both days is also available.
Tickets are on sale. They cost $15 per day, or $25 for a two-day pass. Last year, the festival sold out.
The nine selected plays are:
Canine Confidential by Katherine H. Vellis
Deception by Judy Marilyn Goldstein
Disco Detective by Lee Moffett
Free Bird by Laura Ratto
Love in the Ether by Patricia Wakely Wolf
Mr. Slaughter by Susan Shafer
Outside George's Funeral by Lynn A. Kenneally
Sunday By The Pool by Peter Hoffman
The Thing With Feathers by Bethanie Gorny
All performances will begin at 2 p.m. both days at the Delray Beach Playhouse, 950 N.W. 9th St. in Delray Beach.
For tickets, go to https://delraybeachplayhouse.com/performance/2-day-playhouse-playwrights-festival-pass-2/2023-10-22. You can also call (561) 272-1281.