A Shayna Maidel at Timeline Theatre.
History Play by Barbara Lebow
By:
Nancy Bishop

-

Aug 31, 2018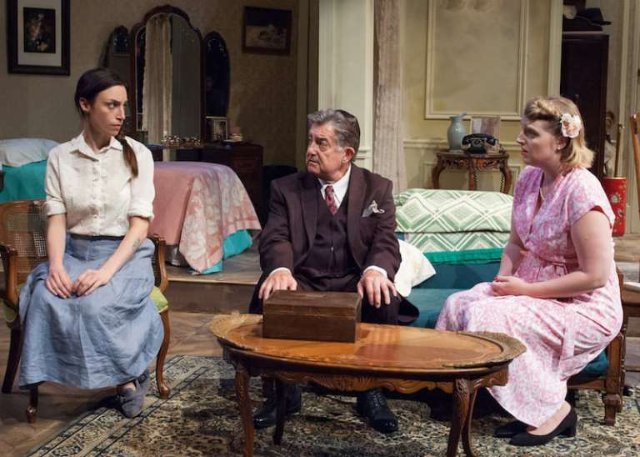 The Holocaust. Armenia. Cambodia. Darfur. Bosnia. Rwanda. South Sudan. Native Americans. Rohingya. Whether or not you had family or ancestors in those hellish genocides, you may find it hard to watch some scenes in A Shayna Maidel at Timeline Theatre.
The tension-filled history play by Barbara Lebow is the timely story of a family torn apart by the Holocaust and war in Europe, meeting again in 1946 New York. The most troubling scene to me comes in act two, when the father, newly reunited with his daughter, reads the names of friends and relatives from his list, and she recounts their fates from her list of murders and executions in the concentration camps of Germany and Poland. It is a quiet scene and shattering in its emotional impact.
A Shayna Maidel (Yiddish for a pretty girl) is skillfully directed by Vanessa Stalling, with careful attention to the present turmoils and wrenching memories of the main characters. Mordecai Weiss (Charles Stransky) and his 4-year-old daughter Rose left Poland before the Nazi takeover of Europe, leaving behind Mama and older sister Lusia. Mama, like most European Jews who were not able to leave, did not survive. The survivors and their relatives found it difficult to reunite.
Now a young woman, Rose (Bri Sudia) has a responsible new job and her own apartment, finally able to live on her own away from her father and other relatives. Everything changes when Mordecai arrives in the middle of the night to tell Rose that her sister has been found with the help of the Red Cross and the Hebrew Immigrant Aid Society. Lusia will arrive in a few weeks. The dictatorial father insists to Rose that her sister will live with her (and she will keep kosher). Rose is troubled because her sister will be a stranger and her new modern life will be upset.
Lusia (Emily Berman) arrives. She and Rose gradually, stiffly, become acquainted, become friends and finally reconnect as sisters. Lusia hopes to find her husband, Duvid (Alex Stein), who appears to her in dreamlike sequences. There are many ghosts and dreams in A Shayna Maidel, as the past and its terrors haunt Lusia and Rose. Mama (Carla Schapiro Silkaitis) appears to Lusia as she was in Poland; Lusia's childhood friend Hanna (Sarah Wisterman) visits Lusia. They reminisce about how they kept each other alive and shared their meager rations in the camp. There are many sweet and tender moments in A Shayna Maidel, along with sad and painful memories.
Director Stalling has an excellent cast with powerful performances from Sudia, Berman and Stransky as the core cast. Sudia will play Rose through October 21 when she will be replaced by Emily Glick.
Collette Pollard's scenic design creates Rose's apartment living room with bedroom and kitchen off to each side. Rachel K. Levy's lighting design serves to create moods, dreams and signal times of day very beautifully. Jeffrey Levin's sound design and Samantha C. Jones' costumes are well suited to the period. Elise Kauzlaric handles dialect coaching. Several of the characters have very strong accents and occasionally are difficult to understand. There's a fair amount of dialogue in Yiddish but its meaning is generally understandable in context.
Playwright Lebow, who grew up in New York, was the granddaughter of "an old world patriarch," who started business with a pushcart that he grew into a successful handkerchief and scarf business. She says his tough personality informed her development of the character of Mordecai. Her story of immigrants separated from their families, written 30 years ago, has new relevance today during the horrors created by the Trump administration.
A Shayna Maidel continues at Timeline Theatre, 615 W. Wellington Ave., through November 4. The play runs 2:20 with one intermission. Buy tickets for $40-54 for performances Wednesday-Sunday.
Posted courtesy of Third Coast Review.