Xanadu the Musical
Produced by San Jose Playhouse
By:
Victor Cordell

-

Sep 01, 2022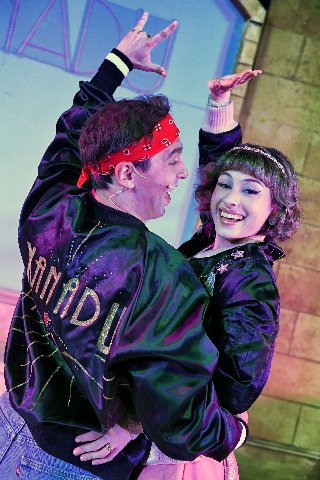 Dial X if you're looking for a good time! Remember the salacious messages from the past scrawled on the walls of telephone booths and public toilets? Serious theater goers may have something else in mind when attending a play. They may be looking for provocative or intellectually weighty. But every once in a while, a good time does the trick, and "Xanadu" scratches that itch.
The successful 2007 musical is based on the 1980 film of the same name, which bombed with critics and audiences. Yet, the film's soundtrack, which is composed by Electric Light Orchestra's Jeff Lynne and frequent Olivia Newton-John collaborator John Ferrar, and performed by O N-J and ELO, went double platinum. What's more, the film became a cult classic, especially with Newton-John fans.
For those not familiar with the work, including this writer, the plot is fanciful. Clio is one of the mythical Nine Muses of Olympus, the inspirational demigoddesses of arts and sciences in ancient Greece. In Venice Beach, California, six of the nine sisters are depicted in a chalk mural by a starving artist, Sonny Malone. When the sisters come to life and descend from the mural, Melpomene and Calliope mischievously play a trick on Clio that will cause her to break the rules set by their father, Zeus, and presumably result in harsh punishment.
The sisters cause Clio to fall in love with a mortal, Sonny. As a result, Clio, hiding her identity; adopting the name Kira; and donning roller skates and leg warmers, joins Sonny on his quest to convert a dilapidated theater into a rink for roller disco, which peaked as a fad around the time of the action. Various divertissements occur.
What makes "Xanadu" fun is its light-heartedness and tongue-in-cheek humor based on ridiculously unrealistic happenings. It's camp. It's kitschy. It'll make you smile a lot and laugh out loud. To make silliness work for 90 minutes is not as easy as it may seem. Director Scott Evan Guggenheim finds the right pacing and tone to make it happen.
The other string to the play's bow is the lively music that any who are familiar with the work of ELO and O N-J will enjoy with great nostalgia. The score includes "Magic," "Evil Woman," "Strange Magic," "Have You Never Been Mellow?," "Xanadu" and more, which is particularly surprising and welcomed for those who don't know what music to expect.
This musical requires a top-notch performance of the central role of Clio/Kira. That comes from Annie Hunt, who echoes the Olivia Newton-John performance in the film with an outstanding singing voice, the requisite Australian accent, and considerable chirp and charm with a super-high likeability factor. Having a fine natural appearance, the one area of improvement would be to make her wholesome look pop, which is faded compared to her sisters when viewed from the audience. Her dirty blond hair (brunette in this rehearsal photo) would stand out better if it were pure blonde, and her subtle lipstick and makeup could stand to be more dramatic.
Meanwhile, Sonny, well portrayed by Jason Kimmel, is somewhat knowledge-challenged, dolty, and naïve, but he does possess vision and persistence to make his roller disco dream a reality. If there is a message in the play, it is Kira's observation about the human spirit when witnessing Sonny's fortitude, that "Humans know they'll die, but still they strive to create." Kimmel's singing voice didn't impress at the outset, but he displayed a very nice tenor instrument by the time of his wonderful duet "Suddenly" with Hunt.
Any interesting plot requires an obstacle to overcome, and that is in the person of Danny Maguire, the initially fast-talking, obnoxious, and overbearing owner of the Xanadu Theater. Though it is due for demolition the next day, he agrees to let Sonny renovate it and become his 25% partner, if Sonny can complete the work by that night! Great guy, that Danny.
What softens Danny, played effectively by Jim Ambler, is that he sees in Kira a lost but never forgotten love from his past. Ambler has a very good baritone voice. His most memorable number is "Whenever you're away from me" a duet with Hunt that includes a fast scat jazz interlude and finishes with a soft-shoe pas de deux.
The hoofing by Kira and Danny is one of several attractive dances of various sorts, including some on roller skates, choreographed by Shannon Guggenheim. The other creatives add dimensions to the production, especially Costume Designer Julie Engelbrecht, who oversees many costume changes in different styles reflecting different periods. Engelbrecht also designed the set.
Comments about the venue. The Bay Area offers some significant outdoor theater. There are amphitheaters with all-weather seating, like Cal Shakes. There is any spot in any park that can hold a mobile stage for San Francisco Mime Theatre, and where the audience can spread out on the grass. And there are site-specific settings for We Players, where instead of scenes changing on the stage, the audience moves from one location to another as scenes change. Their "Romeo and Juliet" at Montalvo was spectacularly fitting, and one for the ages.
San Jose Playhouse has a new formula – performing on the roof of a parking garage with a vista of downtown buildings. But the audience relaxes on indoor theatrical seats that are organized in socially-distanced clusters. It's a nice variation that even provides validated parking in the same building. The atmosphere of the setting adds to the overall fun.
"Xanadu" with music and lyrics by Jeff Lynne and John Farrar and book by Douglas Carter Beane, is produced by San Jose Playhouse and plays on the rooftop of 3 Below Theaters at Second and San Carlos Garage, 288 South 2nd St., San Jose, CA through September 11, 2022.
Courtesy of CordellReports.com