Talking to Jay and the Americans
Founding Member Sandy Yaguda
By:
Matt Robinson

-

Sep 06, 2018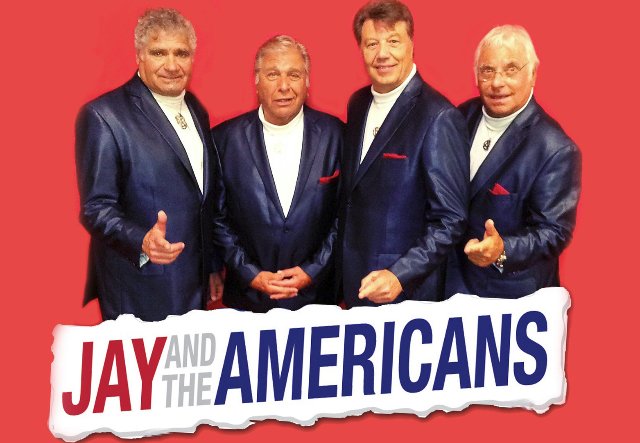 In addition to being the first band to record a hit song by then rookie writer Neil Diamond ("Sunday and Me") Jay and the Americans also sold the most copies of any version of "Some Enchanted Evening."

Their show, Nov 18 at Chevalier in Medford, is sure to be an enchanting evening, featuring such chart-topping hits as "Only in America," "Come a Little Bit Closer," "This Magic Moment," and the multi-lingual hit "Cara Mia."
"Audiences love to hear all the hits," explains founding member Sandy Yaguda, "and that is exactly what they get!"
Having started his performing career as a roadie for his singing and dancing sister, Yaguda recalls being taken from Brooklyn to New York City, many times a week in the back of his mother's car. And though it sometimes meant missing out on his first love - the Brooklyn Dodgers (who he calls "my first rock stars") – Yaguda eventually fell for music.
"My older sister took singing lessons," Yaguda recalls, "and I learned from her to sing harmony."
Inspired by such stars as Bobby Darin, the Everly Brothers, and Elvis, Yaguda eventually got a guitar and started writing songs.
"We started a group just for the love of singing and the incredible feeling of hearing four guys singing harmony," says Yaguda of his early arrangement with fellow Brooklyn-ites Howie Kirschenbaum, Marty Kupersmith, and Jay Traynor. "When its done right, it's almost a religious experience."

Three of the four original band members were Jewish.
"I think hearing the music in Temple in the minor chord structure definitely influenced us," Yaguda muses, "As did all the music on the radio in NY from Latin to Broadway and soul to country. We used it all to form our own individual sound."
Though he admits that his family was "dead set against" his becoming a professional musician (hoping instead for a doctor in the house), Yaguda recalls that, as soon as he had recorded a hit tune, their tune changed as well.
Despite occasional lineup changes, the band has always had a "Jay." Even so, the original name that was bestowed upon them by the legendary songwriting and producing team of Jerry Leiber and Mike Stoller did not use any of the bandmembers' names.
"We were first named Binky Jones and The Americans," Yaguda recalls. "But we rebelled…. Nobody wanted to be 'Binky!'"
With a string of hits and lots of great stories behind them, a Jay and the Americans show is a great night out for music fans of all ages.
"We are keeping the music alive," Yaguda observes, "and actually I think the music is keeping us alive. What a blessing to be still be performing these songs after all this time!"