Conspiracy to Decimate Berkshire Museum
Protests Planned for September 9
By:
Charles Giuliano

-

Sep 08, 2017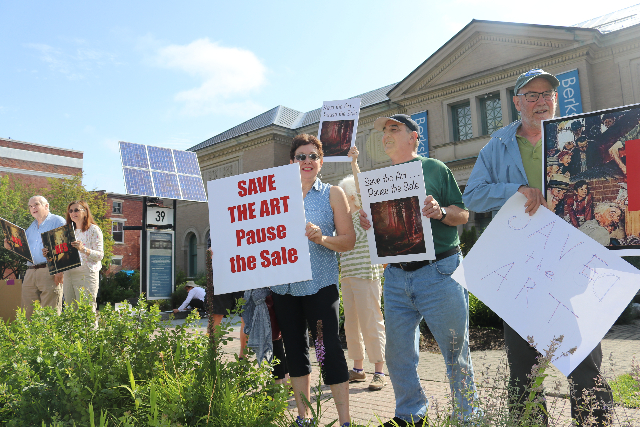 Barring intervention by the Attorney General, at best a long shot, plans to sell 40 works of art, with two paintings by Norman Rockwell worth as much as the other 38 lots, the fall auctions by Sotheby's in New York appears to be a done deal.
For the second time, Saturday, September 9, protestors will picket in front of the Berkshire Museum in Pittsfield from 10 am to 2 pm. There was a lively turnout for the first such event. Many passing cars and trucks honked their support. This time there will be the addition of speakers.
This past week Sotheby's announced a presale estimate of "thirty pieces of silver."
Community opinions of the plan to sell and reboot the museum with child oriented interactive displays of science and natural history have been deeply divided. The museum, facing bankruptcy several years from now, argues that there is no point to saving its crown jewels if there are no walls to display them on.
While professional organizations underscore the ethical violations and dismantling of a heritage some 114 years in the making, others point to the many ways that with more effective management and fiscal planning this fork in the road was entirely avoidable.
MASS MoCA director, Joe Thompson, surprised many when he endorsed the decision for deaccession and extreme renovation including ripping out the historic art deco Crane room.

Taking a similar position a trustee, Joan Hunter, wrote a poignant letter to the editor. The Hunter family has been widely noted for their arts philanthropy in particular through support of MASS MoCA and Jacob's Pillow for which she has served as board president.
As Hunter wrote in part to the Berkshire Eagle "The process has been difficult and painful, but I am confident in the direction the board has taken after a two year process of exploring and evaluating options. The new Berkshire Museum will utilize the collection in an interdisciplinary approach that will engage and excite all ages, and I am anxious for these details to be revealed. Meanwhile, The Clark, Mass MoCA, WCMA, and Norman Rockwell Museum complement our efforts by providing educational programs to help children appreciate and love art. Each museum serves a unique role in the Berkshires.

"I ask the Save the Art folks to look more broadly and advocate to save the museum. This is about so much more than paintings we all love. Because of the Berkshire Museum, I can walk into any museum in the world and feel I belong. I am committed to giving this experience to our Berkshire families and visitors, opening their eyes and minds with wonder, and honoring the legacy of the Crane family. We all need to work together to make this happen, or we will lose a precious gift."
Recent reporting in the Berkshire Eagle, however, suggests that museum director, Van Shields, advised by board member Mark S. Gold, the museum's attorney, may long have planned to monetize the collection and reshape the museum by eliminating the fine arts from its eclectic mix of collections, exhibitions and programming.
There have been no significant accomplishments regarding acquisitions, fund raising, or programming since Shields took over from the widely respected Stuart Chase in 2011. The museum has slid ever deeper into the hole exacerbated by ineffective administration, marketing and pr.

The museum has stated that it is being critiqued by many who are not members and rarely if ever visit.
I was a frequent visitor during the tenure of Chase including numerous reviews and interviews. It was a lively program which as a critic I was committed to support.
When Shields took over as director I requested an interview. At the time I was told that he was "too busy." A year later the answer was the same.
Patrons, a gallerist and artists have reported to me instances of similarly being snubbed by the museum's director. They represented offers to support and work with the museum as they had previously with Chase.

There were occasional press releases and invitations to pay for openings. This is not the best way to entice media coverage.

Recently, I received pr and an invitation to the opening ($10 for adults $5 for children) to an exhibition by Morgan Bulkeley. He is a Boston/ Berkshires artist I have known and reviewed for decades. He showed with Leslie Ferrin when she had a gallery in Pittsfield before moving to the MASS MoCA campus.

"Humorous and ominous at the same time, Morgan Bulkeley's active, engrossing images offer compelling scenarios where humans are pitted against nature, with nature holding the advantage. Morgan Bulkeley: Nature Culture Clash is a solo exhibition of paintings and sculptures by the Berkshire-based artist; Geoffrey Young, of the Geoffrey Young Gallery in Great Barrington, Massachusetts, is the guest curator.
"A significant career retrospective covering five decades, Morgan Bulkeley: Nature Culture Clash includes a wide range of work, from drawings and watercolors created in 1967 and 1968 to a recent series of twelve-by-nine-inch paintings in gouache on paper depicting a vivid array of birds. The exhibition also encompasses carved and painted wood masks and panels, tiny wooden "whimseys," large oil paintings, sculpture, and a site-specific installation. A video titled Egg Wars, featuring stop-action animation with Bulkeley's hand-carved characters, will be included in the exhibition…

"Bulkeley has had solo exhibitions at the Berkshire Museum in 1973 and in 2012; the 50-year retrospective will offer viewers a complete look at his distinguished and prolific career. A catalog to accompany the retrospective will be published in September."
On many levels this exhibition is surprising. For the Berkshire Museum this is exactly the kind of programming they should be doing. The project, however, is more of an end than a beginning. A prominent work in the exhibition is a part of the museum's permanent collection.
There are a number of similar works in the collection from distinguished Berkshire artists including Stephen Hannock and Gregory Crewdson. It is ironic that these artists have direct connections to nature, the topography of Pittsfield (which Crewdson has photographed), and the Berkshire/ Hudson River Landcape traditions. In addition to the two Rockwell paintings, seminal works by 19th century Luminist painters are on the block.

Looking into the future, when it is regurgitated as an interactive gizmo museum, there will be the lost potential of conflating art and natural history. For youngsters and students artists provide unique ways of looking at the natural surroundings of the Berkshires.
Charging to attend Morgan's opening exemplifies ridiculous marketing and PR strategies of the museum. Every effort should be made to encourage us to see the work of one of our best artists. Instead, they want us to foot the bill for wine and cheese. That's not the best way to convey that the museum cares about Berkshire artists.
When the art world was blind sided by the decision to deaccession, rip apart the building and reboot, conspiracy theories surfaced. Recent reporting, however, confirms a basis of facts.
One thesis has been that Shields is indifferent if not hostile to fine arts. There is the often mentioned qualifier that his wife is an artist. But nothing since 2011 has demonstrated an interest or commitment to the fine arts. The museum has not had a curator or collections manager for some time. Curators who left the museum have not been replaced. There has been lackluster programming for the museum's Little Cinema.
It has been suggested that when Shields first looked at the collection he saw dollar signs. That has now been confirmed.

As the Eagle reported "— The executive director of the Berkshire Museum began to speak of "monetizing" the institution's art holdings soon after arriving in 2011, according to a former collections manager.
"He'd ask, 'Why do we need all these Japanese block prints?' "said Leanne Hayden, who now works at a museum in Maine, of Van W. Shields, executive director of the museum.
"Van came in and started talking about monetizing the collection. I heard it from him the whole time," Hayden told The Eagle. "You just don't use that phrase. It was the first time I'd heard it from a museum person. He did use it from the get-go."
"Hayden left the Pittsfield museum in 2014 after a decade of service, first as a collections assistant and then as manager of the 2,395-piece fine art collection."
If Shields looked at the Rockwell paintings and saw a pot of gold at the end of the rainbow he had a perfect partner (pun intended) in Mark S. Gold, the museum's attorney and an authority on deaccession law. They have indeed proven to respresent a 24 carat partnership.

More than just assist the museum in its massive dumping of the crown jewels it has been discussed that Gold aspires to end forever ethical but not legally binding restriction for deaccessions. That's why the coverage has expanded from local to national. Cash strapped museums, colleges libraries and other 501c3 organizations all over American are keenly following what happens in Pittsfield.

Why, for example, hang onto Philadelphia's Liberty Bell, which was cracked anyway? Trustees can sell it for a few millions to repair the roof or expand interactive educational programming. Sound far fetched? Not really.

As the Eagle reported, "There is nothing illegal about monetizing the collection," he (Gold) wrote. If it were illegal, he says, attorneys general would be going after violations. And AGs, he writes, are not in a position to substitute their judgment "for the judgment of [a museum's] board in the good faith exercise of its decision-making power…
"The unwillingness of the museum community to recognize the legal right of museums to monetize their collections lies not just in the misconception that the ethical rule has somehow acquired the status of law, but, more importantly, is encumbered by a failure to appreciate the legal obligation and prerogatives of the governing boards of museums — the trustees," Gold wrote…
"To date, the trustees of the Berkshire Museum have honored the restriction on the use of the proceeds from this sale, as required by the ethical rule. Since the proceeds are otherwise unrestricted as to use, if the trustees were to apply those proceeds to fund operating or capital expenses for the museum, all in support of its articulated mission, they would unquestionably be within their legal right to do so.
"Indeed, one might speculate that at some point, if conditions became dire, they would be violating their fiduciary duties to the institution by declining to do so," he said."

Shields, Gold and Elizabeth "Buzz" Mc-Graw, the trustees president, have stuck to a mantra that given the current rate of drawing on endowment to pay debt and operating expenses the museum would be forced to shut down several years from now.
Professional fund raisers, arts professionals and managers have looked at the numbers and drawn different conclusions.
Williams College economist, Stephen C. Sheppard, has stated that the museum would remain operational if it raised $4.5 million for its endowment. In a press conference last week he presented the results of a study projecting the economic impact and visitation surge for museum development plans in North Adams.

As reported in the Berkshire Eagle Sheppard stated "I continue to believe that they have overstated how much of an emergency they are (in) and I think there would exist a clear path to a sustainable, essentially status quo, outcome that would not require deaccession of the 40 artworks."

While the ethical guidelines are not legally enforceable museums in violation are shunned by other museums. To participate in exhibitions loans and cooperation are essential. Shields has been able to nullify that with plans to get out of the art game. There are options to use what remains of the once distinguished permanent collection for in house projects. Having minimal plans for the fine arts, being boycotted by other museums has little or no leverage ethical or pragmatic. Getting out of the art game may have been a deliberate strategy concocted by Shields and Gold to avoid the potentially devastating impact of sanctions.

As a science and natural science museum, however, it is a major blow to sever ties with the Smithsonian Museums.
"Out of respect for the good relationship we have with the Smithsonian, I initiated a conversation with Smithsonian Affiliations about voluntarily withdrawing our affiliate status because we knew the decision to deaccession art to fund an endowment would not be in compliance with the American Alliance of Museum's guidelines for the use of proceeds," Shields said in a statement to The Eagle. "We subsequently had thoughtful conversations with our partners at the Smithsonian about the decision the board of trustees took to fund the New Vision, ensuring the relevance and longevity of the Berkshire Museum for another hundred years."
That has to hurt.
Given a track record of mediocre management and lack of curatorial vision and programming it is difficult to fathom why the slash and burn plans of Shields are being supported. With that pending pot of gold it appears that he is being given a blank check to create his vision of a museum for the next century.
It is notable that Frank Gehry, a world renowned designer, has been hired to create the model train and architecture museum for North Adams while the architects for the Berkshire Museum are relatively unknown. Looking at the Berkshire Museum model there is no indication of vision let alone genius.
Much has been made of the two year study that involved some 400 individuals. While names and particulars have remained secret individuals who participated have reported that they were not informed about drastic deaccession plans.The scorched earth strategy of Shields and Gold appears to have predated the study.

All of the above may be an example of closing the barn door after the cow escaped.

It is too late to focus on what might have been. But the timing of Shields, Gold and McGraw couldn't be worse.
There is expansion going on all over the Berkshires from Jacob's Pillow and Tanglewood to eleven projects for North Adams. There were major renovation projects for the Clark Art Institute and MASS MoCA. This has equated to the need for more beds and an increase in the hospitality industry.

Expansion in North and South counties over the next few years will benefit the economics of Pittsfield. Why didn't the museum opt for short term fund raising then sit tight for the anticipated boom? If, as Shepard has suggested $4.5 million represents stability, that seems like a reasonable goal. Why was that not explored as an option? Round that off to $5 million with $2.5 million by passing the hat around the board table then raising another $2.5 from other sources.

Most Berkshire arts boards have been doing just that for decades. Arguably, they have better products to sell but doesn't that blow back on Shields and the board which has had since 2011 to get their act together?

A pot of gold will not answer all of the museum's problems. Given the current administration and board one has to ask how long even $60 million will last? Perhaps a hundred years from now the trustees will sell the butterflies.