Connecticut Theatre
Highliighting the Fall Season
By:
Karen Isaacs

-

Sep 08, 2019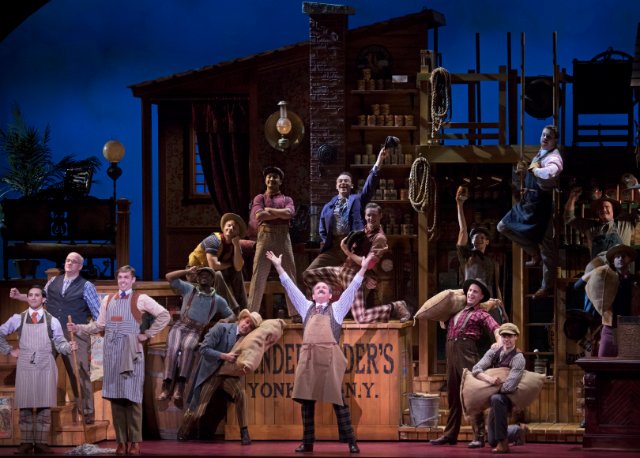 One, two, three, six and 22. A math puzzle?
No – just a list of what happening in Connecticut theaters through the start of the holiday season.
Here's what the numbers all mean.
One – A renovated theater reopens. TheaterWorks in Hartford which has produced three shows at the Hartford Atheneum will show off its renovated home on Pearl Street in October. The lobby has been enlarged, better and more convenient restrooms, an elevator, new seating and lots of improvements backstage will greet theatergoers and performers.
Two – Two new artistic directors are taking the helm at two of our major regional theaters. At Hartford Stage, Melia Bernsussen helped plan this year's season with outgoing artistic director Darko Tresnjak. Jacob G. Padrón is now at Long Wharf Theatre though he was not involved in planning the season.
Four – three world premieres in the New Haven area and one in Westport will tantalize devoted theater goers.
Six –The major presenting houses (the Shubert, the Bushnell and the Palace in Waterbury) will present six Broadway tours.
Twenty-two – Theater goers will have 22 productions to choose among between now and the beginning of December, when most theaters either go dark or offer holiday fare.
Out of all these shows, the 22 new productions plus the touring shows, some are high on my "must see" list. I am always curious about world premieres, though I do admit that the quality of these can vary tremendously. What may sound great on paper, may not be realized effectively in the theater. But there's always some gems.
Here are the 12 shows, listed by opening dates that are on my must see list. Besides new works, I often included works that are favorites as well as works that are less often performed. This doesn't mean that the other productions won't be interesting and excellent.
Billy Elliot opens at Goodspeed on Friday, Sept. 13 although I won't see it until early October. But I have always liked this show based on the British film about a young boy from a coal mining town who has a talent for ballet. The Elton John music juxtaposes his story with that of the miners who went out on strike during the Thatcher era. This isn't just a kid's show. It runs through November 24.
Also in September is Quixote Nuevo at Hartford Stage (Thursday, Sept. 19 to Sunday, Oct. 13). It's a reimaging of the Don Quixote story set in what is described as a "modern-day border town of La Plancha, Texas." This is a production in association with Los Angeles' Huntington Theatre Company and Houston's Alley Theatre.
Shear Madness is at Ivoryton Playhouse (Wednesday, Sept. 18 to Sunday, Oct. 6). This play has run over 12,000 performances in Boston and has also been produced all over the world. I have to see what it's all about. It's described as a show where the audience participates in helping solve the murder of the landlady of a beauty salon. I suspect it will be silly fun.
MTC (Music Theater of Connecticut in Norwalk) is producing another favorite musical, Ragtime (Friday, Sept. 27 to Sunday, Oct. 13). This Tony-winning show based on E. L. Doctorow's novel interweaves three stories at the turn of the 20th century: an upper class white Scarsdale family, a newly arrived eastern European father and young daughter, and a black American struggling for equality. The music is magnificent.
Milma's Tale is billed as a theatrical fable.is at Westport Country Playhouse Tuesday, Oct. 1 to Saturday, Oct. 19. Written by two-time Pulitzer Prize winning playwright, Lynn Nottage, Mlima's Tale is, according to press materials, "about a magnificent and beloved Kenyan elephant named Mlima hunted for his coveted ivory tusks. As traffickers maneuver the illicit ivory market, the animal's invincible spirit follows their path of desire, greed, crime, and corruption." Artistic Director Mark Lamos is directing this play that had a very successful run off-Broadway.
The world premiere of Girls opens Friday, Oct 4 at Yale Rep and runs through Saturday, Oct. 26.It's described as a modern spin of Euripides' The Bacchae, considered one of his greatest tragedies. Press materials say that playwright Brandon Jacobs-Jenkins has given it a contemporary spin with "a killer DJ, bumping dance music and live-streaming video.
Long Wharf is also opening its season with a world premiere, On the Grounds of Belong by Ricardo Pérez González, Wednesday, Oct. 9 to Sunday, Nov. 3. Set in Texas in the 1950s, it is about a romance between a gay white man and a gay Black man, at a time when both interracial marriage and same sex relationships were unacceptable.
Next on my list is A Shayna Maidel at Playhouse on Park in West Hartford, Wednesday, Oct 30 to Sunday, Nov. 17. I remember seeing this play many, many years ago at Hartford Stage. It will be interesting to see how I feel about it now. The title is Yiddish for "pretty girl" and this post WWII story is about two sisters; one who with the father escaped the Nazi and the older who was not able to make it in time.
Westport Country Playhouse is closing its season with a Moliere play I've never seen, Don Juan from Tuesday, Nov. 5 to Saturday, Nov. 23. But this is also a world premiere of a new adaptation by Brendan Pelsue about the famed lover and seducer, Don Juan.
The most anticipate touring show arrives at the Bushnell, Tuesday, Nov. 12 to Sunday, 17. Need I say any more than that it is Hello, Dolly! The show will star Tony nominee Carolee Carmelo as Dolly and John Bolton as Horace vander Gelder. It is a show not to be missed.
The last two fall shows on my list will go through most of the holiday season.
I love Jane Austin so after reading some of the press materials for Pride and Prejudice by Kate Hamill, I'm a little nervous. Long Wharf describes the show "A feminist farce—a screwball twist on a beloved classic! Kate Hamill's adaptation is an ingenious and saucy take on Austen's novel." It runs Wednesday, Nov. 27 to Sunday, Dec. 22. If you miss it here, Playhouse on Park is also presenting the show in 2020.
The fall theater season concludes with the fourth world premiere, The Plot at Yale Rep, Friday, Nov. 29 to Saturday, Dec. 21 by Will Eno. Theatergoers may remember his play The Realistic Jones which also premiered at Yale. The description is quite brief, "with this moving, mysterious, at times hilarious story of a tiny plot of land and some people with grand and incompatible designs on it."
Most theaters do holiday shows between Thanksgiving and the new year, before offering us new fare beginning in January.
While I have not included every show being offered this fall, there are many others that will delight you.
This content is courtesy of Shoreline Publications and zip06.com.