Art in the Barn at Mass Audubon
Two Perspectives on the Natural World: Ghetta Hirsch & Carolyn Newberger
By:
Mass Audubon

-

Sep 13, 2021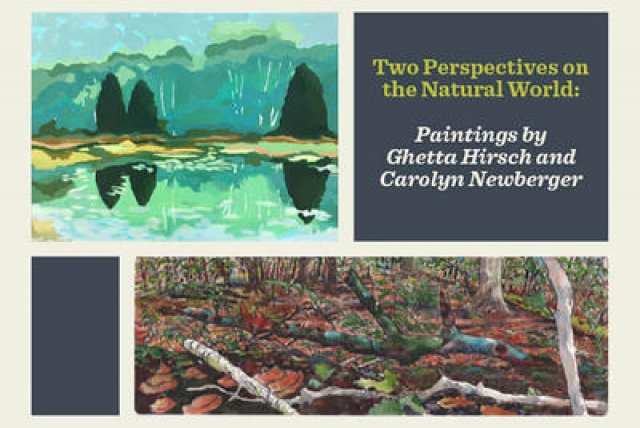 Art in the Barn
Pleasant Valley Wildlife Sanctuary
472 W Mountain Rd, Lenox, MA 01240

Two Perspectives on the Natural World: Paintings by Ghetta Hirsch & Carolyn Newberger
September 18–October 31, 2021
Reception Saturday, September 25, 4 to 7 PM

Berkshire painters Ghetta Hirsch and Carolyn Newberger are both inspired by the abundant nature surrounding them.
Together, their paintings create a visual conversation, evoking nature from alternative points of view—one vast, one intimate—a vibrant dialogue in which form, color and expressive response connect us, through these two perspectives, both near and far, to the preciousness of the natural world.
Experience these differing views of nature during Two Perspectives, which opens on September 18 as part of ArtWeek Berkshires. The show will be hosted at Pleasant Valley Wildlife Sanctuary in Lenox in the sanctuary's historic 18th century barn.

The artists have generously committed 40% of proceeds from all art sales to support Mass Audubon's Berkshire Wildlife Sanctuaries.
Hours
The exhibit will be open Thursday-Sunday from 10am-4pm and other days by appointment through October 31, 2021.
Admission to the exhibit is free for Mass Audubon members and included in sanctuary admission for nonmembers.
About the Artists
Carolyn Newberger enters the Berkshires forest with watercolor paints and notebook in her fanny pack and a folding stool on her back. She works in situ, recording in images and words the hidden treasures that she finds. Ghetta Hirsch is drawn to landscapes that offer a sense of the vastness and mystery of our world. After repeated visits she begins working in oil on canvas en plein air and completes her work in the studio, using photos to help her recapture the experience of the moment in nature.
Immersed in the forest, Carolyn's paintings convey her sense of rootedness in this world, sweat dripping, insects buzzing, the loamy, messy, splendid richness of it all. In her essay, "Summer Eyes and Winter Eyes" (published in The Berkshire Edge on February 1, 2020), Carolyn describes how in summer, surrounded by the opaque lushness of the leafy green understory, her artist's eye seeks out the intimate discoveries close by. She might be drawn to the lacquered mahogany of a Richi mushroom, oozing from the fissured bark of a giant fallen hemlock, or the tangled roots of two trees exposed on a riverbank, revealing the astonishing complexity of the otherwise subterranean world. In winter her eye turns outward, to the vistas now revealed through the leafless landscape.
Tuning into the visual flow before her, Ghetta aims to translate patterns in the landscape to canvas. She refines that flow into pathways of color, symmetry in the reflections on land and water, as well as wavy links from one tone value to another. Her brush moves paint in tune with a sensory exploration of nature, a kind of meditative process as she reacts both physically and mentally to the natural world. As Ghetta explains, "Being able to stop and look is a wonderful experience, but taking the time to paint the views links me to the wonders of creation and the beauty of the earth."