Jazz Entrepreneur George Wein at 95
It Started With Storyville in Copley Square
By:
Charles Giuliano

-

Sep 13, 2021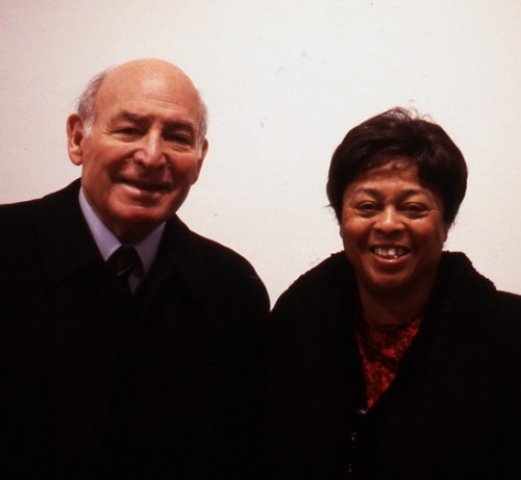 I was a teenager in the 1950s when my Uncle Jim Flynn took my sister and me to see Duke Ellington. It was my first experience of live jazz in what later became a career as a critic. During intermission my uncle introduced me to the Duke who years later I interviewed for the Boston Herald Traveler.
My uncle was a BU grad as was the Storyville owner George Wein. He was playing piano during intermission and we got to chat after that.
Over the years I knew Wein well covering his festivals in Newport, New York, and as promoter for the Boston Globe Jazz Festival.
He was active until the end well into his 90s. Although he passed the baton to Christian McBride the bass player who now curates the jazz festivals. Earlier today I was speaking to music promoter John Sdoucos who mentioned still working with George. I just learned that Wein had died at 95 in New York.
What follows is an extensive interview from 2011.
George Wein You're right on time. In fact a minute early. What can we do for you?

Charles Giuliano When I was a teenager, my Uncle James Flynn, took my sister and me to Storyville to hear Duke Ellington. It was my first exposure to live jazz.

GW A good beginning.

CG As I recall the club was painted in black, brown and beige.

GW Yes.

CG In addition to Storyville of course I would like to talk with you about the Newport Jazz Festival, what is happening now. As well as the collection that you and Joyce assembled of African American artists. Particularly as that work has been shown at Boston University and some pieces have now been donated to the Museum of Fine Arts, Boston.

There is a lot to talk about.

How are you?

GW I'm fine. Getting a little older every day Charlie. I'm in good health. Working very hard and pleased with what I have done with the Jazz Festival this year. The Folk Festival is going gangbusters.

CG I understand there was a tough transition going back to Newport.

GW There was an incident at Newport in 1971. That was two years after Woodstock. It was the era when music should be free. We had 20,000 people in the park and another 8,000 to 10,000 outside trying to break the fences down which they managed to do. We sent the 20,000 people home and then we were out of Newport for ten years. That's when I started the Festival in New York, in 1972.

CG I reported on that for the Boston Herald Traveler.

GW You reported on the kids breaking the fence down.

CG It ran on the front page of the Sunday Herald Traveler. Ernie Santosuosso in the Sunday Globe ran a review of the concert which never happened.

GW I remember you well from those days. You were always a good friend.

CG What I am referring to is actually more recent. Wasn't there a two year lapse?

GW What happened is that I sold my company four years ago. I was still involved in producing the festivals. I was on a salary with the people. But after a year and eleven months they went busted. I had sold them the name the Newport Jazz Festival. But I had a clause in that contract where it came back to me if they went out of business, or abandoned it, or went bankrupt. They abandoned it so I just went back there by myself and took it back. We had two great years. We had a sponsor that made it possible to get by for two years both the Folk and the Jazz.

This year I made the major decision to go non-profit. Going back after I sold it made me realize that I would like to perpetuate it. These events should continue after I'm gone. The only way to do that is to go non profit and then get people involved. People willing to support it. So I'm putting a lot of my life's earnings into it and asking people to join me. If they do the festivals will go on long after I'm gone.

CG I was talking with John Sdoucus who sends his regards.

GW John is a good friend of many years.

CG He told me that when that occurred you told him you were going to "put every penny I have into making that happen." If necessary.

GW Well, yes, I'm going to put a lot of money into it if I get help. I'm working pro bono. I can't take a dime out because I'm putting money in. That's no problem. Thanks God. I don't have to make a living out of the festivals. So that means that the profit motive is not as strong as when I was supporting a whole business doing jazz events all around the world.

CG So you sold the entire business and not just Newport.

GW I sold the entire business. But I don't want the entire business. I just want Newport that's all.

CG Newport was a brand.

GW Newport is my legacy. It's a brand that goes with my name.

CG When you went to New York, initially, wasn't it the Kool Jazz Festival?

GW When I went to New York it was the Newport Jazz Festival New York. We have a license on the name Newport and kept it alive. It became the Kool Jazz Festival but produced by the Newport Jazz Festival. We always kept the logo in there somewhere.

CG Is there a sponsor this year?

GW We have two sponsors. Alex and Ani a jewelry company from Rhode Island which will make symbolic pendants and wrist bands which they will sell at the festival. It's a young people's thing. They are going to be very successful. Not a major sponsor but a good local sponsor. There's another company getting ready but I don't want to give the name because the contract's not signed.

CG Can we go back to Storyville. You were a nice Jewish kid from Newton playing the piano and going to Boston University. How the hell did you open a night club?

GW In those days you could do things very cheaply. I didn't have any money. I had $5,000 that had been given to me for my education. I didn't use it because of the GI Bill. The Army paid for my four years of education. I leased a room from a hotel. In those days you could buy tables and chairs for ten dollars. A cash register for sixty dollars. A piano for $600. So $5,000 went a long way in those days.

CG You started at the Buckminster in Kenmore Square, right.

GW No. The first one was in Copley Square at the Copley Square Hotel. When I found out the guy was cheating me on the liquor I closed up and went to the Buckminster. I was there for three years and then I went back to the Copley Square Hotel.

CG It is good to clarify this as people have been telling me it started at the Buckminster.

GW No it started in what became Mahogany Hall. I did two rooms Storyville and Mahogany Hall. What was the original Storyville. Down stairs, I called Mahogany Hall. I had the big names upstairs and the Dixieland downstairs. I opened in the fall of 1950 in Copley Square. I closed after six weeks and opened up in January or February of '51 at the Buckminster. I think in '53 I went back to the Copley Square Hotel. I was there until 1960. That's when I moved to New York. I was doing production and management. I was producing festivals. The management at that time was Albert Grossman who was managing Peter, Paul and Mary and then Bob Dylan, Odetta. He was my partner and I was producing the Jazz Festival and the Folk Festival. I had a partner in Detroit. We did a festival in Detroit.

Then there was the riot in Newport in 1960 and we all ran out of money.
As Marc Myers has reported "But what began as a chance to swim, find romance and listen to live jazz quickly turned ugly on the evening of Saturday, July 2. Unable to disperse an intoxicated mob of up to 12,000 young people seeking access to the sold-out Newport Jazz Festival, New England's wealthiest community summoned the state police and then the National Guard to restore order. When the tear gas cleared, stricter rules for crowd control and alcohol consumption were enforced at outdoor jazz, rock, pop and soul concerts nationwide. And the Newport Jazz Festival was left with a black eye."

Then I started working overseas to make a living.

That was the first time the Festival was finished. I went back in 1962. By myself. Then I had another incident in 1971. That's when I went to New York. '71 was the Music Should Be Free situation. 1960 was the beer kids. We never had a riot in the Festival. It was always outside. The police in 1960 asked me to keep the music going until two in the morning so they could clear up the streets outside. I had all the musicians extend their playing so they could clean up what was happening. So many people came to town because they kept the bars open until four in the morning.

CG Let's go back to Copley Square. What was a jazz scene at that time and what was your motive to get involved?

GW My roots were at the Savoy where they would keep a band for six weeks. Usually a traditional band of some sort. I had Bob Wilbur (reeds), Sidney DeParis (trumpet), Sid Catlett on drums. It was a very nice band. When I went to the Buckminster I did the same thing. We weren't doing much business. Then we closed for the summer.

Somebody sold me George Shearing for $2,500 a week. It was a fortune. We sold out the entire ten day engagement of George Shearing. You couldn't get in the club. That's when I realized I had to play different attractions and play bigger names. That's when I got involved with everything in jazz from Charlie Parker to Lennie Tristano. Charlie Parker played Storyville twice.

CG As a kid I remember seeing an ad for Billie Holiday. I wanted to see her.

GW Yeah we had Billie Holiday. As well as Ella Fitzgerald, Sarah Vaughan, Duke Ellington, Louis Armstrong. Everyone played there. You said you saw Duke there. He played several times.

CG During the summer you ran a club in Gloucester, Mass.

GW Yes, we used to close during the summer and go up to the Hawthorne Inn in Gloucester. There was a fire there at the Hawthorne Inn.

CG My family has a summer home in Annisquam so as a teenager I went to the Hawthorne Inn several times.

GW We had fun. We used a traditional band up there. Charlie do you have my book? Myself Among Others, a Memoir. It has a lot of what you are asking. You can check the answers.
Charles Giuliano What was your motivation for going into the jazz business? You started the nightclub Storyville early on.

George Wein I never had a motivation. I was going to college. It never entered my mind to have my own nightclub.

CG Where were you playing piano?

GW At the Savoy and at the Ken Club. All the time I was in college (Boston University) I was often playing seven nights and Sunday afternoons. My senior year I arranged classes so I only had them on Monday, Wednesday and Friday. So I could sleep Tuesdays and Thursdays. I was part of the jazz world and jazz was my life. I never thought about being a musician or going into the business of jazz.

When I got out of college I went to my grandfather's business and asked him for a job. But they didn't have one for me. It was a paper products business. They were distributors. So I said the hell with it and took a job playing piano in a Chinese restaurant. Somebody came to me and said why don't you start your own club? It was never a motivation but I was in the world of jazz and music was my crutch. That was my excuse for not getting a job.

CG I remember you playing during intermissions.

GW I didn't play that much when I took over the club. But I would front bands and play outside the club. First I had the Storyville All Stars and then it became the Newport All Stars.

Newport happened because of Storyville. I never had the motivation to do a jazz festival per se. When the Lorillards (Louis and Elaine) came into my club (1954) they said we would like to do something in Newport for the summer. I came up with the idea of a festival because Tanglewood had a festival. A classical festival. So why couldn't we have a jazz festival. The first year it was held at the Newport Casino.

CG A Stanford White building.

GW Yeah, it's still there and we are still doing things every Friday night during the festival. Then the Lorillards got divorced. They supported it for the first several years. Until 1960 when we had that first riot. The Beer Can Riot we call it because the kids were throwing beer cans at the police. The Lorrilards got divorced. There was nothing in 1961. Then in '62 I said, nobody is doing anything so I'll go back there. I called some friends and raised a little money and went back. That's been my life ever since. I did not know I was a pioneer. We were just doing things. We created the first jazz festival at Newport. Then, when we came to New York, we created the first urban jazz festival.

When we came to NY we used Carnegie Hall, Avery Fisher Hall, Radio City Music Hall. We had 40 events in ten days.

CG Can we talk about the most famous night at Newport in 1956 with Duke Ellington and Paul Gonsalvez.

GW Duke called me the night before. There was a party in Newport and somehow he got the number. It was at the Lorillard's house. He said "What's happening up there?" I said "What are you planning on doing?" He said "Well the medley and then a few things." I said "You better come in here swinging. The critics are out to get you unless you do something."

CG Why would the critics be out to get him?

GW The critics in those days were very involved in criticizing everything that happened. It was a brand new situation to have a brand new festival with every major artist. Everyone had a game. It was really the beginning of major jazz criticism. Up to then there had just been Downbeat and Metronome. Then came John Wilson in the New York Times. It's probably why you were assigned to cover for the Boston Herald Traveler later on. We were the establishment. So they didn't want Duke playing the same medley he played everywhere. He needed to do something new, something different.

CG He introduced the Festival Suite.

(Personnel: Duke Ellington (piano); Ray Nance (vocals, trumpet); Jimmy Grisson (vocals); Russell Procope (alto saxophone, clarinet); Johnny Hodges (alto saxophone); Paul Gonsalves (tenor saxophone); Jimmy Hamilton (tenor saxophone, clarinet); Harry Carney (baritone saxophone); John Cook, Clark Terry, William "Cat" Anderson (trumpet); John Sanders, Quentin Jackson, Britt Woodman (trombone); Jimmy Woode (bass); Sam Woodyard (drums).)

It was not that well received.

GW No but then there was the Gonsalves solo on "Diminuendo and Crescendo in Blue" which was the most fantastic thing he had done in years.

CG Also George Avakian of Columbia recorded the festival and that was a break through to issuing live music and expanding through LPs from the traditional three minute cuts.

GW Columbia said "We want to record" which was a big thing so I said, "Ok you pay the artists." So I would get the artists for nothing which I thought was a really good deal. They paid Duke that night. But it was a bad deal. We should have gotten royalties on the records. We never got royalties. I forget but I was probably paying Duke five or six thousand dollars for the night. I can't remember the prices in those days.

CG Didn't you have your own Storyville label?

GW I had a little company for awhile. Two or three years. But I wasn't in the record business.

CG You recorded Vic Dickenson, Ruby Braff, Wild Bill Davidson.

GW We had about 20 different albums. Jackie Cain and Roy Kral. Ruby, and Pee Wee Russell.

CG Those were 10" LPs.

GW They started with 10" and ended up with 12." Then we let it go.

CG Do you think you should have stayed in the record business?

GW No unless I just wanted to spend 24 hours a day making a living grinding out records. You can't do things part way. I tried management. I managed Teddy King and Jackie and Roy, and a few other people like that. Then I realized you can't do both. I ended up giving my life to what I do best which is producing festivals.

CG You are notable for having married an African American woman and been so involved in African American culture. That was very unusual for the 1950s.

GW It's difficult to read people's minds. There were different attitudes. One was it was very liberal and isn't it wonderful. To have the courage to marry an African American girl before the Civil Rights Bill. Another thing was people saying why are you taking one of our best girls when we can't have any of your girls? Black guys would say that to me. Everything is a different attitude with different people. Some people resented the integration while others loved the thought of integration. My white friends, close friends supported me and they loved Joyce. Other people, I don't know what it cost me, I don't think it cost me anything because the pluses far outweighed the minuses. The best thing I ever did in my life was marry Joyce. That was the best thing I ever did.

CG Think about how early that was.

GW We married in 1959. The friends that we made had kept me going. The help that we received. From both the black and white communities.
CG How did you become involved in collecting art?

GW That was always an aspiration. We had a relative who was an artist. A semi known painter he was my grandmother's first cousin. He had a studio in Paris and painted the ballet like Degas.

(Louis Kronberg (1872–1965) was an American figure painter. He was born in Boston, studied at the Boston Museum School, at the Art Students' League, New York, and at the Académie Julian under Laurens and Constant. Establishing himself in Boston, he was appointed instructor in the portrait class of the Copley Society, Boston. Among his best-known works are "Behind the Footlights" (Pennsylvania Academy, Philadelphia) and "The Pink Sash" (Metropolitan Museum, New York). Kronberg was vastly supported by Boston's great art matron Isabella Stewart Gardner, and hence his work is represented in the Gardner collection, in Boston, as well as in the museums of Boston and Indianapolis.)

He never became big but he was a member of the art world. I went to Paris in 1949 during my senior year in college. I visited Louis in his studio. It was very romantic in Montparnasse. I went to the Louvre with him and he told me about the different painters. We took a trip to Antwerp where we went to the museum and saw works by Rubens and VanDyck.

The next thing I know I was taking courses in college on the aesthetics and theory of art. I went to museums everywhere I went. I was very involved as a student of art. With a little money I came to realize I could buy a painting for a few thousand dollars. Next thing I know I was collecting.

CG Was it because of your relationship with Joyce that you decided to focus on African American art?

GW I bought a few paintings by artists who were not African American. Then I found that I couldn't afford them. The prices were going up so fast. I felt that because of my association with musicians and people I met along the way. I had Romare Bearden over to my house for dinner one night because of Al Murray. Since then I collected African American art and I read all the books on African American art. Very few people were collecting the work at that time. It was just a small group. It was about the same time that (Bill) Cosby started to collect.

CG You showed the collection at Boston University.

(Syncopated Rhythms: 20th-Century African-American Art from the George and Joyce Wein Collection at the Boston University Art Gallery, 855 Commonwealth Ave., from November 18, 2005, to January 22, 2006, curated by Patricia Hills.)

GW On Commonwealth Avenue in the art studio building they have an art gallery. We showed 150 odd paintings up there.

CG How extensive is your collection?

GW At one time we had between 150 and 200 works. I sold a lot. I sold seven paintings to the (Boston) Museum of Fine Arts. I sold a painting to the Cleveland Museum. I have given paintings away. I still have a lot of paintings but I'm not a collector anymore.

CG I was under the impression that you were planning to donate works to the Museum of Fine Arts.

GW They may be trying to create that feeling. I said, if you want African American artists, you have to pay for them. You're not getting them for nothing.

CG Why did you say that?

GW If you pay for something you treat it better than if you get it for nothing. One I needed the money and two I did not want to give away African American art. I felt that the museum would have more respect for them if they paid for them.

CG It's significant that the MFA is even interested in acquiring works by African American artists. During the 1940s and 1950s there was the movement of the Boston Expressionists including Jewish artists, Karl Zerbe, Jack Levine and Hyman Bloom.

GW I knew Hyman.

CG The museum showed little interest in collecting their work.

GW They got very short shrift. Jack Levine got a little acceptance.

CG Did you know Jack?

GW I met him but I didn't know him. We both got an award the same night from the Jewish Advocate.

CG The museum never showed interest in minority art so this is a change for them. Isn't it significant that they want to include African American artists in the Art of the Americas Wing.

GW They paid me a lot of money for seven works. So that may be some interest.

CG Would you care to disclose what they paid?

GW Ask them. They'll tell you.

CG As a matter of policy museums do not disclose what they pay for works of art.

GW I think they have to. It's a matter of public knowledge.

CG No they don't disclose.

GW I don't know how they get away with that. Perhaps they have a total figure for acquisitions for the year. Then break down the figures.

CG No, they don't do that. Who were the artist whom you sold to them?

GW I was concerned with the historic artists of the WPA period like Romare Bearden (September 2, 1911 – March 12, 1988) and Norman Lewis (July 23 1909 – August 27 1979) then from a little earlier I had Tanner (Henry Ossawa Tanner , June 21, 1859 – May 25, 1937). From the earlier period I had a Joshua Johnson. (The artist c.1763-c.1824 was an American biracial painter from the Baltimore area. Johnson, often viewed as the first person of color to make a living as a painter in the United States, is known for his paintings of prominent Maryland residents.) He was one of the earliest known African American portrait painters. His works are like those in the Karolik Collection of the MFA. I collected the landscape artist Duncanson. (Robert Scott Duncanson 1821 – December 21, 1872 was born in Seneca County, New York. His father was a Canadian of Scottish descent and his mother was an African American, thus making him "a freeborn person of color.")

I was getting into the history of African American art.

CG Bill Cosby owns the great Tanner "The Banjo Lesson."

GW He has the greatest Tanner ever painted.

CG From what I understand he has been reluctant to loan the painting to exhibitions.

GW If he has enough money he'll start his own museum. I think so. I don't think he'll give all those paintings away. He has a huge collection. I had a few things that he didn't have. I've sold quite a few paintings. I've sold my two best Beardens. I sold to the Cleveland Museum one by the artist, who did the Immigration Series.

CG Jacob Lawence.

GW Yes, Jacob Lawrence. I sold a fantastic Lawrence to the Cleveland Museum for huge money. It's nice to get the money and it's nice to sell them now. It helps in my old age.

CG When you were actively collecting were you and Joyce both involved in the process?

GW Basically I was the energy behind the collecting but it was because of her that I was doing the collecting. Because that was the world I was in.

CG Were the prices affordable then?

GW Yes, it was very different. If you buy a painting for $10,000 and sell it for $1 million you know that prices were different.

CG It proved to be a good investment.

GW Yeah, but you never know that. If you buy paintings for investment, unless you're a big time guy, but the average person, if your buy it for investment, you're crazy. You have to buy because you have knowledge about it and are aware of what it is. You want it and you can afford it, then you buy it. If it becomes more valuable then you're lucky.

CG Looking back at your legacy in jazz you dealt with many of the giants like Miles. Can you tell us what that was like?

GW Oh my God Charlie, you ask me a lot of things. I'm going to have to take a break soon. I'm getting tired.

CG Ok we can shut it down.

GW There's a whole thing about dealing with people like Miles (Davis), (Thelonius) Monk and (Charles) Mingus, Max (Roach) and all the M's. Somehow or other to make the relationship work you had to gain their trust. Each one I gained their trust in a different way.

With Miles once I stopped the payment on his check when he didn't play the gig. He said "Why did you stop the payment? I said "Why didn't you play the gig?" He said "Fuck you" and I never had a problem with him after that. If I had let him get away with the check he would have had no respect for me.

So with each on there was something involved with gaining their trust. They understood that my word was always good with them. If I said I was going to pay them I paid them.

CG At the festivals you often enjoyed creating jam sessions and bringing artists out to play with each other. That didn't always work. I recall an event you did at the Boston Garden with an evening of all stars. You had Dave Brubeck on stage and then brought out Mingus to play with him. Ever playful Brubeck would lay down a riff and then Mingus would cut it to shreds. It was like the scene in Amadeus with Mozart improvising on Salieri. It was the funniest set I heard in my life.

GW That was a benefit we did for the Newport Festival after the riot in 1971. Everyone agreed to play including Aretha Franklin. And we lost money on the event. Nobody believed that so many artists were going to come.

CG Aretha wore an odd outfit like a fluffy snow suit. She looked like a polar bear.

GW I can't recall all the artists but I remember calling Roberta Flack, Aretha. She said "If you call me Aretha one more time I'm going to smash you in the face." I was running round like a chicken with the head cut off.

CG Thanks George. We hope to see you this summer at Newport.