Starting Here, Starting Now
San Francisco Playhouse
By:
Victor Cordell

-

Sep 13, 2021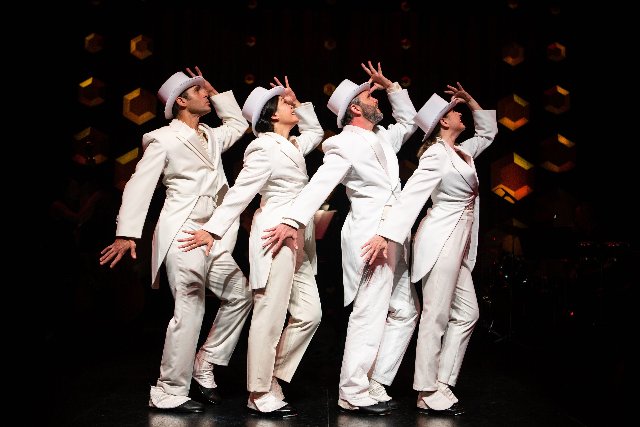 Love is all around in "Starting Here, Starting Now," a musical revue of over 20 songs, each one an independent vignette about life. San Francisco Playhouse offers Susi Damilano's well-directed, high-energy rendering of this 1976 compilation of Maltby and Shire songs. The winsome foursome of Rinabeth Apostol, Wilson Jermaine Heredia, Keith Pinto, and Melissa WolfKlain warble and hoof their way through the evening with verve and enthusiasm in a concept and score with both strengths and weaknesses.
The musical revue is an odd hybrid appealing mostly to lovers of theatrical musicals and of music in general. Its history dates to the late 19th century with the typical characteristics in contemporary times being a series of songs by the same composer(s); dance and other movement to add theatricality; and the absence of dialogue and overarching storyline.
Most successful musical revues ride on the coattails of at least a smattering of beloved songs. The music sometimes derives from theatrical musicals as with "Side by Side by Sondheim," but more often, successful ones come from the world of popular music, like "Smokey Joe's Café," "Ain't Misbehavin'" (conceived by Maltby in 1978)," and "Jacques Brel is Alive and Well and Living in Paris."
What may surprise about "Starting Here, Starting Now" is that the whole roster of songs predates the later Broadway successes of the composers. They are salvage from musicals that folded "out of town" or that never made it to any stage! Though they are professionally crafted, none have had an independent life outside of the stage and soundtrack recordings, so there are no warm and fuzzy ah-ha moments of familiarity in the whole show.
At its outset, the show had modest success in Manhattan dinner theaters, but over the years, it has benefitted from revivals, demonstrating its draw. One attraction to producers is that with a cast of three performers and an orchestra of three, it can be put on almost in a piano bar setting. Since characters are unnamed anyway, SF Playhouse expanded the cast to four, an excellent decision that adds balance, diversity, and heft. An audience appeal of the score is that each song is a mini-drama - often poignant, sometimes emotional, and all sharing truths about relationships. The stories are told with literate thoughts and lyrics, and the music is pleasant. Perhaps true to life, more episodes concern the pain than the joy.
The songs weren't written with the idea of being compiled, so they don't act as a pure life cycle of love and loss (or everlasting bliss). There is however a general flow from the excitement of first meeting with "I'm a Little Bit Off," in which a person tries to control emotions but can't resist the feeling of love, to breakup, with the lament "What About Today?" when the person is consoled that things will be better tomorrow, but the hurt is today. A few numbers fail to connect well with the theme.
Ensembles that work well include the cynical "I Don't Believe It" when listeners doubt the veracity of couples who publicly promote their loving bliss, and "One Step," a tap dance number. Each performer has showcases as well. Apostol is Charo-like sassy as a cosmetics girl in "I'm Going to Make You Beautiful," and WolfKlain is quizzical and distracted by thoughts of love in the clue-driven "Crossword Puzzle." Pinto takes a humorous turn as a clown, while Heredia is reflective as a girl!
SF Playhouse's set design is simple nightclub handsome with Music Director Dave Dobrusky center-stage rear at the grand piano flanked by a percussionist and a bass. Of course, song is the center of the revue. Each artist has a sweet spot in their range, but they are all a bit uneven, and sometimes the vocals seem that they could be stronger if the key were transposed.
Unlike most revues, this one also demands acting out the songs, and on this count, the artists excel, making the drama work. Dance and blocking choreographed by Nicole Helfer provide visual dynamics. It should also be noted that in deference to changing times, the gender associations have changed significantly from the original, to include gay couples and songs sung by the opposite gender intended.
Many preferences in life are a matter of taste. Lovers of musical revues who like the cerebral and the discovery of unfamiliar music and lyrics will appreciate this production.
"Starting Here, Starting Now," a musical revue with lyrics by Roger Maltby, Jr. and music by David Shire is produced by San Francisco Playhouse and appears on their stage at 450 Post St., San Francisco, CA through October 2, 2021.