Boston Pops Holiday Concerts
Return to Live Music at Symphony Hall
By:
BSO

-

Sep 15, 2021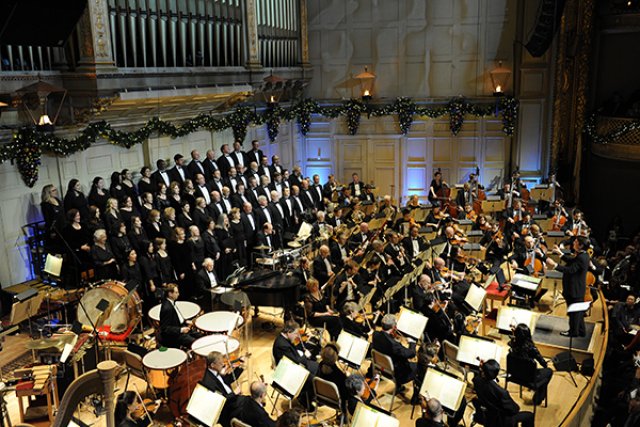 The Boston Pops announces the return of the ever-popular Holiday Pops season at Symphony Hall, December 2 through 24. Under the direction of Boston Pops Conductor Keith Lockhart, the 2021 Holiday Pops season celebrates the reunion of the Pops with its devoted patrons, while the orchestra also welcomes new audience members to experience the sights and sounds of these special concerts with the one-and-only Boston Pops Orchestra.
The 34 evening and matinee concerts will include seven family-friendly Kids' Matinees and a Holiday Pops Sensory-Friendly Concert, with programs featuring both favorites of the season and contemporary holiday music—including the Boston Pops signature work and mega hit, "Sleigh Ride"—as well as a visit from Santa Claus. These programs also will feature the Tanglewood Festival Chorus, under the direction of James Burton, returning to concertize for the first time since the onset of the pandemic. Symphony Hall will be festively decorated for the season and patrons on the orchestra level can order food and drink from their café-style tables.

The orchestra's commitment to returning to performances with audiences is matched by an equally strong commitment to the health and safety of everyone associated with Holiday Pops, including patrons, staff, and musicians. Please click here for the BSO's most recent announcement (8/31/21) about pandemic protocols at Symphony Hall this fall; details about protocols also appear below and at bso.org/safety.

James Burton, BSO Choral Director and Conductor of the Tanglewood Festival Chorus, holds the Alan J. and Suzanne W. Dworsky chair, endowed in perpetuity.

"It is with incredible happiness that we announce our 2021 Holiday Pops season and the Boston Pops' return to Symphony Hall for live concerts with audiences for the first time since December 2019," said Keith Lockhart.

"This hiatus from performing has taught us to treasure on a whole new level what we do as musicians and performers. We have deeply missed our wonderful audiences and the incredible energy and inspiration they bring to the live concert experience.

"The 2021 Holiday Pops programs will reflect our renewed commitment to bringing our very best to our loyal audiences and welcoming newcomers as we celebrate a joyful return to live music with our cherished music community."
2021 Holiday Pops Ticket Information
The 2021 Holiday Pops season goes on sale Thursday, October 7, at 10 a.m. online at bostonpops.org or by phone at 888-266-1200; in-person ticket purchases will be available at the Symphony Hall box office (301 Massachusetts Avenue, Boston, MA) starting at 10 a.m. on October 7. Tickets for the Holiday Pops series begin at $35 for regularly priced concerts; $42 for special-priced concerts; $45 for premium-priced concerts; and $47 for super premium concerts. All tickets for the Sensory-Friendly Concert on December 5 at 10 a.m. are priced at $30. Most Holiday Pops concerts will have one intermission; Kids' Matinees and the Sensory-Friendly Concert will be performed without intermission. Additional details are available at bostonpops.org.