Romeo and Juliet by Charles Gounod
Produced by San Francisco Opera
By:
Victor Cordell

-

Sep 17, 2019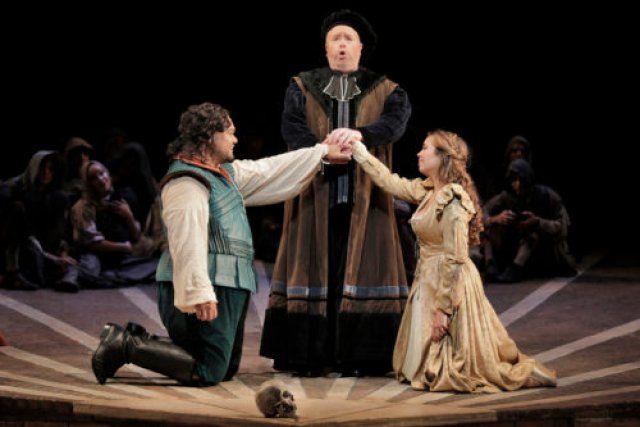 From the portentous prelude with its ominous brass and clashing strings, the tragic conflict between two Veronese clans and the doom of the star-crossed lovers Romeo and Juliet is foreshadowed. Many versions of the world's greatest love story have found their way into the opera house, but one has succeeded well above the rest. Charles Gounod's Romeo and Juliet faithfully follows Shakespeare's dramatic narrative and adds a score of great beauty that has graced the repertory since its spectacular debut in 1867. San Francisco Opera's faithful production possesses sterling artistry and striking staging that honor this compelling opera.
Many productions rise and fall on key performances. This is no exception, and gratefully, this production is blessed with two exceptional performances. Nadine Sierra as Juliet shows why she is one of the most in-demand young sopranos on the opera scene. From her opening arias, including the breezy and beautiful signature piece "Je veux vivre," with challenging coloratura runs, she displays the vocal skills that have yielded her many competitive awards. This production has reinstituted the notoriously difficult "Potion Aria" with two high Cs, which Sierra conquers with ease. But in addition, her Juliet endears as she exudes exemplary acting instincts and charming jeunesse to capture the innocent youth of Juliet.
Pene Pati plays her Romeo, and with this production his trajectory becomes clear. Like Sierra, a Merola graduate and Adler Fellow, he will now continue to play lead roles in big houses. His voice and presence will take him far. Vocally, he is strong and true throughout his range with warm timbre and a slight but appealing emotiveness near the top. And that range is great enough that in the Act III Scene 2 finale, he raises the scored G to a high C and holds it for eight measures, a glorious accomplishment in more ways than one.
Originally the cover and scheduled to perform only once, Pene Pati was a late replacement to sing Romeo. Now he is cast across from Nadine Sierra as one of the kissingingest couples on any kind of stage. But in a twist of fate, who is in the wings to watch but Pati's wife, Amina Edris. She is a soprano who happens to be the cover for Juliet and was scheduled to play Juliet once, on the same day Pati was scheduled to sing Romeo as the cover. They will still perform together on October 1 as one of the rare married couples to sing this opera together.
Sierra and Pati's voices seemed slightly unbalanced dynamically at the start, but through four beautiful duets, their voices blended beautifully, and their charisma, apart and together, was electric. And at curtain call, they showed a rare intensity of mutual appreciation for each other's work and for the joy that they had shared with a giddy display of infectious and well-deserved enthusiasm.
.The remainder of the cast is without a weak link. Most noteworthy, baritone Lucas Meachem booms Mercutio's role with uncommon power and ease. His dismissive ballad "Mab, reine des mensonges" in which he assures Romeo that his friend's foreboding dream is of no consequence, is one of the highlights of the evening. And in somewhat of a surprise, Romeo's lowly page Stephano commands the vacated stage, and the trousers role portrayer, Stephanie Lauricella excels with the chanson "Que fais-tu, blanche tourterelle."
Staging is largely conventional yet spectacular. Costumery at the Capulet Ball runs red with white masks, and combined with the movement and dance creates a dramatic look. Angular sets are sharp and bold, and contrast lighting adds to the appearance. In all, the production shows why this opera has satisfied audiences since its inception.
Romeo and Juliet, composed by Charles Gounod with libretto by Jules Barbier and Michel Carré, and based on the play of the same name by William Shakespeare, is produced by San Francisco Opera and plays at War Memorial Opera House, 301 Van Ness Ave, San Francisco, CA through October 1, 2019.
Courtesy of For All Events.