Brooklyn Museum Deaccessions 12 Works
AAMD Sanctions Corona Emergency Measures
By:
Charles Giuliano

-

Sep 17, 2020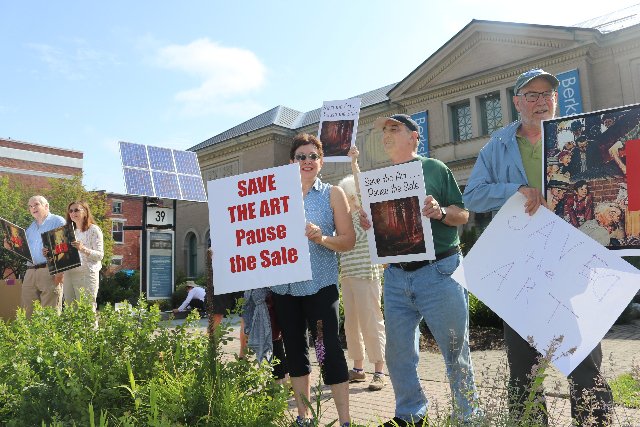 There was outrage in the art world when the Berkshire Museum sold two Norman Rockwell paintings, an early Calder sculpture, Hudson River paintings and other works.
It did so to balance the books and launch renovation projects.

The rule for museums is that they may deaccession works of art only to prune and upgrade collections. To sell art to pay bills for any other reasons is strictly sanctioned by the Association of American Museum Directors (AAMD).
The Berkshire Museum, now stripped of its treasures, is currently under reconstruction. It has tried to make nice and win back hearts and minds but remains a pariah among museums. For many, including myself, it is on the do not visit list.
When the museum prevailed in its legal battles there was concern about the wider implications. Would other cash strapped museums, libraries and historic sites regard collections as liquid assets? Was it an escape clause for trustees with tight purses?
Accelerated by Corona shutdowns, those concerns are now pervasive and palpable. Museums, among other cultural institutions, have been shut down for months. Some are now slowly opening with severe restrictions.
The loss of admissions revenue had resulted in furloughs and programming reductions. Severely reduced staff and funding cuts to the core of museums to execute their mandate to collect, conserve, and exhibit works entrusted to their care in perpetuity. Art is by nature fragile and requires constant care.
The need is so pervasive that most museums pursue forms of triage making difficult choices as to how best use limited resources. These are aspects of museology that are chronically understaffed and underfunded.
Forced by the pandemic into crisis mode museums are taking drastic measures.
There have been bailouts for corporations and tax breaks for billionaires but little or nothing for the arts. Post pandemic, the arts in America will be a shadow of its former self.
Under emergency conditions, the AAMD will relax deaccessioning restrictions for the next two years to allow museums to survive to see another day.
The Brooklyn Museum is the first high-profile museum to make a drastic move. After careful study by the director, Anne Pasternak, the trustees and curators, 12 works will be deaccessioned. They are all from reserve collections and rarely have been exhibited. On the high end are paintings by Corot, Courbet and Canach these will attract millions each at auction. The remaining culled works are by a range of minor artists.
All told, the selection is targeted to raise some $40 million. The fund has a potential annual yield of some $2 million. Given the prominent provenance of the works they are anticipated to attract high-end bids at auction. The top works would be regarded as masterpieces by other museums and Captain Nemo collectors.
The resultant annual funding will be applied to conservation and related staffing.

"This is something that is hard for us to do," said Anne Pasternak, the museum's director. "But it's the best thing for the institution and the longevity and care of the collections."

While a major urban museum it is on the other side of the bridge from Manhattan's Museum Mile. The struggles of the Cinderella museum have been widely reported. Pasternak, whose career stared in Boston as a director of Stux Gallery, is regarded as having brought new life and direction to New York's other museum. Regarding the board and donors, however, the limits of giving are finite. Having tapped out, particularly in pandemic mode, has called for drastic measures.
The money raised will not cover utilities, exhibitions or public programs. Brooklyn is selling 12 works from its collection of more than 160,000 objects.
The deaccessioned works "are good examples of their kind but don't diminish our collections in their absence," Pasternak said. "We have a deep collection of high-quality art, but we have works that — like many museums of our size — have not been shown ever or for decades."

Selling contemporary art, or work by living artists, is regarded by Pasternak as sacrosanct.
Basically, it is never a good idea to deaccession works of art.
In 1945 the Rhode Island School of Design sold Picasso's Blue Period masterpiece "La Vie" (1903) to the Cleveland Museum. As one of the finest works by Picasso in American museums it was a grievous unforced error.

In an exhibition putting the work in context a Cleveland curator William Robinson states that it was "surely one of the greatest blunders by any American museum. Fortunately, RISD's spectacular loss was Cleveland's gain."

As they say in sports, the best trades are the ones you don't make. The Boston Red Sox, for example, traded and sold Babe Ruth to the NY Yankees. The money was used to fund the musical "No No Nannette." The transaction came to be known in Boston as "The Curse of the Bambino."
Paraphrased, the same may be said of the pathetic Berkshire Museum. Stripped of its few great works it's now just a building and eye sore in Pittsfield.