The Abduction from the Seraglio
Opera San Jose
By:
Victor Cordell

-

Sep 19, 2018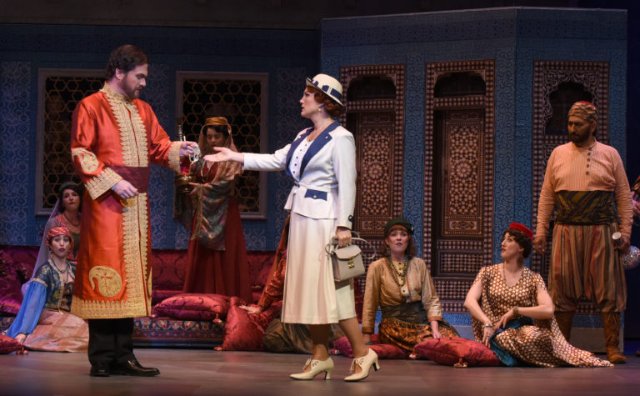 The rarest of prodigies, Wolfgang Amadeus Mozart wrote complete operas to librettos in both Italian and German from age 11. The 1782 premiere of The Abduction from the Seraglio (Die Entführung aus dem Serail) represented a breakthrough, the first full length German language opera (or more accurately, singspiel) of his maturity. It was also his first opera that was a success in his time and that has stood the test of time. A mostly brilliant piece, producing it can be a testy proposition, but Opera San José strikes all the right chords and offers a delightful rendition.
The storyline setup is simple. Turkish Pasha Selim has abducted a Spanish lady, Konstanze, and while she has immediately become the most favored of his wives, their marriage has not been consummated. Along comes her betrothed, nobleman Belmonte, who insinuates himself into the palace disguised as an architect. Thus begins the plot to free her.
On opera's dramatic measuring rod, any production of Abduction would fall on the comedic rather than the tragic end, but Opera San José pushes the comic meter to the point that opera detractors might even appreciate it as a stage comedy with music. It is clear from the opening scene of rapid-fire ripostes when Belmonte confronts the Pasha's overseer, Osmin, that the tone will be bright and brisk.
If music is what attracts you, Mozart brings it. Although Abduction is consistently in Mozart's high quality classical idiom, it can seem a little repetitive and static. And because of the amount of dialogue, the musical and narrative arcs are stop-and-go, and the plot is a bit plodding. However, Abduction offers several entertaining ensemble pieces and a raft of coloratura gymnastics for the two lead sopranos. Rebecca Davis is Konstanze. The timbre in her flexible voice is a little deeper and edgier than expected from one who has sung numerous lyric roles, but it is strong and works very well except at the bottom end of her range. Her attacks are strong, especially in the ascending runs and trills in "Martern aller Arten" that seem to anticipate "The Queen of Night aria" from The Magic Flute. As her maid, Blonde, Karina Galka has a lighter quality with great clarity, which provides nice contrast in shared scenes.
Coloratura is less often associated with the bass voice, but Osmin's is a classic of the type. In that role, Ashraf Sewailam demonstrates great versatility, a beautiful voice, and wonderful comedic acting, especially in his frequent dust-ups with most of the other characters. He is also asked to hit the lowest sung note specified in all of opera in his "O, wie will ich triumphieren," along with other barely audible rumbles.
As the love interest, Belmonte, Matthew Grills also demonstrates virtuosity throughout, especially in his love ballad "Ich baue ganz auf deine Stärke." Rounding out the fine ensemble are Michael Daily as Pedrillo, Belmonte's valet who had also been captured, and Nathan Stark as Pasha Selim, each of whom have their singing and comic moments.
Many stage productions these days use a single combination set, but this production includes 3 1/2 sets with the appropriate use of Islamic architecture and lush green gardens (artificial, of course). The time of action is not specified, but judging from women's apparel and Belmonte's pith helmet, it could be the '20s or '30s, and the update works well.
An assist for the production's sparkle goes to General Director Larry Hancock who authored the taut and witty translations for the supertitles. The large volume of spoken dialogue, which substitutes for recitatives in singspiels, was crafted by Director Michael Shell, who delivers the slam-dunk. Beyond loose translation, his English wording is in contemporary vernacular and contains content that would have mystified Mozart, as when Osmin uses an Al Franken riff from Saturday Night Live, "I'm good enough; I'm strong enough; and by Allah, people like me."
The Abduction from the Seraglio composed by Wolfgang Amadeus Mozart with libretto by Christoph Friedrich Bretzner and revised by Gottlieb Stephanie the Younger is produced by Opera San Jose and plays at The California Theatre, 345 South First St., San Jose, CA through September 30, 2018.
Courtesy of For All Events.