A Little Night Music Sparkles At Huntington
Sondheim's Vintage Show Couldn't Be Any Better
By:
Mark Favermann

-

Sep 22, 2015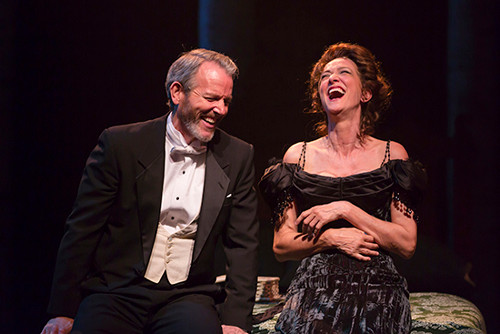 A Little Night Music
With music and lyrics by Stephen Sondheim and book by Hugh Wheeler. Original orchestration by Jonathan Tunick. Suggested by a film by Ingmar Bergman. Directed by Peter DuBois. Choreographer, Daniel Pelzig. Music director, Jonathan Mastro. Costume design, Robert Morgan. Scenic design, Derek McLane.
At The Huntington Theater Company, BU Theatre, 264 Huntington Ave., Boston, MA, through October 11.
Isn't it rich?
Arguably Stephen Sondheim's masterpiece, A Little Night Music now being performed at the Huntington Theatre Company is a nearly flawless production. It is theatrically, visually and musically rich with humor and warmth wrapped in period manners and stylistic accoutrements. The performance is wonderful; the direction and stagecraft are superb. Simply, it is one of the best musicals that I have seen in Boston, New York or even London.
The story is about star-crossed lovers, both young and old, and uniting, reuniting as well as reigniting passions. Mixing a bit of Chekhov and a smattering of Bergman in the narrative and theatrical vision, it is at once amusing, magnetic and compelling.
The show opens with a stark stage, a behind the house view of a bare back theatre wall, traveling trunks arranged along the floor and a spotlighted piano. Entering to the overture and singing, three women and two men appear, a curtain sweeps across the stage and the show begins. The five are the show's 1900's Swedish bourgeoisie Greek chorus. Here the initial bareness of the stage ironically underscores the artifice of the theatre.
Layering upon that, the narrative, the music and the sets work wonderfully to tell the various interlaced romantic stories of mismatched and mistimed couples.
Front and center seated in a wheelchair fitted with a tray for solitaire is Madame Armfeldt (Bobbie Steinbach), a former courtesan who lives on her country estate with her granddaughter, Fredrika (Lauren Weintraub). Both are wonderful. Steinbach's cynical old lady lovingly advises the ernest teenager. Their conversation sets up the play's themes of romance, comedy and nostagia. Madame Armfeldt tells Frederika to be aware of the three "smiles of the summer night."
Each time Steinbach speaks, she literally steals the show. A woman at the end of life somehow getting lost in stories of her youthful romances but still capable of a withering one-liner. Steinbach's veteran comic timing is terrific along with the other cast members.
The Tony-nominated Haydn Gwynne is an older, but sexy yet world-weary Desirée Armfeldt (Madame Armfeldt's daughter and Fredrika's mother), a formerly renowned actress reduced to touring backwater towns. Starring in a "French comedy," near where her former lover, the lawyer Fredrik Egerman (Stephen Bogardus), lives with his teenage wife, Anne (Morgan Kirner), and his seminary student son Henrik (Pablo Torres).
Kirner's Anne gives the character the appropriate mix of impudence and innocence. Still a virgin after nearly a year of marriage who frustrates Fredrik, Anne is the unsuspecting love object of the depressed Henrik. Set in parallel is the story of Desirée's current lover Carl-Magnus (Mike McGowan), a soldier fit but a somewhat dimwitted dragoon and his neglected wife Countess Charlotte Malcolm played by a quite splendid Lauren Molina. She is a wonderful singer and comedian. Her sarcasm is right up there with Steinbach's Madame Armfeldt's sharp-edge cleverness.
Filling in some of the sexual blanks is McCaela Donovan as the Egermans' maid, Petra. She gives Henrik his first taste of sex and dallies with others.
Isn't it bliss?
With any Sondheim vehicle, the music is a bit of bliss. With A Little Night Music, the songs, especially with these performances, are outstanding throughout. Both in the lyrics and orchestration, the intricate rhythms of Sondheim's compositions are rendered beautifully by the thirteen piece orchestra conducted by Jonathan Mastro and the voices of the cast.
Gathering for the weekend at the country estate, the various couples eventually sort out their love lives. The sets by Derek McLane are dazzling while Robert Morgan's costumes visually punctuate the production throughout. Daniel Pelzig's elegant choreography mirrors the shifting alliances as various partners separate and come together.
Gwynne's rendering of the show's most famous song, "Send in the Clowns," is spoken rather than sung. It is totally in the context of the storyline and is as good as it gets. The ache of Gwynne's performance is worth the price of admission by itself. Courageously, her Desirée tries to put a brave face on losing perhaps her last chance at love.
This production of A Little Night Music is brilliantly directed by Peter DuBois. He is at the top of his game with this exquisite show. With all of its fine performances and exemplary stagecraft, this extraordinary musical already may be one of the best productions of the 2015-16 season.