How Walt Disney Lost His Head
Dark Comedy by Lucas Hnath in Ft. Lauderdale
By:
Aaron Krause

-

Sep 25, 2016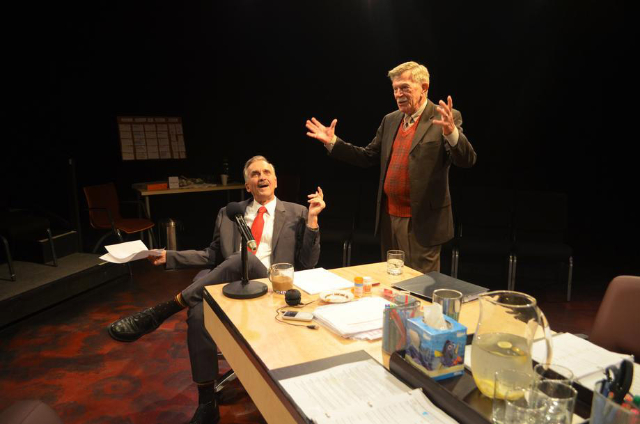 It's Walt Disney like you've never seen before.
The above hardly refers to the wholesome, family-friendly, magical entertainment and theme parks that have become synonymous with the term "Disney."
No, the darkly humorous, unconventional, intriguing play on-stage in an intense, fine production through Oct. 2 at Ft. Lauderdale's Thinking Cap Theatre at The Vanguard is all about the man—but not the kind of man that might spring to mind when Walt Disney's mentioned.
"A Public Reading of an Unproduced Screenplay about the Death of Walt Disney," by playwright Lucas Hnath, turns upside down the positive image of the man popular culture has ingrained in our minds.
Throughout the roughly 90-minute play with no intermission, we witness a narcissistic, stubborn, argumentative, pill-popping, booze-downing, smoking chimney of a dying man. If that's not enough, Hnath portrays him as an individual possessed of an idealism on steroids or crack, take your pick.
This original play, in an exaggerated, absurd manner, tells us that we often are unaware of the faults and eccentricities behind famous people we believe to be infallible and choirboy-like pure.
The play contains the following framing device. Walt Disney is near death and reads, with his brother, Roy, an unproduced screenplay. In it, he basically says he's the greatest man on Earth, argues heatedly with family members, airs his idea to build a Camelot-like city (which sounds terribly tempting in these troubled times) and mentions a mysterious man he knows of in Irvine, Calif.
This man "has a place, a lab, a building, the guy freezes bodies," Disney explains. "The guy tells me that he can take a body and freeze the body, the head, the head of the body, just the head, because that's where everything is, everything that matters is in the head, freeze the head, when the time comes, and when the time comes, when we know how to fix everything there is to fix in the body, everything that can go wrong, when that time comes, we can unfreeze the head, and give the head a better body, a better body that doesn't die."
Has Disney gone mad? Did he somehow suffer from undisclosed dementia? Or have all those pills and booze soaked his brain to the point that he's not making sense?
"Seems a little…" Roy responds, but doesn't finish the sentence. That's OK; we probably know what adjective Roy has in mind.
But Walt remains undeterred.
"This will happen, someday, my city, my place, the place I make, this will be the place where people can go and live forever."
"Yeah. Okay. Sure," Roy responds, probably echoing many witnessing this funny but farfetched play.
Theater requires some suspension of disbelief. But is it too far a stretch to accept that the Disney we all grew up with and felt like we knew, the man who repeatedly wowed us with his magic and brilliance, deteriorated to such depths?
That's not to say playwright Hnath insists Disney was delusional in the twilight of his life. Perhaps he acted the way he did for very human reasons.
Playwright Hnath portrays the late great as a flesh and blood human being, one who argued with family members, might have possessed low self-esteem… and thus needed some extra measures taken to ensure his positive legacy. He might have felt he had "unfinished business" to do before he died.
The play forces us to don our thinking caps (pun intended). Thinking Cap Theatre doesn't carry that title by accident.
"An exploding grenade? Yes, because we at Thinking Cap Theatre strive to create theatre that explodes with thought!" according to its website. Part of the non-profit professional theater company's mission is devoted to "presenting experimental, provocative and socially-conscious plays."
The theater company is also "driven to becoming one of the leading theater companies in the South Florida region."
That doesn't happen without top-notch production qualities.
The actors in this production shine.
In the beginning, Peter Galman as Walt Disney has a charming demeanor, playing him as a man with a winning smile, infectious laugh and content aura. But it's not long before Glaman's wide eyes, burning with passion, lend Disney an urgent intensity borne out of the belief that, with his hacking, blood-producing cough, he may die soon. Galman uses that same fiery intensity to convey a narcissistic, argumentative person who believes he's always right.
Jim Gibbons, as Roy, excels in a performance that's blessed with restraint, a contrast from Galman's intensity. Gibbons, with nuance, plays the peacekeeping, reasoning brother who's not above unleashing some steam aimed at Walt when he's thinking only of himself. Walt displays such an attitude, for example, when he shows his uncaring side toward a poor farmer whose land he wants to use to build his city.
Gretchen Porro matches the quality of Galman's Disney in her portrayal of his daughter. Without seeming forced, she invests the woman with a tough, confident, commanding, strong-willed aura – a family-oriented woman who won't back down when her father insists, for example, that she name one of her children after him.
Alex Alvarez also fares well as Walt's son-in-law, Ron, playing him as a dashing, football-playing jock who argues with Walt about, among other things, succession and football.
This play contains rapid fire, terse dialogue, not unlike the kind you'll see in David Mamet's plays.
The trick for actors is to master this style without responding too quickly and thus losing spontaneity. Under Mark Duncan's measured direction, this cast, for the most part, succeeds, although there are times when lines sound rehearsed.
Alyiece Moretto's scenic design is simple yet detailed. It successfully suggests a room meant for actors to engage in table work. A cluttered table filled with pencils and markers suggests something creative is happening, which makes sense in a room in which Walt Disney's working. There are also pictures of Walt in the background.
Nicole Stodard's costumes consist of appropriate business attire while Eric Nelson's lighting dims and brightens at appropriate times.
"A Public Reading of an Unproduced Screenplay about the Death of Walt Disney" will move you to delve more deeply into the man who was Walt Disney. Playwright Hnath portrays him as a complex figure, bringing to mind more than Mickey Mouse.
"A Public Reading of an Unproduced Screenplay about the Death of Walt Disney"
By Lucas Hnath
Thinking Cap Theatre
Through Oct. 2
Performances at 8 p.m. Thursday through Saturday and 5 p.m. Sunday.
1501 S. Andrews Ave.
Ft. Lauderdale, Florida
Tickets www.thinkingcaptheatre.com or call (954) 610-7263(954) 610-7263