In the Heights by Lin-Manuel Miranda
Hip Hop Musical in Rochester
By:
Herbert Simpson

-

Sep 26, 2017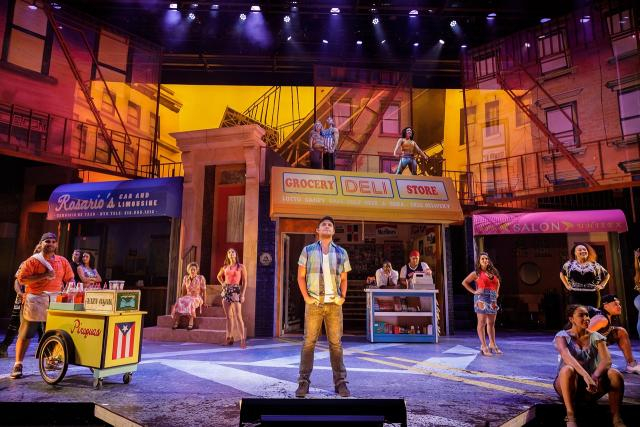 In the Heights
Music & Lyrics by Lin-Manuel Miranda
Book by Quiara Alegria Hudes
Director, Melissa Rain Anderson
Cast: Yassmin Alers, Camaron Burke, Xavier Cano, Amanda Castro, Tony Chiroldes, Nico DeJesus, Sidney Duport, Natalie Gallo, Alejandro Gomez, Donnie Hammond, Grace Hardin, Mary Mendez Rizzo, Tramaine Montel Ford, Jeffrey Nunez, Mia Pinero, Adriana Scalice, Alex Swift, Chiara Trentalange, Carlita Victoria
Technical: Set: Adam Koch. Costumes: Kara Harmon. Lighting: Brian J. Lilienthal. Sound: Danny Erdberg. Dramaturg: Jean Gordon Ryon
Geva Theater – Mainstage
75 Woodbury Boulevard
Rochester, New York
Through October 8, 2017
The only misgiving that Geva's artistic director Mark Cuddy might have about this superb new production of the crowd-pleasing In the Heights is that at the beginning of a crowded season, it has no space available to extend its virtually sold-out run. Were it scheduled at the season's end, it would surely add a number of performances before closing. On opening night, everyone in the theater – from old, expected attendees to first-time youngsters – seemed involved and excited throughout.
It's an odd form of musical, perhaps the model for the musicals of the future, the predecessor and in many ways the origin of the current unbeatable blockbuster, Hamilton, also by Lin-Manuel Miranda, who originally played the role of USnavi in In the Heights.
Essentially, the musical is sung through. There are standard scenes of dialogue, but they are interrupted – more accurately, accompanied – by rapping, bits of song, and constant choreography. Similarly, many of the set-songs are accompanied by bits of dance or a line or two of dialogue, as well as rapping. We are looking at a neighborhood — a single block of New York's Washington Heights – and we simultaneously observe separate families, shops, households. All at once we see these almost entirely Hispanic occupants on the street, and in their doorways, windows, interiors, and rooftop activities overhead. It is the life of a community alive and multi-faceted, interrupted only by an intermission between the acts.
I suppose that USnavi is the "protagonist": his nickname is from his past in the US Navy, from which he returned and was virtually raised by Abuela, the Cuban refugee old lady whom the whole neighborhood seems to regard as "Grandma." Javier Cano and Jasmin Alers are the virtual stars of this production in those roles, but in one scene or song or dance or another, virtually all the splendid cast listed below have starring moments.

We see the couple who own the taxi dispatch overcome by their beautiful, bright daughter Nina's admission that she has lost her scholarship to Stanford because of overworking to pay college expenses. Then the father decides to sell the company his whole life has been a struggle to build. Their young black employee is in love with their daughter, but is not only out of a job because of the sale but also rejected by Nina's father as a son-in-law, not because he is black but because he is not Hispanic.
Abuela secretly has found a winning lottery ticket. Vanessa, the beauty that Usnavi loves, wants to move to the West Village. A city-wide blackout leads to wild confusion, an attack on Vanessa, the looting of Usnavy's bodega. And like that.
A fairly contrived happy ending, except for the mourning when Abuela dies, leaves the audience quite moved – not because this is a particularly well-developed dramatic experience, but because the characters, the settings, the dancing, and, above all, the music and rap-recitations are all quite irresistible. It has won awards in many productions and in many categories. Geva's current version is an unfortunately short-termed delight.
Reposted from Total Theatre.