Sunset Boulevard
Music Theatre of Connecticut
By:
Karen Isaacs

-

Sep 26, 2022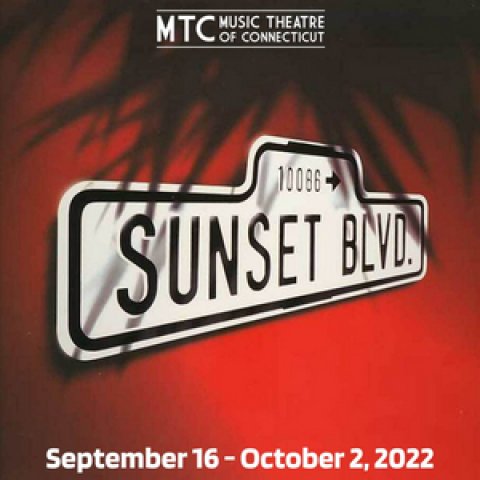 How do you take a "big" musical and turn it into a terrific production for a small theater? Not every director can do that.
Kevin Connors, the artistic director of MTC in Norwalk, has that special talent. It is once again displayed with his production of Sunset Blvd. running through Sunday, Oct. 2.
Go to MusicTheatreofCt.com and get your tickets. You don't want to miss this.
If you are reducing the number of cast members, then selecting the performers is vitally important. Connors has done a terrific job casting.
Each of the four main characters is close to perfect. The other eight cast members move easily from character to character.
Have you forgotten this show? It is based on the classic 1950 film noir of the same name which tells the story of an aging silent screen actress deluded that she will make a comeback and the struggling screenwriter she hires to help her with a script. Add in music by Andrew Lloyd Webber and you had a smash hit in both London and New York.
It helps that the film, directed and co-written by Billy Wilder, offers four complex characters. As you think about the show, you develop questions about why and how each of them gets caught up. Why doesn't the screenwriter recognize what is happening earlier? Or does he just ignore it? Why has the butler, Max stayed with her? And how much of what Norma says and does is an act to manipulate.
Elizabeth Ward Land is excellent as Norma Desmond –the glamorous and aging star. Her voice soars in the two big numbers – "With One Look" and "As If We Never Said Goodbye." Land lets us slowly realize that Desmond does not deal with reality or does she?
Trevor Martin as the screenwriter Joe Gillis brings experience and depth to the role. He isn't some young up-and-coming writer, but a former journalist who is struggling to make it in Hollywood. He's world-weary and disillusioned by the industry. His voice blends well with Land's in "New Ways to Dream" and "The Perfect Year."
Max, Desmond's butler, is the most inscrutable character; even at the end when you know his story, you aren't really sure why. James Patterson makes the most of the role. His rendition of "The Greatest Star of All" is terrific.
The fourth role in these two triangular plots is the young aspiring screenwriter, Betty played by Sandra Marante. Marante does a fine job with the developing romance with Joe and later her disillusionment. Their songs together are terrific.
Connors deftly keeps the show moving both figuratively and literally with the help of choreographer Corrine C. Broadbent. She has used the cast to good affect with stylized 1940s movement.
A highlight of the show are the costumes for Norma Desmond designed by Jimm Halliday. They are glamorous but also reflect that Norma lives in the past. They are more 1920s and'30 than the late '40s.
The other costumes by Diane Vanderkroef reflect the period.
Plaudits to the six-piece musical ensemble led by music director David John Madore. This is not an easy score to sing; yet every member does a fine job. His direction and their talent were responsible.
If I had one complaint, it was with some of the elements of the set, particularly the projections on a curtain.
This production of Sunset Blvd. is a bargain. In most theaters tickets would cost a lot more for a show of this quality.