Britten's the Prodigal Son
Boston- and U.K.-based Enigma Chamber Opera
By:
Enigma

-

Sep 28, 2022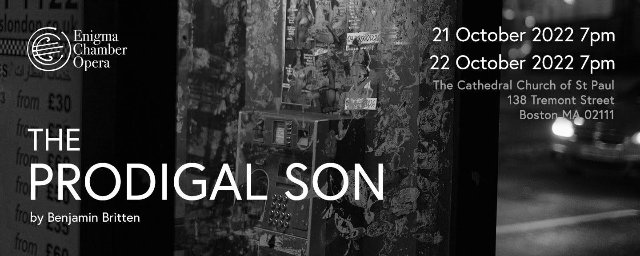 Performances Oct 21-22, 2022 @ 7pm in Boston's Cathedral Church of Saint Paul
Director Kirsten Cairns: "We must be the people who stand by those in need."
The Boston- and U.K.-based Enigma Chamber Opera continues its exploration of chamber works by Benjamin Britten with two performances of the English composer's biblically inspired 1968 opera "The Prodigal Son." The work is the third of Britten's three Parables for Church Performance; Enigma mounted the first, "Curlew River," to critical acclaim last fall. This new production is directed by Artistic Director Kirsten Z. Cairns, who finds in the universal story of parent/child reconciliation and forgiveness a balm for an often bitterly divided society. Perfs are Oct. 21 and 22 @ 7pm at Boston's Cathedral Church of St. Paul.
This production will be available for streaming on the Enigma Chamber Opera YouTube page for one week starting Oct. 28 at 7 pm.
"The Prodigal Son" libretto is by William Plomer, based on a Christian parable told by Jesus to his disciples in the Gospel of Luke 15. Its story centers on two sons of a farmer – the older a hard-working laborer who tends to the family business and the younger, whose reckless ways see him leaving with then squandering his inheritance in a far-off city. Destitute and defeated, the younger son returns home, begging his father to take him back.
Cairns says the familial reconciliation in the opera resonated for her but not in the typical way. "Often with this story we are meant to identify with the Younger Son or the Elder Son," Cairn says. "I found myself wondering if we ought to identify with the Father. I am struck by the biblical line, 'While he was still a long way off, his father saw him and was filled with compassion for him; he ran to his son, threw his arms around him and kissed him.'"
"Last year, in Curlew River we explored the idea that even in your darkest, most desperate days, you will find people who will walk with you, or stand by you; there will be comfort," Cairns continues. "This year our story seems to tell us we must be the people who stand by those in need. Don't wait for them to come to you; run out to greet them and throw your arms around them – that is the love we need to embody in this world."
As in Enigma's mounting of "Curlew River" last fall, "The Prodigal Son" is framed as a spontaneous performance by members of a fraternal community. Cairns leaves the circumstances of the performers' all-male gathering purposefully vague (is it a church group, a recovery meeting, or something else?), but says the concept was inspired by the welcoming and forgiveness that people can find in a church or other supportive community.
Britten's work has been central to Enigma's nascent production history. Cairns directed the company's debut production -- a highly regarded production of Britten's supernatural opera "The Turn of the Screw" -- in January 2020. Her direction in November 2021 of "Curlew River" drew capacity audiences as well as critical raves for "uniformly superb" voices, "astonishingly precise" playing, a "powerful" and "transcendent" production and "the best opera production I saw last year." Enigma will complete the Britten trilogy with a production of "Burning Fiery Furnace" in October 2023.
CAST AND ARTISTIC TEAM
"Curlew River" features seven male singers portraying the gathered men who bookend the main story and characters in that story. Performers are Omar Najmi as The Tempter/Abbott, Aaron Engebreth as The Father, David McFerrin as the Elder Son, Matthew DiBattista as the Younger Son. Paul Soper, Tom Oesterling and Daniel Fridley are chorus members playing servants, beggars and other characters. The performance also features the voices of a small children's choir.
Kirsten Z. Cairns is Stage Director. Music Director Edward Elwyn Jones (also Music Director of Harvard Memorial Church) leads the eight-piece orchestra and plays organ. Lighting design is by Paul Marr; Rebecca Shannon Butler is costume designer; projection design is by Peter Torpey.
The orchestra includes: flute, Aimee Toner; trumpet, Ryan Noe; horn, Emma Staudacher; viola, Emily Rome; double bass, Daniel Gorn; harp, Angelina Savoia; and percussion, Mike Williams.
General admission tickets for "The Prodigal Son" are $30; $20 for students and seniors. Tickets are available Fri., Oct. 1 via EnigmaChamberOpera.org or EventBrite.
The link for purchasing access to the recorded streaming version of the opera is available now here. Streaming access is $15, and purchasable now through the end of the online run.
______________________________________________________________________