New York Philharmonic Pairs Schoenberg and Bartok
From Sweden Come Rich New Takes
By:
Susan Hall

-

Sep 29, 2019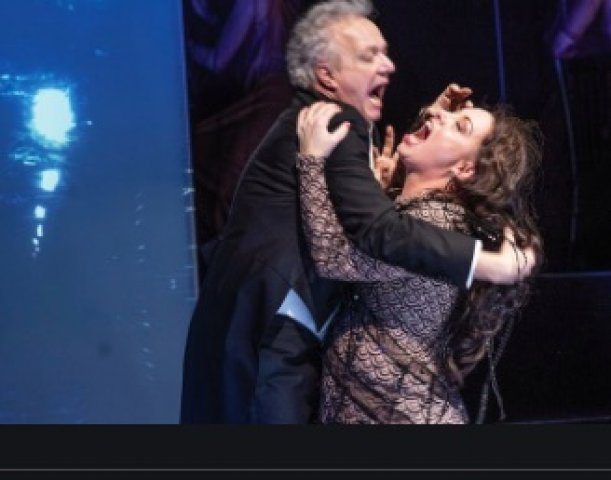 Erwartung by Arnold Schoenberg
Bluebeard 's Castle by Bela Bartok
New York Philharmonic
David Geffen Hall
Conducted by Jaap van Zweden
Nina Stemme (Soprano), Katrina Karneus (Mezzo Soprano), Johannes Martin Kranzle (Baritone).
Bengt Gomer (Director, Set and Lighting Designer), Magnus Lindman (Dramaturg), Per Backjanis (Lighting), Per Ryndnert (Costumes)
September 26-28, 2019

The New York Philharmonic became an opera orchestra for Schoenberg's Erwartung and Bela Bartok's Bluebeard's Castle. A Swedish cast, including the incomparable Nine Stemme and directed by Bengt Gomer, provided new twists to the tales, emphasizing the real or imagined murder of an errant lover and possible survival of an eighth wife of Bluebeard whose beard is not blue. His attractions go beyond a castle and riches.
It was a rich evening of song, brought to ferocious life by Jaap van Zweden. The stage in David Geffen Hall rose to a dramatic height in an insert created for the elevated performances of the cast. Central was a door shaped screen in which videos led a woman through an imagined forest in the Schoenberg and Judith through forbidden rooms of a castle in Bartok.
Stemme walked across the stage carrying lilies to open the Erwartung monologue, singing a song of the same title. Reciprocating, Karneus, with bullhorn, announced that the Bluebeard tale would take us into our deepest interior feelings.

The Erwawrtung opened like Thomas Eakins' Gross Clinic, but an autopsy and not an operation was being performed. Seven medical attendants surround a sheeted lump. Seven is the magic number this evening, because these men will be matched in the second opera by the seven wives of Bluebeard. One medical man takes notes, like the Eakins' painting.
These extraordinary works were given full blown, with the performances on stage matched note for note by the orchestra's performance. It it was smoldering, wrenching and exhilarating evening. It ended with the possibility that the wives including Judith have survived and Bluebeard has collapsed, perhaps dead.
Anatole France, the French Nobel price winner, suggested that Bluebird was shy, not evil. In Mr. Fox, an English edition of the French fairy tale, the new bride's family cut Bluebeard up into a hundred pieces.
Most productions, leave Bluebeard standing, triumphant in his revenge for his ugly blue beard. This one joins the revisionists, as we watch Judith tease Bluebeard. She flirts outrageously with him, even donning a dominatrix sword, as well as a seductive dance and a full-lipped kiss. Great singers like Christa Ludwig have performed the role of Judith. Stemme is in this tradition, outdoing herself in beautiful song and rich dramatic interpretation. Kranzle gave Bluebeard rich vocal and human dimensions. Karneus eletrified as the monologuist in Schoenberg.
Artistic directors of orchestras have learned that presenting semi-staged opera draws audiences. Saturday's included regulars and also a bevy of young people and opera diehards. The stage setting reminded one of Disney Hall, where drama and dance can be presented embedded with the orchestra. While this New York Philharmonic production might be billed as semi-staged, its effect was that of a full production, pared down and highlighted. The parallel importance of singing and orchestra were presented, not with pit and stage, but with orchestra on stage and drama on a second, but just as important level.
The fresh take on the story, and grand conducting by van Zweden created an unforgettable musical evening for fans of music coming from any different vantage points of enthusiasm.