Luigi Pirandello's Naked
New Translation at Berkshire Theatre Group
By:
Charles Giuliano

-

Sep 30, 2018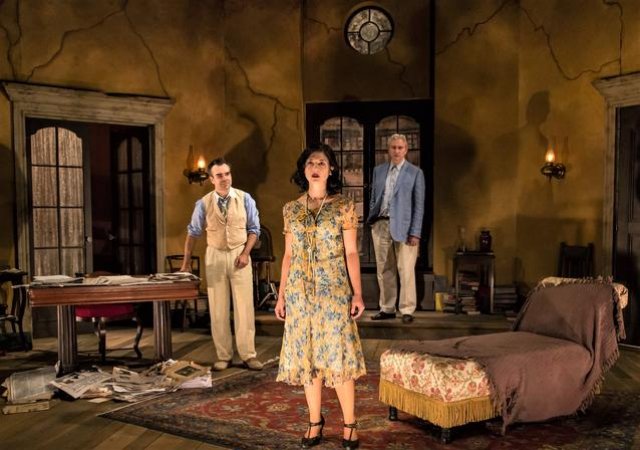 Naked
By Luigi Pirandello
A new version by Nicholas Wright
Directed by Eric Hill
Scenic design, Randall Parsons; Costumes, Yoshi Tanokura; Lighting, Matthew E. Adelson; Sound/composer, J. Hagenbuckle
Cast: David Askins (Alfredo Cantavalle), Haley Aguero (Emma), James Barry (Franco Laspiga), Jeffrey Doorbbos (Consul Grotti), Tara Franklin (Ersillia Drei), Barbara Sims (Signora Onoria), Rocco Sisto (Ludovico Nota)
Unicorn Theatre
Berkshire Theatre Group
September 27 to October 28

Berkshire Theatre Group concludes its 90th season in Stockbridge, with a Unicorn Theatre production of Naked (1922) by the avant-garde, Sicilian master, Luigi Pirandello (1867-1936).
To identify him as Sicilian rather than Italian is deliberate. A prolific playwright, novelist and poet he wrote many works in his native dialect. With the conclusion of the Risorgimento (1851-1870) Tuscan became the official language of Italy.
My father spoke the Sicilian dialect as did my Uncle Bill, a professor of Romance languages at Queens College. He told me of the great literature of Sicilian heritage dating to the medieval period with influences of Arabic and Norman language. Pirandello was the most prominent exponent of this language in the 20th century.
He also has a prominent and transitional role in the development of modernist theatre. Six Characters in Search of an Author (1921) is regarded as his masterpiece and a precursor for Beckett and Theatre of the Absurd. Like the Futurists who emerged during WWI, and were later embraced by Fascism, he shared a blurring of art and nationalism. He embraced then later denounced Mussolini but died before the outbreak of WWII.

Pirandello was awarded the 1934 Nobel Prize in Literature for "his almost magical power to turn psychological analysis into good theatre."
Other than a few works, most prominently Six Characters which we saw some years ago at American Repertory Theatre, the work of Pirandello in recent years has not received the attention it deserves. The current production of Naked, to the best of my knowledge, is the first production of his work in the Berkshires in many years.
In addition to generic benign neglect, the blur of politics, and other trace factors there is the obstacle that plays by Pirandello are daunting. What you see and hear is not what you get. All too typically we emerged from this evening not clear on what we had experienced. Discussing and comparing notes on the ride home we laughed by concluding that it was, well, Pirandello.
It was fun to recall that Astrid and I made our London stage debut in his Absolutely! (Perhaps) in 2003.
There was a meltdown moment as occurs when on Holiday. It was raining when we emerged from lunch in Chinatown having attended a matinee. Not having an umbrella we discussed the prospect of a long, soggy, walk to the half price ticket booth.
Literally, on the next corner I spotted the marquee for a Pirandello play. At the ticket booth I inquired if there were any inexpensive seats? We were told that we could sit on the stage for ten pounds. But we would have to arrive early and be escorted off during intermission.
The play starred Joan Plowright and Oliver Ford Davies. There were three rows of seats on either side of the stage. When the curtains parted it was a thrill to gaze out at the audience. From time-to-time we were startled when someone seated in our rows popped up and delivered lines. There were similar intervals from the audience. It challenged notions of reality and theatre. Indeed, were we performers or audience? Other than that conundrum I don't recall much about the play. It was, well, very Pirandello.
As was Naked last night a dramatic experience about which I would plea plausible deniability. I'm not sure what happened or why but, yet again, it was a thrill to enjoy a rare and exotic theatrical experience.

By the way, to be perfectly clear, nobody took their clothes off other than the leading lady Ersillia Drei (Tara Franklin), metaphorically, in a roiling final scene. The end was so traumatically abrupt, leaving the audience stunned, that she conveyed an expression of relief for having pulled off such emotional legerdemain. The cast appeared bemused by the reaction of the audience. There was no pro forma standing O as ambivalence of the performers reflected the confused response of the audience. It is difficult to cheer for a play which challenges comprehension. But the decision of BTG to produce iconic, cutting edge, vintage work is beyond just daring and admirable.
Yet again, in-house director, Eric Hill, shows his chops by taking on demanding and complex work. Given the challenges, Pirandello for cripes sake, from sets, costumes to cast this may have been the best of all possible productions of Naked. Having produced Beckett and Ibsen, and a Suzuki method Macbeth, the company is now dipping into Pirandello. It earns them a lot of cred in the world of Berkshire theatre.
The set by Randall Parsons, in the compact and cozy Unicorn Theatre, made a strong first impression. There was a flattened arc with entrance on one side and door to a bedroom on the opposite side. The center section frames a large window with shallow balcony looking down on the street below. There is a rough, uneven, planked floor. Behind is a rendering of the view which evokes the painting style of the Austrian expressionist, Egon Schiele. The primary space has a cluttered writing desk of Ludovico Nota (Rocco Sisto). Lighting by Matthew E. Adelson aptly creates transitions of time.
Signora Onoria (Barbara Sims) who rents rooms to the author fusses about. She might be described as a busy body, poking into the business and morality of other people. Overall, she recalls my own experience of such women. But she didn't seem very Italian. The play is set in 1920s Italy but nothing about the production is site specific.
A possible exception is Franco Laspiga (James Barry). There was no hint of dialect but his excessive, histrionic, overacting of the part of a mustered out Lieutenant reeked of similar characters in the now superannuated manner of Post War, Italian Realist filmmakers. Consider Marcello Mastorianni on uppers.
Enter the woman, Ersillia, rescued from hospital after a suicide attempt. We immediately question the motive of her savior. The author Nota swears to benevolence in offering his room over the objections of the landlady. As a gentleman he will sleep elsewhere.
Compared to past strong performances by Sisto he appeared to falter in this role. There were missed lines and a lack of precision with narrative shifts.

"As soon as I read that article," he tells her, "the entire plot for a novel took shape in my mind, from beginning to end." This motivation, however, never feels compelling, particularly when the plot spins into a maelstrom.
Interest in her had been promoted through a newspaper account by the journalist Alfredo Cantavalle (David Adkins). In a small role he evokes a physical resemblance to Pirandello. Her tale is sordid and she has ended up on the street where she sold herself to survive. There is a tangled web, with two men, the Lieutenant and Consul Grotti (Jeffrey Doombos), to which there is now a third candidate for her body and affection, Nota.
As they carom off her like billiard balls, her solution to the entangled web is to end her life.

In director's notes Hill states that "…Pirandello focuses on a member of society's most disenfranchised class: young women with no social standing."

Starkly attired in a black suit and derby (designed by Yoshi Tanokura) the mystery man, Grotti, makes an entrance at the end of the first act. His relationship to Erisilla as estranged mistress figures prominently in the second act. She had been employed as governess. While they are shagging the neglected child has fallen off the roof. It has unhinged his wife and adds to Ersilla's self contempt.

Initially, Doombos plays him as stiff, aloof and commanding. Then he unbuttons his coat. This becomes an analogy for unraveling of his authority and integrity. He physically assaults her. She rejects this advance sending him tumbling off the couch. We are confused by what follows as seeming laughter devolves to tears. The man is undone in a less than credible manner. To which we have a, what the heck, response?
Seen from a contemporary perspective she is being driven to her grave by their different but equal forms of abuse. In one way or another with callous indifference they seek to use her. Their protestations of sincere and honest intent represent why this is proto theatre of the absurd.
That Pirandello writes for Erisilla with passion and insight may derive from his personal life. Through poor investment and natural disaster his wife's dowry was lost. It drove her mad and after years of caring for her she was committed to an asylum where she died.
That perhaps explains why this play has such a hopeless bad ending. It provides depth and resonance to her remarkable closing speech and demise. It ranks with the mad scene of Lady Macbeth and enforces why the play endures.
But it leaves the audience, and indeed the players, in a state of numbed, trampled down, emotional despondency. That's also, perhaps, why the vintage play feels so contemporary. Given recent events of "boys being boys" it seems ripped from the headlines.