Eugene Onegin by Tchaikovsky
California's Livermore Valley Opera
By:
Victor Cordell

-

Oct 01, 2019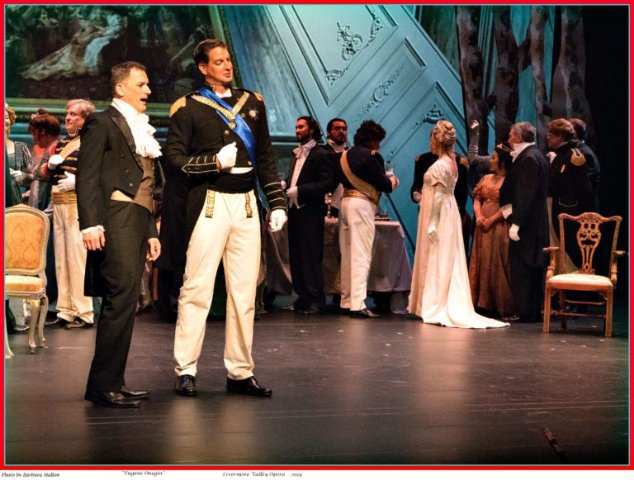 From Eugene Onegin's opening scenes, Tchaikovsky lays bare the Russian soul with plaintiff melodious music. Perhaps vying with Boris Godunov as Russia's most important opera, it is also the first that Livermore Valley Opera has produced in that language. The company deserves credit for its courage, and though it lacks the resources to mount a fully ornamented production, this attractive realization brings a fresh and valued opera dimension to its audience.
Among the challenges this opera brings are finding singers with Russian language capability or the ability to mimic it and an orchestra much larger than the 22 or so that LVO possesses. Also, modern set design calls for each of the several venues to be separately represented, yet, oddly, Tchaikovsky's stage concept called for no scene changes, embracing visual simplicity. Costumery demands great volume and variety, and large dance numbers require a troupe of competent dancers. But even scaling back these requirements, LVO and Stage Director Candace Evans present the essence of the work in a compelling manner, with a special nod to backlit screen projections that produce an endless variety of visual backdrops. In addition, the heart of any opera is the singing, and this production thrills with wonderfully rendered solos and ensembles.
Based on one of Russian literature's most revered works, Pushkin's novel in verse of the same name, the narrative constitutes a litany of social themes of love, honor, group hierarchy and conventions, and more. By killing Lensky in a dual and rejecting Tatiana's love, the title character is the main antagonist. Yet Tatiana is often the focus, dominating Act 1 and ultimately playing the flame to Onegin's moth. Tatiana is performed by Antonina Chehovska, who shimmers vocally and transitions convincingly from the naïve, rustic ingenue to the noble's wife. Rising to the occasion, she delivers the 13 minute letter scene soliloquy in which she pours her heart out to Onegin on paper, with total command and conviction. In this pivotal piece and highlight of the opera, the motifs and the insistent and incessant chase between flute and winds contribute to a thing of beauty for the ear.
Onegin represents all that can be despicable in the idle rich. Baritone Morgan Smith captures the arrogant, unempathetic nature of the character to the extent that one wonders why Tatiana would be so taken by him. From his vapid excuses for rejecting Tatiana's early advances to his uncontrolled infatuation when he later revisits her as a princess, his surliness is profound. Smith's singing seems to be on pitch, but his voice is somewhat muffled.
The star vocalizations belong to Kyle van Schoonhoven as Lensky, who is the suitor to Olga, and whose hot headedness leads to his downfall. Lensky's aria, before the duel with Onegin, reigns as the second most memorable aria in the opera. Reflective about his life and love for Olga and ominously foreboding, Schoonhoven's lustrous, heavily tremeloed tenor voice is wonderous.
Other highlights include Andrew Potter's rich bass in his aria as Prince Gremin. Finally, the most famous music from the opera, delivered adeptly by the Alexander Katsman led orchestra, is the uplifting dance number, the polonaise.
The totality of Tchaikovsky's musical output is characteristic of the Romantic Era, emotional and replete with lush melody. This opera is no exception. It particularly displays haunting leitmotifs and beautifully turned musical phrases throughout. If anything, they become a bit overused. And while the libretto covers the tragic side of romance, like many other operas, significant moments sometimes occur with inadequate ramping up. Nonetheless, this is one of the essentials of opera, and LVO's presentation is well worth commuting to the outer suburbs to experience.
Eugene Onegin, composed by Pyotr Tchaikovsky with libretto by the composer having contributions by Konstantin Shilovsky and based on the novel of the same name by Alexander Pushkin, is produced by Livermore Valley Opera and performed at Bankhead Theater, 2400 First Street, Livermore, CA through October 6, 2019.
Courtesy of For All Events.