Oedipus an Opera by Elli Papapakonstantinou
Classic Myth Brought to Life at BAM
By:
Susan Hall

-

Oct 01, 2019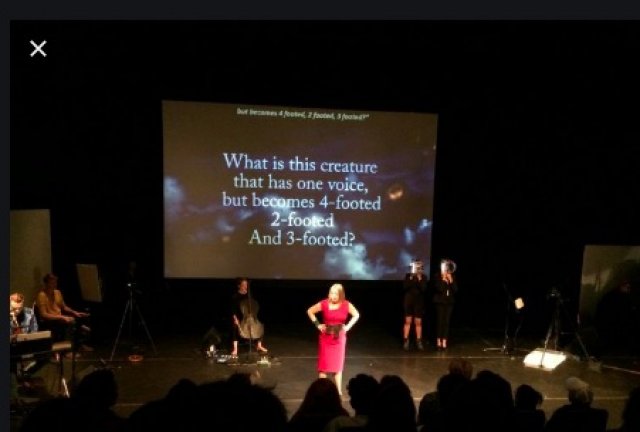 Oedipus: Sex with Mum Was Blinding
By Elli Papapakonstantinou
Composed by Tilemachos Moussas and Julia Kent
ODC Ensemble and The Directors Company
Fisher Theater
BAM
Brooklyn, New York
September 25-29, 2019
Elli Papapakonstantinou has created a masterful and absorbing re-telling of the Oedipus story at the Fisher Theater, BAM. Elements of the story we know are central to the production. The first crucial scene when Oedipus as a grown man meets King Laius and five servants at a crossroad, has an argument and kills him, is as the oracle had predicted. This chance meeting is the first of several chance circumstances. The sense Papapakonstantinou conveys is the randomness of life. The gruesome drama of the events sung and danced are horrific. Presented with strong videos, smoke and mirrors, with live video-ing of the principal characters, the piece is larger than life.

Composers Tilemachos Moussas and Julia Kent use whatever style of music suits the scene. We get a mix of jazz and rock, as well as some lovely conventional lines which are used to advance the story.

Oedipus answers the well-known conundrum posed to him by the Sphinx, guardian of the gates of Thebes. What walks on four legs in the morning, two at noon and three in the evening? The Sphinx is so upset that she kills herself. The Thebans are so pleased that they offer Jocasta's hand in marriage to the riddle-solver. Joined together, Jocasta and Oedipus have four children. When a plague strikes the city, the new Sphinx determines that it will not be lifted until the murderer of Laius is found. It is Oedipus. Jocasta kills herself, and as the title of this opera suggests, Sex with Mum is Blinding. Oedipus punishes his inadvertent, chance deeds by blinding himself. He begs his brother-in-law Creon to kill him, but Creon will not. In the end Oedipus awaits his fate. Will he be banned forever from Thebes or continue to live there?

Composer Julia Kent is on the cello, which she loops and layers with electronics. Her co-creator, Telemachus Moussas leaves everything to chance as he fuses speech, poetry, jazz, classical music into subversive electronic art.
Performers emerge from the shadows, from billowing smoke and clouds to advance the story. Nassau Gofa as Jocasta, Anastasia Katsinavaki as Tiresias, and Manos Tsakiris as a researcher mix sound forms in compelling rhythms and thoughts. Lito Messini presents a decent man who is twisted by fate. Theodora Loukas as a woman has a seemingly beautiful voice.
With costumes by Jolene Richardson, live cinematic environments by the composers, and lighting design by Stephanie Sherriff, the teamwork is fluid and seamless. This feels like the work of one mind and heart. Yet we can see that many have contributed to its stunning success. Oedipus is thoroughly engaging opera theater at BAM.