Berkshire Museum Stonewalls New Yorker
Van and Buzz Clam Up to Fake News Requests
By:
Charles Giuliano

-

Oct 05, 2017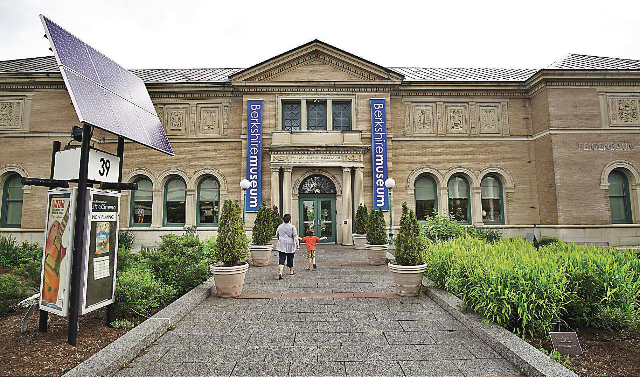 Last summer the Berkshire Museum sucker punched the community with a preemptive, shock and awe assault on its 114-year-old heritage and legacy.
We are inching ever closer to the November auction at Sotheby's when beloved icons including two works by Norman Rockwell, several rare Hudson River School paintings, two early works by Alexander Calder and a mix of 40 treasures will be going, going, gone.
Initially there were positive response to the decision of director, Van Shields, and board president Elizabeth "Buzz" McGraw to "save" the museum on track to run out of money in a few years, and "reboot" with what they hyped as "A New Vision."
That entailed selling its most renowned treasures, gutting the museum of its auditorium with two Calder sculptures, and trashing the historic Crane room which includes site specific, decorative sculptures by Calder's father.

Alexander Milne Calder created the colossal, bronze, standing sculpture of William Penn on top of the dome of City Hall in Philadelphia.
Dismayed by a cheerleading Berkshire Eagle editorial I was the first to write a letter to the editor critical of the sale as it violated museum ethics which I spelled out in detail.
It was posted to the Friday website prior to running in the Sunday paper.
Emerging from a theatre matinee that Saturday, I was dismayed when an Eagle editor e mailed me that the letter had been taken down. That resulted from of an effort to suppress by the museum. The note invited me to resubmit. I did and it was posted.
That initiated a pattern of interference and obfuscation on the part of the museum.

Soon after, Laurie Norton Moffett, director of the Norman Rockwell Museum, was interviewed and posted a courageous op-ed piece. In essence she called on the museum to "pause."
What started as vox clamantis in deserto has gathered volume as a mighty roar. With the Eagle fully committed to coverage, airing all sides of the controversy, it quickly escalated from a local issue to national and global news.
Currently, there appears to be fatalism and resignation that nothing is capable of aborting the sale. The intensity of coverage of a lost cause has died down.
This week, however, The New Yorker, weighed in with coverage by reporter Felix Salmon.

The well crafted think piece conflates published sources but with unique emphasis.

To the Eagle and other media the museum has offered disinformation crafted by pricey PR consultants and denied access to Shields, McGraw, board members and staff. Now add The New Yorker to venerable media outlets the museum has snubbed.

While denying requests for interviews the museum has issued statements, press releases and bought ads in the Eagle.
That strategy indicates a massive cover-up. Instead of being eager to share good news there is a bunker mentality. The norm is to come clean unless you have something to hide.

As Salmon reports "The story of the Berkshire Museum is more than one about a second-tier local institution selling off some art. It's a story about how fragile museum-industry norms are, how unaccountable a museum director can be, and how much destruction can be wrought during a single secret trustee meeting. (The museum's new P.R. representative, Carol Bosco Baumann, declined repeated requests to make anyone from the museum available for an interview.)"

That's a devastating statement coming from a fake news publication renowned for the highest professional and ethical standards. While the piece appears with the byline of Salmon it is the norm that it has been fact checked and polished by a team of editors.
It will take more than high priced spin doctors like Baumann to crawl back from bombshells like the statement "If the Berkshire Museum's plan succeeds, then, it will remove from the local community the very heritage that the museum was founded to preserve. And there's simply no precedent for a museum selling its greatest and most important treasures—not so that it can make new acquisitions, but just so that it can bolster its endowment and embark on a multimillion-dollar discretionary-capital project."
In so doing not only is the museum violating the trust of all those who donated 40,000 objects to the museum but it is putting at risk all objects in all museums. It has been reported that from day one Shields looked at the Rockwells and saw a pot of gold.
Monetize, monetize, don't let treasures evade your eyes.
Speaking of gold consider the irony of this from the New Yorker. "The museum's lawyer, Mark Gold, who is handling the museum's deaccession-related legal work, contends that institutions such as the Berkshire Museum may have good reason to sell off their treasures. In 2015, for a book titled 'The Legal Guide for Museum Professionals,' he argued that the trustees of the Berkshire Museum in particular might "be violating their fiduciary duties to the institution" if they didn't use deaccessioning proceeds to fund the museum's operating expenses."
Not if, but when, Van and Buzz demolish and relaunch the museum it may take all the king's horses and all the king's men to put their shattered reputation together again.
They have transformed a beloved regional museum into a pariah. They are counting on the unwavering support of business leaders, politicians, parents and kids to embrace its vulgarian New Vision.
By now its old news but the New Yorker reiterates "The American Alliance of Museums and the Association of Art Museum Directors have vociferously condemned the museum's plan, saying that 'one of the most fundamental and long-standing principles of the museum field is that a collection is held in the public trust and must not be treated as a disposable financial asset.' What's more, they note, potential future donors to any museum might now have second thoughts if they feel that their gifts and intentions might be treated as Rockwell's have been. Meanwhile, financial donors can be forgiven for asking museums why they need monetary support when they can just sell their art instead. The news from Pittsfield, the associations conclude, 'cuts to the heart not only of the Berkshire Museum, but every museum in the United States.' "
Behind a wall of silence it is impossible to know what impact these rebukes have on Shields. As the Eagle reported with an in-depth, investigative piece he has been through this before. "Shields tried and failed to implement a similar sixty-million-dollar museum-renovation scheme at his previous job in South Carolina."
Instead of being embarrassed when his past was revealed it made him an attractive candidate to at least some factions of the board. It has been suggested that the search committee failed thoroughly to vet the candidate. Sources, however, indicate knowing exactly what they were getting.
The unique aspect of the New Yorker piece is the depth of its probing into the transition from ousting former director, Stuart Chase, to hiring Shields.
When the story broke I sent Chase a list of ten questions. By e mail he respectfully declined to comment. Until now there has been no coverage of his view of the current deaccessioning.
Salmon's report has four paragraphs on Chase. There are no direct quotes. The information, however, feels intimate and close to the source. Either the reporter managed to speak to Chase off the record or he interviewed individuals who worked closely with him.
When Chase left suddenly under murky circumstances I met hard ball resistance from then P.R. person, Jeremy Goodwin. It set the tone that has prevailed since. When Shields took over I requested an interview. That was rebuffed. A year later it was the same story not just for me but for patrons, artists and arts leaders I interacted with. There have been negative off the record comments. By e mail a board member insists that like Joe Thompson, director of MASS MoCA, having worked with both, they are "visionaries."
While more adept at dividing communities than bringing them together for many, including those in high places, Van's the man.
He could not be more different from Chase who "… is well remembered in the Berkshires: during his tenure as director, he raised ten million dollars in a successful capital campaign. Thanks to accounting rules, however, Chase's ten million dollars in capital improvements, for all that they were paid for in full by donations, created an annual non-cash "depreciation" expense, most recently five hundred thousand dollars, on the museum's income statement. In turn, that non-cash expense is being used to justify the need for the increased endowment."
Chase led a capital campaign for $10 million. Another $7 million came from the deaccession of three early modern Russian paintings which had never been displayed. The expenditure of deaccesion funds complied with museum ethics. He raised a total of $17 million.
(A reader offers more details. "A $10M capital campaign was used for fixing up the museum in anticipation of accreditation to enable the museum to comply and be able to borrow and loan - it included repaires to the roof and I imagine the MCC funds were used as well - Cultural Facilities money - you can seek out how much from them for roof HVAC, ADA compliance, renovations. The capital campaign also went into the Feigenbaum Hall of Innovation and some endowment The $7M in income from sale of Russian art was compliant with AAM guidelines for deaccession and was used for care, conservation, acquisitions and was put into The Keep Crane Fund.")
Insisting on ethical standards may well have led to his ouster. "Chase's stance set up a clash with the board, which saw deaccession proceeds as an easy way to help cover the museum's annual operating costs. When the board replaced Chase with Shields, that tension disappeared, and, by mid-2016, the museum's board was seriously considering a massive deaccession."
It is interesting that when a museum director insisted on professional standards this is reported as "tension" which "disappeared" when he left.

In Shields the board found a director eager to play along.
Or, so it would seem. When the board voted on the deaccessions last July it was reported that two members abstained. At least one of them has now resigned.
As the Eagle reported "Carol Riordan, who said she abstained from the July 12 vote to auction off art as a means to fund the museum's New Vision, resigned because she disagreed with the plan.
"I resigned because I didn't agree with the strategic direction the museum was taking," said Riordan, who served as the board's treasurer prior to her resignation. "I didn't find it transformative."
The Eagle added that "Riordan, who resigned last month, declined to provide further detail regarding her opinion and her decision to leave the board. Nancy Edman Feldman resigned Monday, the day of the annual meeting. She couldn't be reached for comment."
As The New Yorker states "Once he banks fifty million dollars or more from the Sotheby's auction, Shields won't need to worry as much about fund-raising for his Berkshire plan—he won't need financial support from the city, from the local population, or from his own trustees. Nor will he need more money from the state, which, in the form of the Massachusetts Cultural Council, has given the museum more than a million dollars over the past decade. The council is deeply opposed to the museum's plan, saying that it represents a "violation" of the public trust."
For now it appears that all is lost. It is a time for those who treasured the museum for all of its quirky, eccentric charm to sit shiva.
A day of reckoning, however, is inevitable. When Van and his fans cut the ribbon for the New Vision there will be the challenge of winning back the hearts and minds of many of the good people of the Berkshires. There's no way to put a price on how much that's worth.
Addendum
In a followup article for the the site Cause & Effect Salmon offered addittional insights of the extent to which Shields and the museum as a matter of policy have stonewalled not just the media but the Mass Cultural Council.
"...he strung Parnass (Eagle reporter covering his prior misadventures in South Carolina) along for weeks, ultimately never granting a long-promised interview.
"That kind of arrogance is entirely in character, for Shields: the most telling part of this entire story, for me, was when the executive director of the Massachusetts Cultural Council, Anita Walker, told WBUR that she had been calling the museum every day, and that they had steadfastly refused to engage with her. The MCC not only represents the state of Massachusetts; it is also one of the museum's biggest donors, having given some $1.2 million over the past 10 years. Shields won't talk to them, and he won't engage with the regional newspaper, and he won't talk to me, and he generally shows no indication whatsoever that he feels in any way accountable to the community which his museum exists to serve.
"Amazingly, Shields is being encouraged in this stonewalling by the board president, Buzz McGraw; by the museum's lawyer, Mark Gold; and even by the PR professional brought in to crisis-manage the situation, Carol Bosco Baumann. (To give you a flavor of how Baumann works, after telling me that she would be "happy to help" me with my request for an interview, she then immediately turned around and tried to persuade The New Yorker to take me off the story. Naturally, the interview never materialized.)"