A Picture of Dorian Gray
Wilde at A Noise Within Theatre
By:
Jack Lyons

-

Oct 10, 2018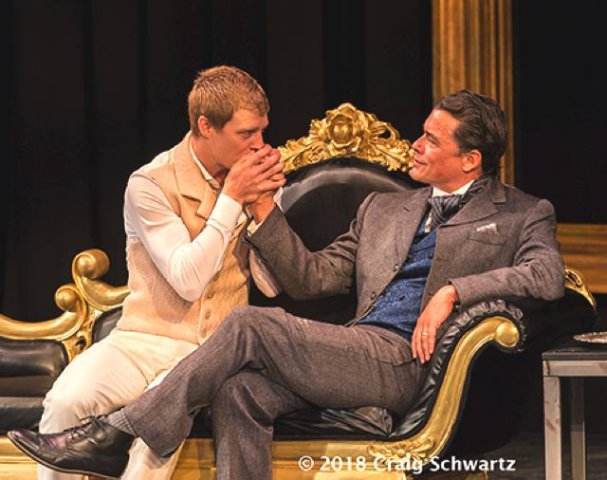 Most audiences are familiar with Oscar Wilde's gothic drama novella "A Picture of Dorian Gray" from the 1945 movie starring Hurd Hatfield, as Dorian Gray. The film left an indelible mark on Hatfield's career, much like the portrait and the homoeroticism in the novella made in Wilde's career.
Homosexuality in England was a criminal offense right up to 1967 when the laws were decriminalized. Oscar Wilde and many others of the upper classes flaunted the law of gross indecency of the Victorian era to a point that the pejorative phrase 'the Englishman's vice' came into literary use and entered the lexicon.
Wilde's highly-charged, sexual novella, and the Hollywood production code-driven 1945 movie, intrigued A Noise Within theatre director Michael Michetti, into tackling a stage adaptation in 2006 at Pasadena's Boston Court Theatre. Mr. Michetti's 2018 production now on stage at the A Noise Within Theatre, in East Pasadena, closely adheres to Wilde's original story and most of his dialogue. It's the bold staging, however, of Michetti's vision that captures the audience's attention in his 2018 revival production.
The story revolves around three male characters: Dorian Gray (Colin Bates) Basil Hallward (Amin El Gamal, and Lord Henry Wooten (Frederick Stuart). The material is somewhat dated and suffers a bit, due to its time period and societal changes from Victorian England to the realities of our 21st century.
What was shocking then, produces yawns today by comparison. Perhaps, it shouldn't, but it does. Does the phrase 'boys will be boys' sound familiar today? We're still a male-dominated society, drowning in a sea of raging hormones. With the guard rails of society slowly being removed, debauchery and hedonism are equal opportunity offenders that come in many forms; then and now.
Mr. El Gamal's painter Basil Hallward, lacks the passion and the feeling that Basil has for Dorian. There's more to their relationship than we see, but Basil is reluctant to display his affection for Dorian. Mr. Stuart as Lord Henry Wotton, openly displays his relationship, not only, as a mentor/guide to Dorian's burgeoning interests in hedonism and debauchery, but becomes his lover in the bargain.
Michetti's production features actors and dancers that glide and meld into Greek chorus ensembles, and back again into the various characters that propel the focus of the Dorian Gray character forward, which is wonderfully brought to life by Colin Bates in a bravura performance; to the moment at the end of the play where we see what the result of years of debauchery and hedonism can do to the human body and inner soul. Literature is rife with Faustian bargaining ploys, mainly because audiences love the conflicts and the situations in such stories, films, and plays.
A Noise Within theatre is a classical, repertory company of resident actors, many of whom appear in this production are: The redoubtable Deborah Strang as Lady Brandon/Lady Narborough/Ensemble, Justin Lawrence Barnes as Adrian Singleton/Ensemble, Daniel Lench as Lord George Fermor/ Thornton/Ensemble, Tania Verafield as Lady Henry/Gladys/Ensemble, Chelsea Kurtz as Sibyl Vane/Ensemble, Amy Tolsky as Mrs. Vane/Prostitute/Ensemble, Jose Angel Donado as James Vane/Ensemble, Dale Sandlin as "Romeo/Sir Geoffrey Clouston/Ensemble and Abe Martell as Alan Campbell/Ensemble. The skilled ensemble performers are outstanding, but I wish they didn't have to fight the music and sound design by Robert Oriol and the technical team to be heard. The sound needs to come down at least two notches on the console.
The lighting design by Rose Malone provides just the right amount of light to appreciate the handsomely designed Victorian-era costumes of Garry Lennon. The choreography of John Pennington is sensual and evocative and nicely strings together the narrative threads of the story.
In the film version of the story, Dorian's portrait is seen in all its visual Technicolor horrific truth. The challenge in theatre is how to present the same experience by just staring through empty picture frames. Director Michetti peppers his stage with groups of large, small, and medium-sized wooden frames that is the production 'leitmotif' of Scenic Designers James Maloof and director Michetti. They serve as the 'lenses of life', for all the characters. The acting areas are created by space staging and direction by director Michetti. (A side-bar note here alerts patrons that there are moments of brief full-frontal male nudity in the production).
"A Picture of Dorian Gray" is an impressive production that performs at A Noise Within Theatre and runs through November 16, 2018. www.anoisewithin.org.
Posted courtesy of Desert Local News.