The Great Gatsby by F. Scott Fitzgerald
At Ivoryton Playhouse
By:
Karen Isaacs

-

Oct 14, 2022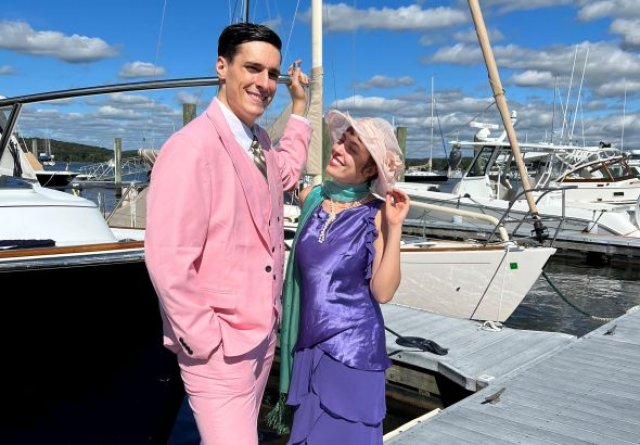 The Great Gatsby by F. Scott Fitzgerald has had two theatrical productions this fall. Currently, the Ivoryton Playhouse production is running through Sunday, Oct. 23.
The title should be familiar to generations of high school and college students. It was a staple of English courses – an accessible, American novel.
The play by Simon Levy (who has also adapted two other Fitzgerald novels to play form) follows the book. While there have been other stage versions, this one, written in 2006 seems now to be the standard.
Don't remember the novel? It is set in the Roarin' '20s, following WWI. Narrated by Nick Carraway, it tells the story of the mysterious Jay Gatsby, his former love Daisy Buchanan, her husband Tom, and the wealthy party-going set on Long Island.
The Ivoryton production, directed by Todd L. Underwood, offers some excellent moments, even though it also fails. Among the highlights is the scenic design by Martin Scott Marchitto that manages to shift from Daisy's mansion to Jay's and to a gas station on the road from Long Island to NYC. Also, a highlight is the costumes and wigs by Elizabeth A. Saylor. Again, these capture the jazz age clothing of both the very rich and those who scrape by but try to look rich.
Add to that some good lighting by Marcus Abbott, and effective sound design by Jacob Zonderman. The sound often works in concert with projections by Tiffany Hopkins which helps establish the location and mood.
The performances are variable. One can blame the director as much as the performers for the character's decisions. While I understand what Underwood was going for in some of the characterizations, I am less convinced that these were the best choices.
Standouts in the show are Carlyn Connolly who plays Daisy's friend and Nick's companion, Jordan Baker, with cool sophistication. Even standing quietly, you notice her and her reactions to what is going on. Also terrific is Siobhan Fitzgerald who plays Myrtle Wilson, the garage owner's wife who is having an affair with Tom Buchanan. She manages a terrific lower-class accent and mannerisms. As her husband, Daniel Rios, Jr. plays the obsequious owner hoping that Tom Buchanan will sell him a car that he can resell. It isn't until late in the play that you realize he is well aware of all that is going on.
Joe Cordaro is Nick, the Yale graduate trying to make it on Wall Street and renting a small house next to Gatsby's. Cordaro may look a little old for the part – Nick turns 30 that summer—but he conveys the dispassion of a narrator who only towards the end realizes who the Buchanans, Jordon and their friends really are.
Many academics point to similarities between Fitzgerald's background and life with the characters in the novel. While that is true to some extent, it should not be the basis for the interpretations of Jay and Daisy.
Katharina Schmidt's portrayal of Daisy overplays the connection the character may have with Fitzgerald's wife Zelda. In reality, the character is supposedly based on events surrounding Fitzgerald's earlier fiancé, Ginevra, not Daisy. But Schmidt's Daisy shows all the signs of Zelda's mental instability. The result is a performance that alternates between extremes. You wonder why Gatsby is so obsessed with her.
Unfortunately, Erik Kochenberger misses the mark as Gatsby. Again, it may be due to Underwood's approach to the character. But Gatsby is described as mysterious and glamorous. While people may be drawn to him due to his money, he must have some charisma and savoir-faire. Kochenberger is more earnest and dull than mysterious and alluring. Perhaps Underwood is stressing Jay's
Just think who has played the role in the three major Hollywood films of the novel. While admittedly, none were totally successful, Gatsby was first played by Alan Ladd – a major romantic lead of the 1940s-50, Robert Redford and Leonardo DiCaprio.
The novel combines unrequited or partly requited love with hints of crime and evil. As Nick says at the end, Daisy and the set of friends surrounding her are "careless people." The type who destroys others without realizing it or regretting it.
Gatsby was Fitzgerald's third novel. His first, This Side of Paradise and his second, The Naked and the Dead were critically acclaimed best-sellers. Critics touted him and his contemporary Ernest Hemingway as the future of the American novel.
But Gatsby did not garner the same critical praise nor the sales of the first two. In fact, it only became a popular book when the US Armed Forces distributed paperback copies of it to servicemen during WWII, after Fitzgerald's death in 1940.
Since then, the novel has been taught in schools, though I certainly did not grasp either the brilliance of the writing nor the themes and deeper meanings of the work as a teenager.
It wasn't until reread it years later, that I was astonished at its brilliance.
The Legacy Theatre production that closed Oct 1 was billed as "A Radio Play." Written by Joe Landry, it has a group of 1940s actors performing the novel in front of a live studio audiences. Actors played multiple roles with no sets or costumes, just sound effects. That production gave us a very good Jay Gatsby (Tony Hunter) and Nick (Jake Laurents.) Having Nick in uniform was a nice touch that played on how the novel became popular in the 1940s and that both Nick and Jay were veterans of WWI.
This production is not a substitute for reading the book, but it does bring out many of Fitzgerald's themes. He was after all from a modest midwestern family who was first rejected by and later became the darling of what might called the "idle rich."
For tickets visit IvorytonPlayhouse.org.
This content is courtesy of Shore Publishing and zip06.com