More Fun with Jeff and Jane
Concert at Williams Inn Nov. 19
By:
Bob Fowler

-

Oct 17, 2016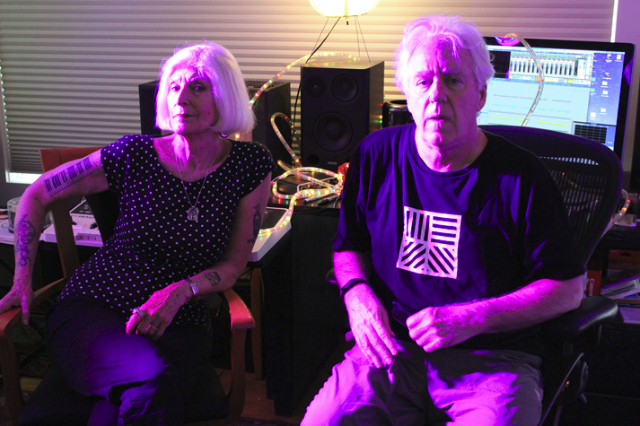 JEFF AND JANE HUDSON CONCERT AND ALBUM RELEASE
WILLIAMS INN BALLROOM
1090 MAIN ST., WILLIAMSTOWN, MA
SAT., NOVEMBER 19, 8:OO (doors open)
$10 at the door
Jeff and Jane Hudson present an evening of songs from their recent CD release, THE MIDDLE. The couple, known for their minimal electro material from the '80's, have revived their Punk guitar roots with scorching riffs and throbbing beats. They play against a backing track woven from layers of synth and drum machine production. There are a number of new songs, 'The Middle', 'Innocent', 'Up Til Now' as well as some old favorites, 'Gertrude Stein' and 'Los Alamos.'
Surprise guests will include local favorites, Michael Williams, Josh Kleederman, Steve Klass and Karl Mullen. A guitar super-group!!
DJ ELECTRO will spin New Wave tunes and classic New Wave Videos!!!
For background go to: http://officialjeffandjane.com
Contact: skimusic@gmail.com, jane.video@gmail.com
YouTube video The Middle https://youtu.be/xOXJQveumWY
Since the 1980s Jeff and Jane Hudson have been experimenting with Electropop and synthesized sounds that straddle musical genres and result in "tight, artful sonic arrangements" (Berkshire On Stage). Captured Tracks Records with Dark Entries Records released FLESH, a 20-song compilation of their '80's releases in 2011. They performed this material at Mass MoCA in January of 2012. Now the husband and wife duo celebrate the release of their new 11-song album, THE MIDDLE.
Called "the synth wave couple of the U.S." Jeff and Jane Hudson jump across styles and sounds. Their album Flesh [1983] featured industrial echoes and absorbing vocals but also had electro pop energy combining traditional sounds of post-punk alongside the gleaming new ideas of factory music. Jane's sultry vocals mix beautifully with cold mechanical sounds. Othermusic.com said, "Jeff and Jane Hudson in their early sounds take cues from traditional sounds, with elements of rock and folk coming through… Yet, soon it is the synthesizer and drum machine that are at the core of their sound… the duo successfully blurs the line between pure synth pop and more guitar-driven post-punk…" In the new album, big guitars, combined with synths and drum machines, amplifies their sound.
Originally from Boston, teachers at the School of the Museum of Fine Arts and former members of the late-'70s punk band, the Rentals, visual artists Jeff and Jane Hudson moved to NYC at the beginning of the '80s, opened for Suicide, the Clash, PIL and Duran Duran among others.
They now live in the Berkshires.
THE MIDDLE SONG TITLES:
THE MIDDLE
INNOCENT
ELEPHANTS
MAKE IT SO
FRIDAY 1
UP TIL NOW
GERTRUDE STEIN
FOREVER
LOS ALAMOS
VICTORY
SLEET BLUES
DISCOGRAPHY
GERTRUDE STEIN b/w LOW RENT, RENT RECORDS, 1978
I GOT A CRUSH ON YOU, Beggars Banquet Records, 1979
WORLD TRADE EP, Lust/Unlust Records, 1980
NO CLUBS b/w DREAM, Lust/Unlust Records, 1980
ATTACK UNDER ATTCK b/w OPERATING INSTRUCTIONS, J&J RECORDS, 1982
FLESH, J&J Records, 1983
SPECIAL WORLD b/w MY MOTHER TOLD ME. J&J RECORDS. 1984
CHRISTMAS COMPILATION, Newbury Comics, 1984
ZETA BREW, 1998
ELEPHANTS (Rentals), Homework CD Compilation, 2000
BURN, Jeff and Jane, 2001
REMINISCENCE CD, 2004
TIGER SUSHI COMPILATION, 2007
FLESH CD (re-issue), Daft Records, 2004
FLESH EXPANDED (vinyl double album, CD and iTunes release) Captured Tracks and Dark Entries Records, 2011
IN MY CAR b/w COMPUTER JUNGLE (w/ dance mixes), Electric Voice Records, 2011
THE STAND, Electric Voice Records Compilation, 2012
Collaboration with artist, Michael Alan, 2013
Collaboration with HNN, Gregg Anthe, 'Authority', 2013
BOINGY, Jeff Hudson, 2013
LINKS AND BRIDGES, Jane Hudson, 2014
TM, Jeff Hudson, 2015
JEFF AND JANE: THE MIDDLE, 2016
For more background: <officialjeffandjane.com>
Email: skimusic@gmail.com
jane.video@gmail.com