Fidelio by Ludwig van Beethoven
Presented by San Francisco Opera
By:
Victor Cordell

-

Oct 19, 2021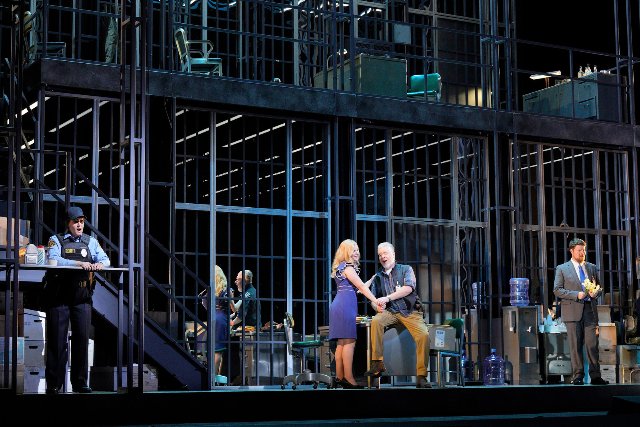 Ludwig van Beethoven, one of the greatest serious music composers ever, loved opera but created only one. Near death, he noted of "Fidelio" that "Of all my children, this is the one that cost me the most birth-pangs and the most sorrow…..it is the one most dear to me." After the failures of earlier produced versions, the composer endlessly revised it into its final form over nine years ending in 1814. It emerged a masterpiece enriched by the composer's complete musical vocabulary. It also acted as a springboard for his most famous and incomparable vocal piece, Beethoven's Ninth (Choral) Symphony.
Despite compelling and highly respected music, however, "Fidelio" has generally been consigned in status and popularity to the second twenty of best operas. San Francisco Opera's current production maximizes the values of the piece through excellent casting, fine musical direction by Eun Sun Kim, and the addition of what amounts to another character, the stunning scenic design by Alexander V. Nichols, under the purview of Director Matthew Ozawa.
"Fidelio" is the story of Leonore, whose husband has been imprisoned in a secret location. In modern terminology (and the setting has been made modern) the husband, Florestan, is a whistleblower (and the modern implications of the risks of this practice are unsettling). The perpetrator he exposed, Governor Don Pizarro, portrayed chillingly by Greer Grimsley, has vowed to terminate him. Against this threat, Leonore disguises herself as a man, Fidelio, and takes employment as a guard in the prison where Florestan is isolated.
The relentless and courageous Leonore is played by South African Elza van den Heever. Her triumphant return represents a homecoming for the world class artist, who received her training and development in San Francisco, from Conservatory through Merola and Adler Fellowship. Although classified as a dramatic soprano, her timbre smooths the usual harshness associated with that vocal quality, with the result that her voice penetrates yet gleams. Effective throughout the performance, she acquits herself particularly well on Leonore's signature aria, "Abscheulicher! Wo eilst do hin!" (O! thou monstrous fiend!).
Leonore's foremost ally and greatest obstacle is Rocco, the chief jailer, sung admirably by recurring SF Opera visitor, bass James Creswell. While his vocal parts are not very memorable, Creswell does participate in the ethereal quartet "Mir ist so wunderbar!," led by fine young soprano Anne-Marie MacIntosh as his daughter Marzelline. Unlike most characters in the opera who lack dimensionality, a decided weakness in the libretto, Rocco reveals conflicts in objectives and cracks in disposition and morality. Most vitally, to what limit will Rocco go to facilitate Don Pizarro's evil plot?
Florestan doesn't appear until Act 2 when the forces of both life and death descend to his dungeon. As the victim, able tenor Russell Thomas displays near-dead weariness from his captivity but must rise to the occasion for his thrilling and iconic call for "Freiheit! Freiheit!" (freedom! freedom!) which he does with imposing skill.
All of the action of the production takes place in and around the 20-ton "cube" of steel tubing and plates that revolves to reveal its different aspects. Most appropriately and obviously, its massive angularity represents the prison, but from other angles, it is offices or the dungeon. This powerful metaphor in metal, glaring in harsh lights, dominates the stage and the viewer's perception of the severe world that it comprises.
San Francisco Opera's rendering of "Fidelio" pulls out all of the stops and offers a superb experience. Kim conducts with verve – capturing the dynamics and tempo of the orchestral-like score. Ensembles excel, often with beautiful close harmonies, and the prisoners' choruses stand out.
For those inclined to look at opera with further analysis, it is noteworthy that the conductor chose to omit the option of performing Leonore Overture #3, which saves 15 minutes of run time but loses the most famous music from the opera. That said, nothing is lost in conveying the narrative. What's more, there is plenty of fine music, though surprisingly, given Mozart's precedent, no arias from "Fidelio" have found their way into common usage. A final criticism that matters little to many is that the opera is in the form of a singspiel, meaning that there is considerable spoken dialog that results in inconsistent dramatic tone. Of course, "The Magic Flute" is a singspiel, so "Fidelio" is in good company. And as we know, "Fidelio" was the composition by Beethoven that was most dear to him, and who could be a more illustrious judge of fine music?
"Fidelio," composed by Ludwig von Beethoven with libretto by Joseph Sonnleithner and Georg Friedrich Treitschke, is produced by San Francisco Opera and is performed at War Memorial Opera House, 301 Van Ness Street, San Francisco, CA through October 30, 2021.