Francis Poulenc's Dialogues of the Carmelites
San Francisco Opera
By:
Victor Cordell

-

Oct 20, 2022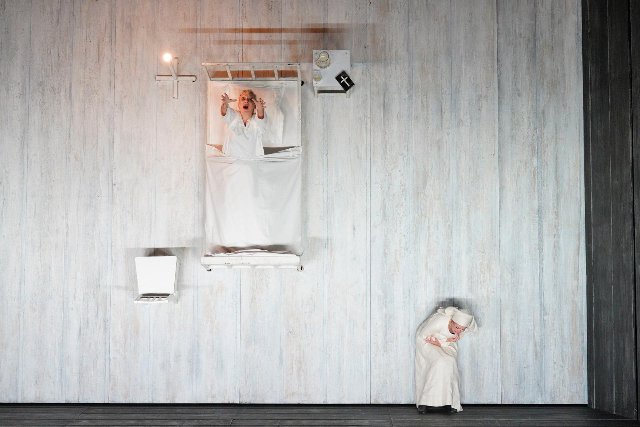 How fitting that "Dialogues of the Carmelites" should be produced by San Francisco Opera in its centennial year and that the production should be so brilliant and stunning. Not only did Francis Poulenc's opera have its U.S. premiere here in 1957, but the performance by the great Leontyne Price as the New Prioress, Madame Lidoine, represented her career launch in a big house with a major company.
Poulenc requested his opera be performed in the language of the audience because he wanted it fully understood. However, with the advent of supertitles, San Francisco Opera offers it for the first time in French, the libretto language to which the music was designed, without the sacrifice of translation nuance.
Religious operas, or more broadly, those concerning faith, can be fractious. "Dialogues" is based on the true story of 16 Carmelite nuns of Compiègne who were guillotined in 1794 during the French Revolution's Reign of Terror because of their unwillingness to compromise their faith.
We live in a divided age when many have abandoned religion, and the Bay Area represents the leading edge of humanistic thinking unfettered by religious stricture. So how can such a story speak to a community like ours? Although its religious trappings are unrelenting, universal themes underpin the story – communal and personal love; growth and change; courage and sacrifice.
Poulenc himself was a troubled soul – committed to Catholic doctrine despite being gay. He also suffered the untimely loss of a dear friend from decapitation, leaving him profoundly depressed. Although he relied on detailed source material to create "Dialogues," he penned one fictional character, the protagonist, Blanche. No doubt, his personal history led him to this particular material, and his own fears and conflicts are manifest through his fictional character.
This opera rightfully stands as one of the post-Puccini era's most often performed. Perhaps one reason is the melodiousness of its score, in contrast to much modern opera. Poulenc even joked that he was sorry, but his nuns insist on singing tonally. Yet the vocals consist mostly of recitatives and arioso, with little that could be considered arias. However, the orchestra, guided decisively by Eun Sun Kim in this production, adds color, particularly with accents and percussive punctuation.
The plotline centers on Blanche, performed by a scintillating Heidi Stober, sometimes brittle in her character but assertive in her singing. She is a coddled aristocrat who fears for her life during the Reign of Terror and seeks escape in the convent. Madame de Croissy, the "Old Prioress," is dubious, noting that the convent is a place of prayer, not of refuge, but she relents.
As Croissy soon lies dying a difficult death, she grapples with her having accepted Blanche as the most recent novice. More significantly, Croissy had been a sturdy and brave leader who reveals uncharacteristic anguish and fears death during her decline. Michaela Schuster provides the opera's most powerful and harrowing soliloquy in her lengthy death scene, aided by a scenic device in which her bed is set vertically on a wall to allow her singing to project better.
To cognoscenti, "Dialogues" can be appreciated with great depth beyond the superficial plot. In the aforementioned scene, Constance, the other novice, notes that Croissy's gruesome end, despite her past strength, means that she is dying someone else's death, and in this case, it is in exchange for Blanche who will then face death with courage and calm. This pertains to the religious notion of belonging to a Beloved Community and to the sacrificial love aspect of agape.
Another layer that most will miss is the richness from the unusual pastiche that the composer employs. Each of the five key principals shares personal traits and musical motifs with heroines from earlier operas. Blanche (Heidi Stober) reflects the title character in "Thaïs," Constance (Deanna Briewick) is Zerlina from "Don Giovanni," Croissy (Michaela Schuster) is Amneris from "Aida," Marie (Melody Moore) is Kundry from "Parsifal," and Madame Lidoine (Michelle Bradley) is Desdemona from "Otello." All of these artists meet the demands of their roles, with Bradley displaying the most commanding voice. he men, led by Ben Bliss as Blanche's brother, also impress.
Olivier Py, who designed the original realization of this production also adds symbols to enhance the opera's complexity. Several dioramas representing moments in the life of Christ embellish the action, two of which will resonate with most opera goers. As the nuns await their doom, they appear in a scene reflecting the Last Supper, and later, a Crucifixion tableau links their faith to their deaths.
The overall abstract stage design symbolizes the nuns' appearance and lives. The set can be described as "a study of right angles in shades of gray, with movement." Charcoal gray abounds, and spectral color appears only as occasional highlights. The austerity of the set fits well with most of what it represents, especially the convent and the prison, and the versatility and mobility of the pieces is striking.
The musical composition of "Dialogues of the Carmelites" is strong, with intense characterizations, although the narrative moves slowly at times. Add excellent artistic design and strong portrayals to make for a memorable experience. And if impression and memory are dominated by recency, the opera goer will leave the house with a vivid and despairing chill as the nuns depart the stage one by one to the swishing, thudding sound of the guillotine and the convulsing of their bodies to the violence of politics gone mad.
Historically, the nuns' singing as they ascended the gallows quieted the bloodthirsty crowd that gathered at these beheadings. In less than two weeks, Robespierre's degenerate reign ended with his execution at the guillotine.
"Dialogues of the Carmelites," with music and libretto by Francis Poulenc and based on the play of the same name by Georges Bernanos is produced by San Francisco Opera and plays at War Memorial Opera House, 301 Van Ness Ave., San Francisco, CA through October 30, 2022.