Riverside Blues & BBQ Festival - 2013
We Listened, Tasted, and Smelled the Smoke.
By: David Wilson - 10/21/2013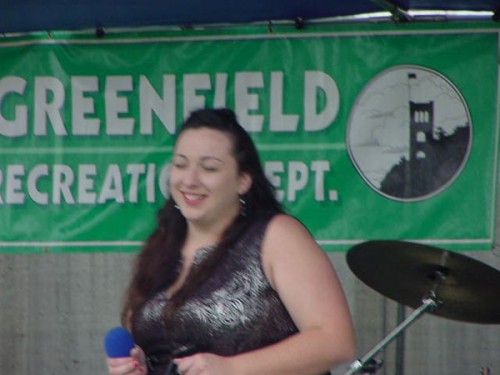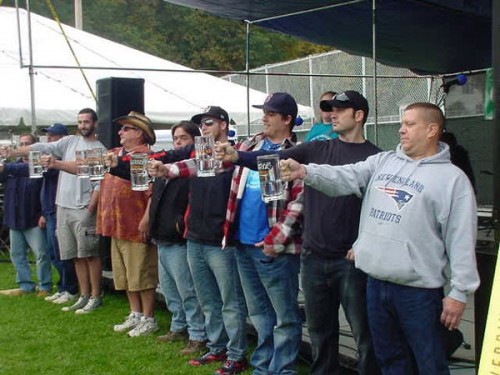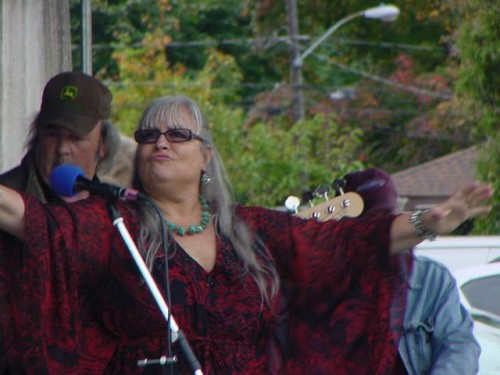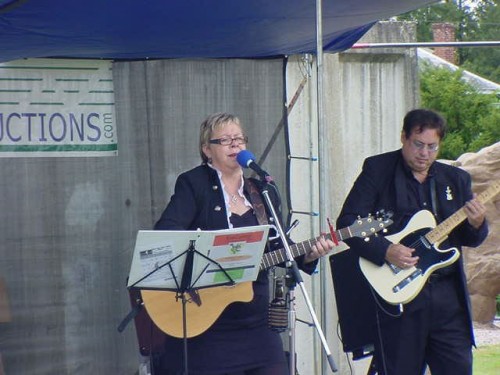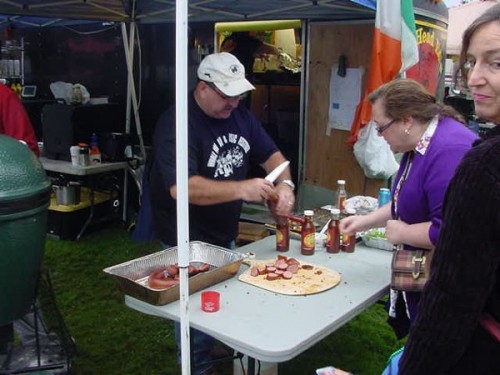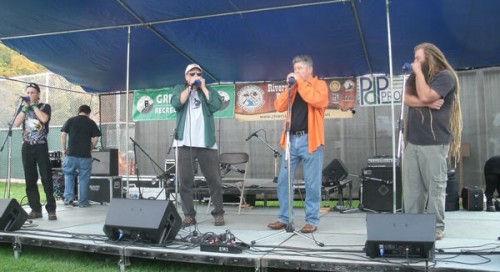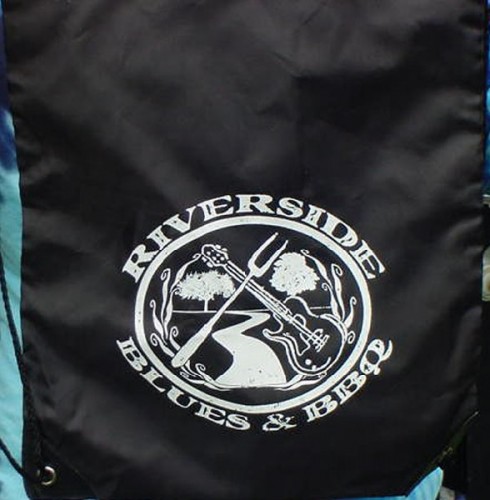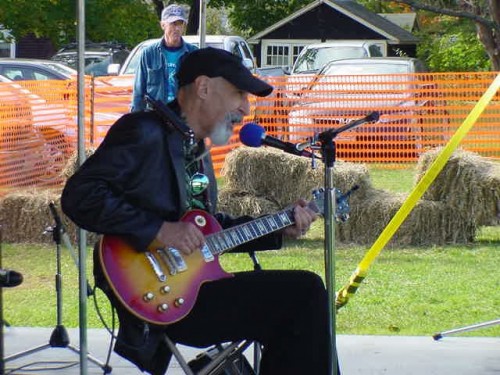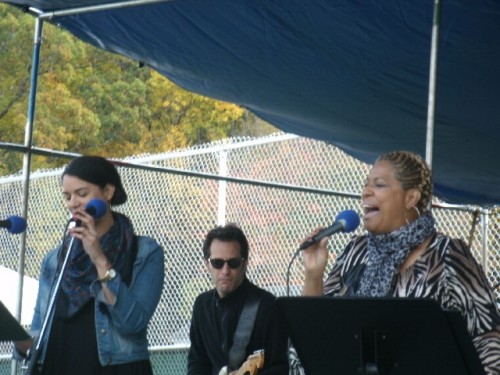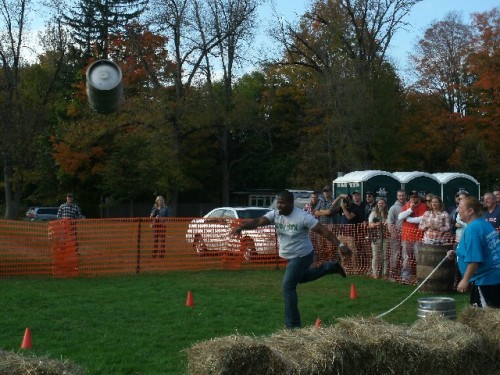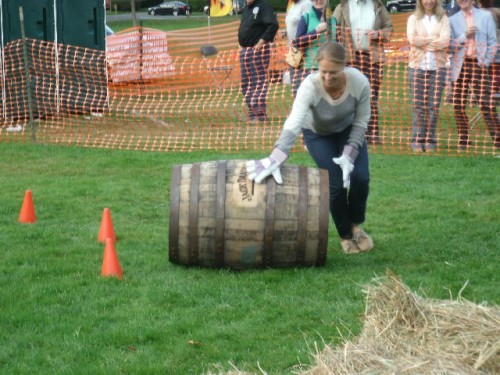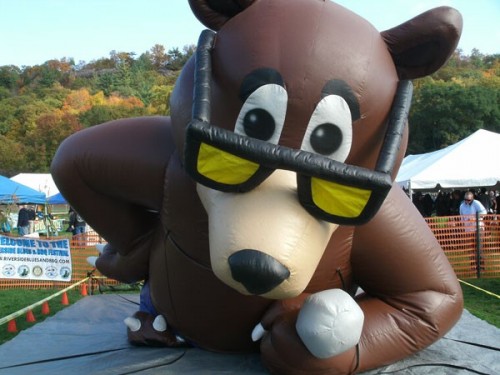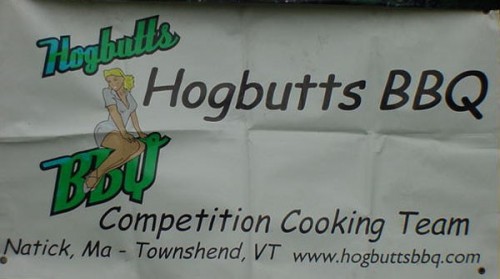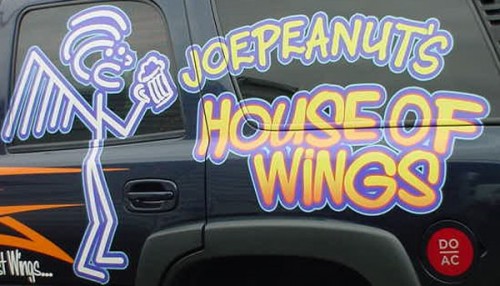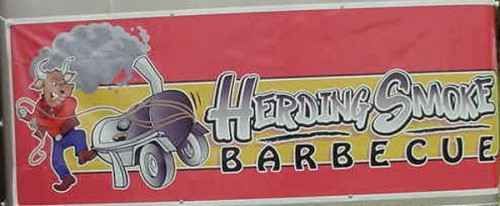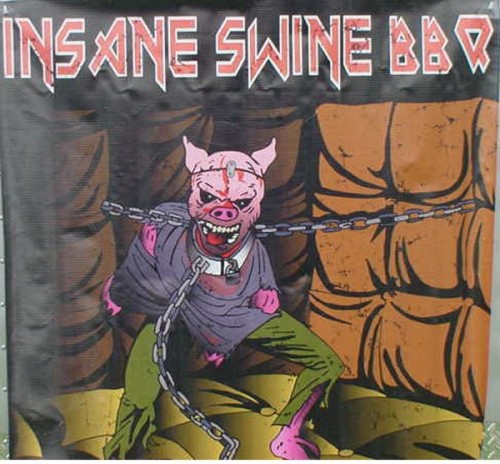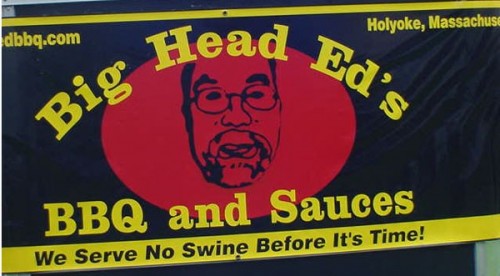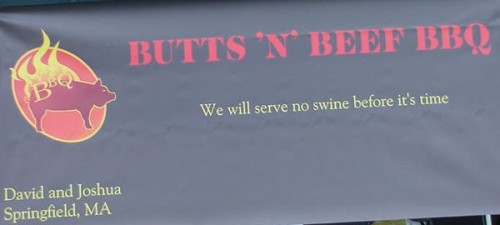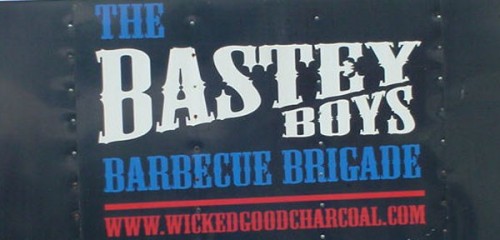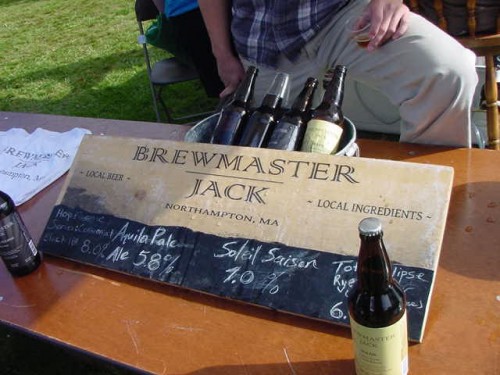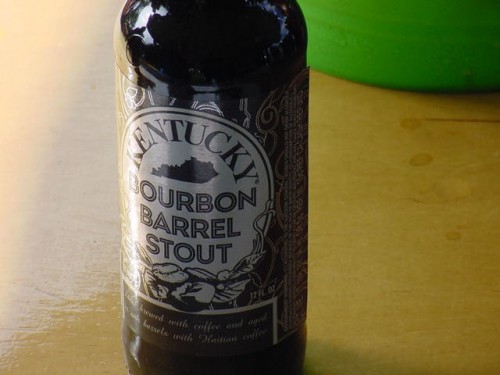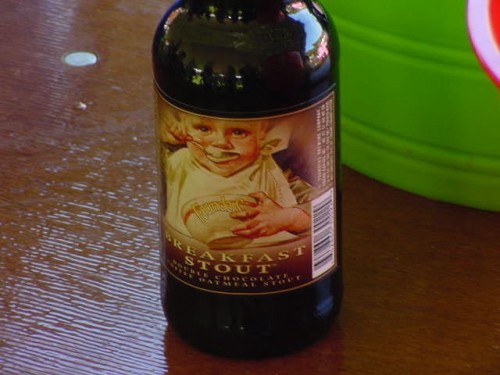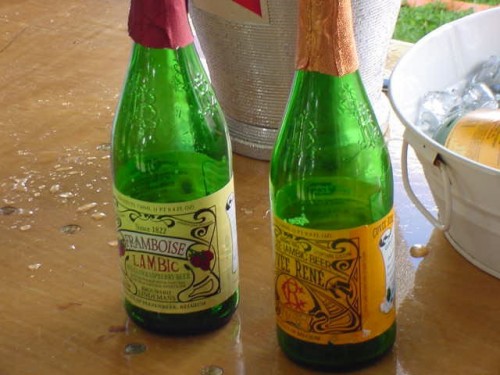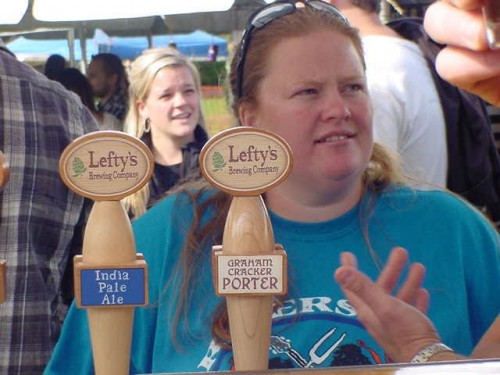 In its two plus decades of operation, Greenfield's Green River Music Festival has become not only a success, but a Franklin County institution drawing acts of national importance and renown. Only three years old, I see no reason why Greenfield's Riverside Blues and Barbecue Festival cannot attain the same level of success if it continues to evolve without faltering.
It has a lot going in its favor not the least of which is a $5 ticket for three and a half hours of solid blues performances each day and an opportunity to sample a variety of BBQ chicken, or, depending on the day, pulled pork.
This year's event, Oct 11-13 saw fewer vendors, but a larger audience due in part, I expect, to less than comfortable weather last year and two very pleasant days this year. Between the three ninety minute performances each day, attendees responded to invitations to join in the country fair atmosphere by participating in a number of competitions from the fanciful mustache contest to the athletic barrel rolling challenge. The beer sampling venue with dozens of local and regional hand-crafters offering up portions of their potions operated at full tilt for most of the day. Long lines stretched from the food serving booths and the ice cream stand and the aroma arising from the rows of BBQ cookers as competitors prepared their entries for judging was more than stimulating to the nose and the palate.
Families abounded and the spirit was congenial. Organizer Christy Moore was everywhere, directing her volunteer troops, problem solving and emceeing events, making sure that all ran as smoothly as possible. A full list of BBQ competition and contest winners can be found at the end of this report.
The pairing of Blues music and BBQ is a natural though not as common here in NE as in parts of the country farther south. Invitations to compete in the American Royal Invitational Cook-off, sponsored by the Kansas City Barbecue Society, are not easily come by and due to the fact that Greenfield has received by Governor's decree the right to designate a state champion, that winner in this KCBS sanctioned event is automatically qualified to enter the national contest.
So, while the competition might be stiff, the rewards can be substantial. The event is also sanctioned and separately judged by the NEBS, New England Barbecue Society which awards its own prizes.
Blues performances this year leaned heavily on the ladies and many of them nurtured in Massachusetts. On Saturday, after Wildcat O Halloran kicked off things in his usual style with the first 60 minute set, followed by Gracie Curran and the High Falutin' with Janet Ryan closing out Saturday.Samples of their approaches to the blues follow...
Wildcat O'Halloran

Gracie Curran and the High Falutin'

Janet Ryan
Eva Cappelli and The Watershops Band opened Sunday's performances. Then once-long-ago NYC street performer, Charlie Hilbert took the stage. The afternoon was signed sealed and delivered with an hour set by Vaneese Thomas and her band.
Eva Cappelli
Charlie Hilbert
Vaneese Thomas
The Blues event that most drew my interest and attention was the initiation of a Harp contest, with categories for over and under 18 years of age. Disappointing as was the enrollment for the initial outing, with time and promotion the competition holds a great opportunity to draw out previously undiscovered talent and I hope to see both professional and amateur divisions in years to come. Big kudos to the organizing committee for adding this and to Lee Oskar Harmonicas for their sponsorship.
I would like to see the addition of an open mic session as well. Lots of great talent around that would love a chance to find an audience.
In our coverage of the 2012 weekend we commented on the colorful and creative logo art that pervades the competition. We have added some newbies to our gallery, but you might still take a moment to look over last year's gallery.
Whether the concept of having a separate judging by festival goers is original or not, I think it is a great idea and it is those results to which I pay the greatest credence, especially if they practice their cuisine within my dining area.
With that said, here are the results for all the BBQ competitions and festival contests.
People's Choice Contests Saturday-
Saturday-
Chicken Wings
1st Place- Que and a Half Men – Rockland, MA*
2nd Place- Joepeanuts' BBQ Team – Keene, NH
3rd Place- Pit Fiends – Pelham, NH
*(Winner for the second consecutive year)
Sunday-
Pulled Pork
1st Place- Pig Hole BBQ
2nd Place- Boar-n-Que
3rd Place- Howling Hogs Barbecue

NEBS Grilling Contest
Grand Champion- Smokin' Bulldogs
Reserve Grand Champion- Joepeanuts' BBQ Team
1st Place Chicken Wings- Howling Hog Barbecue
2nd Place Chicken Wings- Smokin Aces
3rd Place Chicken Wings- Smokin' Bulldogs
4th Place Chicken Wings- Pighole
5th Place Chicken Wings- Sweet Breathe BBQ
1st Place Sausage- Boar-n-Q
2nd Place Sausage- Hogbutts BBQ
3rd Place Sausage- Joepeanuts' BBQ Team
4th Place Sausage- Smokin' Bulldogs
5th Place Sausage- Sweet Breathe BBQ
1st Place Pizza- Sweet Breathe BBQ
2nd Place Pizza- Joepeanuts' BBQ Team
3rd Place Pizza- Smokin Aces
4th Place Pizza- Howling Hog Barbecue
5th Place Pizza- Smokin' Bulldogs
1st Place Dessert- Howling Hog Barbecue
2nd Place Dessert- Smokin' Bulldogs
3rd Place Dessert- The Bastey Boys
4th Place Dessert- Joepeanuts' BBQ Team
5th Place Dessert- Smokin Aces
KCBS BBQ Contest
Grand Champion- Insane Swine BBQ
Reserve Grand Champion- Que and A Half Men
1st Place Chicken- Insane Swine BBQ
2nd Place Chicken- The Pit Fiends
3rd Place Chicken- Boar-n-Q
4th Place Chicken – Sweet Breathe BBQ
5th Place Chicken- Howling Hog Barbecue
1st Place Ribs- Smokin' Bulldogs
2nd Place Ribs- Insane Swine BBQ
3rd Place Ribs- Que and A Half Men
4th Place Ribs- Yabba Dabba Que!
5th Place Ribs- Big Head Ed BBQ
1st Place Pork- Que and A Half Men
2nd Place Pork- The Basic BBQ Team
3rd Place Pork- Smokin Barrels BBQ VT
4th Place Pork- Pighole
5th Place Pork- Herding Smoke Barbecue
1st Place Brisket- Smokin Barrels BBQ VT
2nd Place Brisket- Insane Swine BBQ
3rd Place Brisket- Barr-B-Q
4th Place Brisket- Que and A Half Men
5th Place Brisket- Smokin' Hoggz BBQ
Pie Eating Contests
Saturday
Adult- Nathan, Palmer, MA
Sunday
Youth- Rayne Bonfiglio, Williamsburg, MA
Adult- Rick Bonfiglio of Greenfield, MA
Lefty's Keg Toss
Female- Larissa Miner, Greenfield, MA – 15 feet
Male- Kyle Newton, Orange, MA – 36 feet
Lefty's Barrel Roll
Female- Roz Ellis, Hadley, MA – 31 seconds
Male- Lew Moore, Shelburne Falls, MA – 20 seconds
Harp Contest
Major Key –
Steve Retzhin, Leeds, MA
Doug Huntington, Greenfield, MA
Justin Korby, Colrain, MA
Larry-boy Disce, Chicopee, MA
Minor Key-
Carli Cusimano, Shelburne Falls, MA
Mustache Contest
Best in Show- Bruce Chear, Acton, MA
Best Curl- John Passiglia, Greenfield, MA
Most Disturbing- Lew Moore, Shelburne Falls, MA

Stein Hoisting
Female- Tonya Barra
Male- Dan Pierce