The Clark Art Institute Preview
Summer 2020 Schedule Includes Outdoor Exhibition
By:
Clark

-

Oct 21, 2019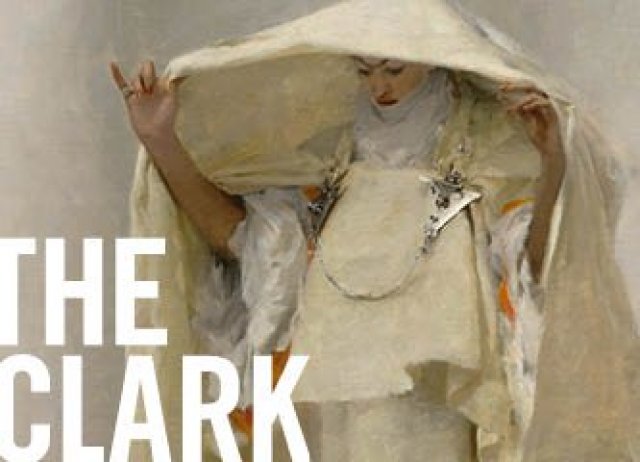 The Clark Art Institute announces its summer 2020 exhibition schedule featuring a diverse program of exhibitions ranging from the exceptional work of one of Norway's most revered artists to innovative projects highlighting some of the most exciting contemporary artists working today. The 2020 summer season includes the Clark's first outdoor exhibition, Ground/work, which consists of six site-responsive commissions in dialogue with the Clark's distinctive 140-acre campus.
"The Clark's upcoming summer season is an ambitious program highlighting new discoveries and new initiatives," said Olivier Meslay, Hardymon Director of the Clark. "We are truly energized by the opportunity to activate our entire campus by sharing exhibitions that will introduce our visitors—and the world—to artists whose work is vibrant, dynamic, and inspiring. This summer's programs span more than one hundred years of artistic practice and explore a rich array of themes through both historic and contemporary lenses."
The Clark's summer exhibitions will open on a staggered schedule, beginning in May 2020. The program includes:
Claude & François-Xavier Lalanne: Nature Transformed, May 9–November 1, 2020
It has been more than forty years since an American art museum has shown the work of sculptors Claude and François-Xavier Lalanne, and the Clark's exhibition this summer provides a fresh perspective on these innovative artists. Their imaginative and powerful sculptures have long delighted international audiences and collectors. During their remarkable careers, the married artists worked and exhibited together, often under the joint name "Les Lalanne," although they seldom collaborated on objects.
Common to both artists was their abiding interest in nature. From their earliest exhibition in 1964, entitled Zoophites, a reference to objects with a mixture of animal and plant characteristics, the artists repeatedly drew inspiration from flora and fauna and morphed these natural forms into something strange and new. In her works, Claude Lalanne (1924–2019) transformed familiar plants and animals into lyrical and sometimes surreal creations while François-Xavier Lalanne (1927–2008) turned his fascination with the mysterious inner life of animals into abstracted and refined sculptural forms that often concealed a practical function. In the work of both Claude and François-Xavier Lalanne, artistic vision bends natural forms to new uses.
The Clark is the sole venue for this exhibition, which also marks the first museum presentation of the artists' work since the 2019 death of Claude Lalanne. Nature Transformed features an equal number of objects by each artist from across their long careers, revealing the power of their artistic imagination, their impressive command of technique, and their enduring visual appeal. The works include sculpture and furniture by both artists and a selection of Claude Lalanne's wildly inventive flatware and jewelry.
Nature Transformed, presented in the Clark's Michael Conforti Pavilion and in additional outdoor installations, is curated by Kathleen Morris, the Clark's Sylvia and Leonard Marx Director of Exhibitions and Curator of Decorative Arts. The exhibition is accompanied by a catalogue, published by the Clark and distributed by Yale University Press.
Nikolai Astrup: Visions of Norway, June 13–September 13, 2020
The Clark presents the first North American exhibition focused on the Norwegian painter Nikolai Astrup (1880–1928), who deftly wove tradition and innovation into his artistic production. Astrup is considered one of Norway's most important artists, yet he is largely unknown outside of his homeland. Nikolai Astrup: Visions of Norway features more than eighty-five works celebrating this brilliant painter, printmaker, and horticulturalist.
Astrup's oeuvre is notable for its intense, colorful palette, and the magical realism of his remarkable landscapes. Paintings and woodcuts from all periods of his career are presented in the exhibition, including multiple impressions of print compositions that reveal how Astrup modified the mood and meaning of these works through changes in color and the addition or deletion of motifs, often using multiple blocks to create his complex prints.
After training in Kristiania (Oslo) and Paris, Astrup returned to his childhood home and pursued his career in the remote region of western Norway overlooking Lake Jølster. Eventually, he settled on a property called Sandalstrand, situated across the lake from where he was raised. There he created a farmstead that served as a source of inspiration for his artistic purposes, sustained his family, and proved an early manifestation of ecological conservation.
The area's sublime landscape, distinctive atmosphere, and ethereal summer light captivated Astrup, while his childhood memories—marked by local traditions and Norwegian folklore—deeply shaped his perception of place. Astrup's work responded to, and helped shape, Norway's emerging national identity. He created a distinctive visual language that expands on the intentions and achievements of composer Edvard Grieg (1843–1907) and playwright Henrik Ibsen (1828–1906) in Norwegian music and literature, respectively.
Guest curated by independent scholar MaryAnne Stevens, former Director of Academic Affairs at the Royal Academy, London, Nikolai Astrup: Visions of Norway is presented in the Clark's special exhibition galleries and accompanied by a catalogue published by the Clark and distributed by Yale University Press. The exhibition travels to the KODE Art Museums, Bergen, Norway, from October 23, 2020–January 24, 2021 and to the Prins Eugens Waldemarsudde, Stockholm, from February 20–May 16, 2021.
Nikolai Astrup: Visions of Norway is organized by the Clark Art Institute, Williamstown, Massachusetts, in cooperation with KODE Art Museums and Composer Homes, Bergen, and the Savings Bank Foundation DNB. The exhibition has been generously supported by the Savings Bank Foundation DNB.
Ground/work, June 27, 2020 through Spring 2021
The Clark's first outdoor exhibition Ground/work consists of site-responsive installations by six contemporary artists presented in locations across the pastoral setting of its 140-acre campus. International artists Kelly Akashi, Nairy Baghramian, Jennie C. Jones, Eva LeWitt, Analia Saban, and Haegue Yang were invited to conceive of a response to the Clark's landscape and to be in active dialogue with the natural environment and setting.
Collapsing the traditional hierarchy of sculpture in the landscape where the object takes precedence over its site and context, Ground/work instead focuses on nature as subject, participant, and raw material. The projects demonstrate how the experience of space out-of-doors can be shifted and manipulated by forces both solid and ephemeral. The Ground/work artists probe issues of materiality, scale, form, and function, expressing themes and motifs core to their individual practices while exploring new conceptual and physical terrain.
Experienced throughout the four seasons, Ground/work highlights the passage of time, bringing to the fore ideas of chance, transience, and transformation articulated in three dimensions. Offering an intimacy of encounter, the artists each generate new sculptural gestures that engage features of the Clark's landscape to blur—or to bring into focus—boundaries between the familiar and the unknown.
Open to the public day and night, Ground/work provides unique access to artworks beyond the museum walls. Extending the connections between the ecosystem of Stone Hill, the Clark's architecture, its revered permanent collection, and contemporary artistic practice, this exhibition expands upon the Clark's commitment to create a place where visitors can experience remarkable works of art in a setting of profound natural beauty. The works, on view for a year, include new commissions by:
Kelly Akashi (b. 1983, Los Angeles) trained as an analog photographer and brings a documentarian's instincts and curiosity to a practice that embraces a range of diverse materials and age-old processes. Her work is included in the permanent collections of the Los Angeles Museum of Contemporary Art; the Hammer Museum, Los Angeles; and the Sifang Museum, Nanjing, China, among others. Recent solo exhibitions include presentations at ARCH Athens (2019); François Ghebaly Gallery, Los Angeles (2019 and 2016); and SculptureCenter, New York (2017). During fall 2019, Akashi is an artist in residence at the Headlands Center for the Arts, Sausalito, California, which will culminate in a solo exhibition. Akashi lives and works in Los Angeles. At the Clark, Akashi will install a large-scale lens that reframes the natural surroundings, capturing and revealing the lively and ever-changing environment.
Nairy Baghramian (b. 1971, Isfahan, Iran) grapples with issues of vulnerability and authority as she deconstructs and reassembles the human form, ever mindful of the forces of history, material, and context. Baghramian's work is held in the permanent collections of the Centre Pompidou, Paris; The Art Institute of Chicago; The Museum of Modern Art, New York; the Solomon R. Guggenheim Museum, New York; the S.M.A.K. Museum of Contemporary Art, Ghent, Belgium; the Stedelijk Museum, Amsterdam; Tate Modern, London; and the Walker Art Center, Minneapolis, among others. Baghramian's most recent solo presentations include projects at the Palacio de Cristal del Retiro, Madrid (2018); the Walker Art Center, (2017); and the S.M.A.K. Museum of Contemporary Art, (2016). In November 2019, Baghramian participates in PERFORMA 19 in New York, and in 2020 she will have solo exhibitions in Nimes, France, and at the Fondazione Furla, Milan. Baghramian lives and works in Berlin, Germany. For Ground/work, Baghramian will install a stone and bronze form that functions both as a portrait of two primary joints of the human body and as a site for their release and renewal.
Jennie C. Jones (b. 1968, Cincinnati) employs strategies of collage and assemblage in her ongoing project of translating sound into physical matter, often reframing history to include black voices. Her work is included in the permanent collections of The Museum of Modern Art; the Solomon R. Guggenheim Museum; and the Hirshhorn Museum and Sculpture Garden, Washington, D.C., among others. In 2020, Jones will have a solo exhibition at The Arts Club of Chicago. Other recent solo presentations include projects at The Philip Johnson Glass House, New Canaan, Connecticut (2018); CAM Houston (2015); the Hirshhorn Museum and Sculpture Garden (2013); The Kitchen, New York (2011); Yerba Buena Center for the Arts, San Francisco (2011); and Atlanta Contemporary Art Center (2009). Jones lives and works in Hudson, New York. At the Clark, Jones works outdoors for the first time. Responding to two Winslow Homer paintings in the permanent collection, Jones acknowledges their point of view and offers an alternative perspective in the form of two sonic replies: one analog, activated by the wind, the other a digital composition experienced within the architecture.
Eva LeWitt (b. 1985, Spoleto, Italy) harnesses forces of color, gravity, suspension, and volume with a sensitivity to space, an interest in repetition and variation, and a reconsideration of materials and their inherent properties. Her work is held in the permanent collections of the Kistefos Museum, Jevnaker, Norway, and M Woods, Beijing. LeWitt's recent solo exhibitions include presentations at The Aldrich Contemporary Art Museum, Ridgefield, Connecticut (2019); The Jewish Museum, New York (2018); and VI, VII Gallery, Oslo (2018). In 2020, LeWitt will install a site-specific commission at the Institute of Contemporary Art/Boston. LeWitt lives and works in New York. For Ground/work, LeWitt will create her first outdoor sculptural project: a multi-part installation of chromatic totems constructed of layers of resin and film that will reflect and refract the changing light and surrounding landscape throughout the four seasons.
Analia Saban (b. 1980, Buenos Aires) explores the intersections and overlap between traditional media and new technologies, disrupting conventional techniques of drawing, painting, weaving, and sculpture to probe the capacity of an object and the myriad meanings found within its form. Her work is in the collections of the Los Angeles County Museum of Art; the Centre Pompidou; The Israel Museum, Jerusalem; the Hessel Museum of Art at Bard College, Annandale-on-Hudson, New York; Fonds regional d'Art contemporain (FRAC) d'Auvergne, France; Fundación Proa, Buenos Aires; the Hammer Museum and the Museum of Contemporary Art, Los Angeles, among others. The Modern Art Museum of Fort Worth (2019) and the Blaffer Art Museum, Austin, Texas (2016) have both presented solo exhibitions of Saban's work. Saban lives and works in Los Angeles. At the Clark, Saban will take the existing fence at the base of Stone Hill, which serves as a dividing line between the Institute's lower campus and the landscape of the hill, and reimagine it as a drawing in space that functions as a primer in strategies of image making.
Haegue Yang (b. 1971, Seoul) explores themes of social and political histories in her work, extricating familiar objects and materials from their primary functions and environments and repurposing them in a new framework of abstraction. Yang's work is held in the collections of The Museum of Modern Art; Tate Modern; the Solomon R. Guggenheim Museum; M+, Hong Kong; National Museum of Modern and Contemporary Art, Seoul; and the Walker Art Center, among others. Recent solo exhibitions include projects at the South London Gallery (2019); Museum Ludwig, Cologne (2018); KINDL – Centre for Contemporary Art, Berlin (2018); Centre Pompidou (2016); and the Serralves Museum, Porto, Portugal (2016). A new commission by the artist opens this month in the Marron Atrium of the renovated Museum of Modern Art, New York. Yang has forthcoming solo shows at the Bass Museum of Art, Miami Beach; Tate St. Ives, England; and the Art Gallery of Ontario, Toronto. Yang lives and works between Berlin and Seoul. For Ground/work, Yang fragments and renders ambiguous a historical event that took place in her native Korea in April 2018, creating a group of hybrid sculptural forms that articulate—in both positive and negative space—the shape of bird species found in Korea's demilitarized zone.
Ground/work is guest curated by Molly Epstein and Abigail Ross Goodman. A catalogue, published by the Clark and distributed by Yale University Press, will be released in 2021.
Lin May Saeed: Arrival of the Animals, June 27–October 12, 2020
The Clark presents the first museum solo exhibition of artist Lin May Saeed. Throughout her career, Saeed (b. 1973, Würzburg, Germany) has focused on the lives of animals and the human-animal relationship. She is a sculptor of free-standing figures and reliefs who favors "poor" materials such as polystyrene to create works that are both exquisitely delicate and, given their chemical composition, likely to outlast human civilization. She also creates sculptures in distinctive formats such as back-lit paper silhouettes and welded steel gate-like forms. Her visual references range from Greco-Roman sculpture and German Expressionism to the graphic language of natural history tableaux.
Saeed's work dramatizes power dynamics and kinships both within and among species. Drawing on diverse theological traditions, zoological research, and her own chimerical imagination, she explores animal subjugation, liberation, and harmonious cohabitation with humans. Empathy, humor, and a lightness of touch combine with a radical reimagining of everyday life and a sense of how animality is intertwined with otherness, and indeed the animalization of humans.
The Clark's career-spanning exhibition, presented in the Lunder Center at Stone Hill, includes Saeed's works on and with paper, as well as her works in Styrofoam, steel, and bronze. The exhibition begins with prints and drawings from the Clark's collection—selected with the artist—that reconsider the (art) history of the human-animal relationship, and its possible alternatives. The exhibition's title, taken from a short story by Nobel laureate Elias Canetti, "Ankunft der Tiere," dramatizes the appearance of animals in humans' modern moral calculus and, simultaneously, their departure from everyday life in post-agrarian societies and a new era of mass extinction.
The exhibition is curated by Robert Wiesenberger, the Clark's associate curator of contemporary projects. A catalogue, published by the Clark and distributed by Yale University Press, accompanies the exhibition.