4000 Miles
Palm Beach Dramaworks in Southeast Florida
By:
Aaron Krause

-

Oct 21, 2022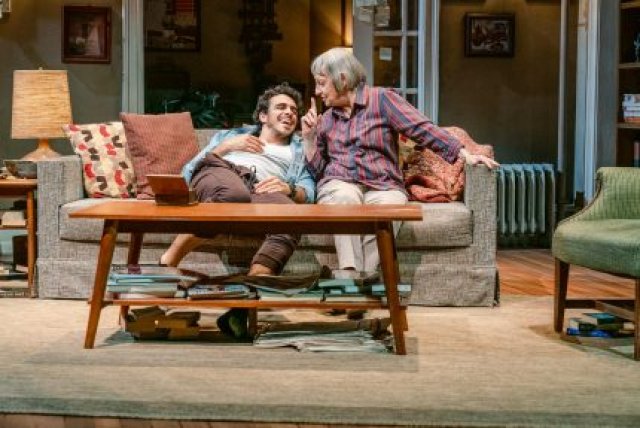 In the musical Big River: The Adventures of Huckleberry Finn, Huck and runaway slave, Jim, use distance as a metaphor to describe the vast differences between them. For instance, Jim sings to the lad, Huckleberry, "I see the same stars through my window that you see through yours. But we're worlds apart, worlds apart."
Perhaps the characters at the center of 4000 Miles also feel this way at the beginning of the play.
To be sure, the title refers to the physical distance that 21-year-old Leo Joseph-Connell travels on his cross-country bicycle trip. However, the title may also refer to a long emotional journey or process that the young man and his grandmother, 91-year-old Vera Joseph, undergo to understand each other better. Also, the road to greater maturity for Leo seems to wind through his grandmother's house.
4000 Miles is a warm, touching, honest, and relatable dramedy by Amy Herzog. In fact, the piece was a finalist for the 2013 Pulitzer Prize for Drama. Through Oct. 30, the multi-award winning and much-lauded play is receiving a strong production by the professional, non-profit regional theater company, Palm Beach Dramaworks (PBD) in West Palm Beach, to open its 2022-23 season. The venue is PBD's intimate Don & Ann Brown Theatre on Clematis Street.
Along with strong acting and behind-the-scenes work, the space's intimacy enhances the power of the seemingly real emotions that the performers convey onstage.
While a generation gap is obvious in 4000 Miles, the characters also appear to bond rather quickly. That might be because death has brought Leo and Vera together. Certainly, during sad times, families tend to become closer.
Before 4000 Miles begins, Leo was on a cross country bicycle trip from the west coast to the east coast with his close friend. Unfortunately, a tragic accident killed his friend along the way. Perhaps unable to cope alone, Leo makes a detour and seeks solace at his grandmother's rent-controlled Greenwich Village apartment. That is the sole setting of the play. It takes place in "September of a recent year – maybe 2007," according to the script.
Throughout the play, the young man and his grandmother do not always agree with each other, and sometimes argue. Still, they share warm moments between them and bond over things they have in common. And at the end of the play, the more mature Leo does something that he might not have done earlier in his life.
Herzog's honest, naturalistic, and compassionate writing almost instantly endears us to the characters and draws us into her play's world. Undoubtedly, Herzog has vividly created a recognizable world that is also familiar to her. Namely, Herzog's grandmother, Leepee, is the basis for Vera Joseph. In addition, Leo is somewhat based on Herzog's cousin.
If 4000 Miles has a weakness, it is that the play can be predictable at times. Also, Herzog hardly ever mentions Leo and Vera's relationship in the past. Such information could help us compare their current relationship with how the two got along in the past.
While a major theme in 4000 Miles is death and how we react to it, Herzog includes enough humor to make her play not just watchable, but enjoyable. Indeed, 4000 Miles nourishes the soul and the mind, representing PBD's tag line: "Theater to Think About".
One reason why 4000 Miles feeds the soul is that it presents to us recognizable characters. Indeed, Vera Joseph may remind you of your grandmother. Therefore, we may laugh in recognition at some of the play's dialogue. For example, Vera says: "You know, there are a lot of bad things about getting old, but the worst one is not being able to find my words. I just hate not being able to find my words, I feel like an idiot half the time."
Perhaps such words make you feel as though you are not alone, something that live theater is great at doing.
In addition, if you are a senior citizen and not exactly technologically savvy, you may feel less alone after Vera says, "I think I should learn how to use the computer."
Leo's use of technology and Vera's reliance on a phonebook and a rotary phone in circa 2007 also help to illustrate the generation gap.
Herzog points to differences between the pair from the beginning. Specifically, during the play's opening moments, it becomes clear that Vera is having a hard time moving on even years after her husband's death. In particular, Vera has left his name on the buzzer to her apartment. By contrast, to her grandson, changing the name does not seem like too big of a deal.
Older folks may have a harder time changing their ways. However, that is not necessarily the case with younger people. And, by the end of 4000 Miles, Leo has clearly matured. He and his grandmother have navigated the bumpy terrain of grief, and perhaps that has helped him on the road to maturity and responsibility.
While 4000 Miles could easily work as a two-character play, the other people populating the piece are not merely extraneous. For instance, Leo's girlfriend, Bec, rebukes him for not calling. In addition, she announces that she wishes to break up with Leo. Perhaps her actions help Leo to change for the better.
A fourth character, Amanda, is a girl that Leo has picked up from a bar and taken her into his grandma's home for sex. It is a sign of Leo's impulsivity. Humorously, and perhaps predictably, grandma almost catches them in the act.
"Oh my God! That scared the shit out of me!" Amanda exclaims, referring to Vera's sudden and unexpected appearance. "She looked like a ghost! She looked like a little white haired old lady ghost!"
While such humorous moments lighten up the play, there are also serious scenes. And to his credit, the production's resident director, J. Barry Lewis, gives equal weight to both. Touching moments truly land under Lewis's careful and detailed direction. The action unfolds seamlessly under Lewis's guidance, and the pacing seems just right.
During one of the serious scenes, Leo tells his grandmother exactly what happened to his friend while they were on a cross country trip. During this scene, the stage is practically dark except for some shadowy lighting. The darkness is appropriate, considering the gravity of what happened. Meanwhile, the minimal lighting helps to create an atmosphere of memory. Kirk Bookman designed the production's largely realistic lighting.
Lewis coaxes impressively naturalistic performances from a talented cast of newcomers to PBD. Mostly, they are at the beginning of their careers. The one exception is Patricia Conolly, an Australian actress whose career spans six decades. She has performed on stages from her native Australia to London's West End, Broadway, and across the U.S. and Canada.
Conolly has performed with actors such as Dame Maggie Smith, Lauren Becall, and Sir Laurence Olivier. She has taken on roles that include many leading Shakespeare characters. Now, add Vera Joseph to Conolly's lengthy and impressive resume.
The veteran performer imbues Vera with an endearing frailty. Also, she injects the character with fortitude and a zest for life that is refreshing to see. Conolly also makes it clear that, although Vera is 91, she has not lost her zest for living. In fact, she even conveys a hint of playfulness. For instance, during one scene, Vera sorts laundry. When she picks up a pair of suggestive underwear, her face lights up with a hint of playful naughtiness.
Conolly's Vera is also convincingly determined and frustrated. This is particularly true when the character cannot find the words she is looking for. Also, the performer manages to be warm and charming during casual conversation between Vera and Leo.
Speaking of being casual, Gabriell Salgado lends Leo a laid back, loose, rebellious demeanor. His Leo is also impulsive, direct, and, at times, forceful and rude to his grandmother. However, you get the sense that Salgado's Leo is not ill-mannered on purpose toward his grandmother. Rather, it appears as though he forgets to whom he is speaking. To his credit, Salgado makes us see the change in Leo at the end. Specifically, he is a more refined, respectful, and responsible young man.
In a supporting role, Isabella Chang is convincingly bubbly and playful as Amanda, a girl whom Leo picks up from a bar for sex. And Stephanie Vazquez is believably blunt as Leo's girlfriend, Bec, who has just about had it with him.
The actors perform on scenic designer Bert Scott's realistic, detailed set, and wear costume designer Brian O'Keefe's character-appropriate clothing.
Featuring colors such as brown and grey, Vera's apartment looks cozy as well as busy and organized, with neatly stacked books on shelves. Post-it notes also dot the apartment. This makes sense; someone Vera's age may need visual and easily visible reminders about appointments and events.
Consider this a friendly reminder to see PBD's triumphant production of 4000 Miles. Your soul will thank you later.
Palm Beach Dramaworks' production of 4000 Miles runs through Oct. 30 in the company's intimate Don & Ann Brown Theatre, 201 Clematis St. in West Palm Beach. Evening performances are at 7:30 p.m. Wednesday and Thursday, as well as 8 p.m. Friday and Saturday, and select Sundays at 7:30 p.m. Matinee performance are at 2 p.m. on Wednesday, Saturday, and Sunday. Tickets are $84 with discounts available. Call (561) 514-4042 or go to www.palmbeachdramaworks.org