Joshua Bell and Larisa Martinez at the 92nd Street Y
New York Hosts the Violinist and Singer Duo
By:
Susan Hall

-

Oct 21, 2022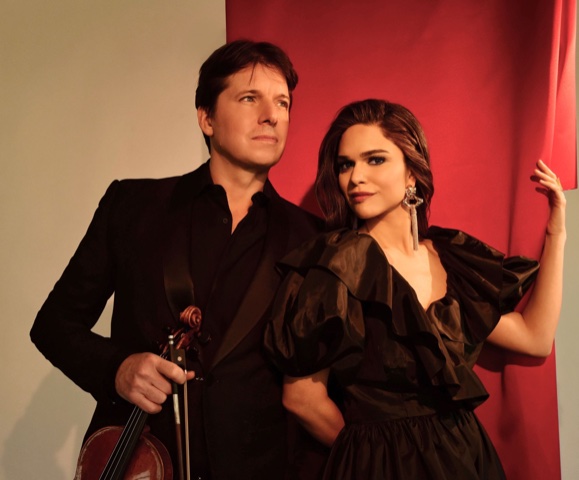 Joshua Bell and his wife, the soprano Larisa Martinez, performed together at the 92nd Street Y in New York. Paul Dugan accompanied on the piano with his own special touch. Streaming is available free HERE.
This musical form is not common for composers to undertake. The Bells developed the program at home during the Covid break. They were determined to have fun and provide an entertaining evening for the audience. They have.
They say: "Although finding repertoire written specifically for violin and voice can be a challenge, we discovered and fell in love with these gems..like…Mendelssohn's 'Ah, ritorna, età dell'oro,' from Infelice. It was wonderful to explore a work by one of our favorite composers that was originally written for this unique instrumentation. Another happy discovery was Hérold's 'Jours de mon enfance' from the opera Le pré aux clercs. This piece features exciting dialogue moments between the voice and the violin, making it especially fun for us to perform this piece together."
Martinez is especially proud to showcase the song 'Mi Rancho' by Puerto Rican composer Narciso Figueroa, and lyrics by Luis Lloréns Torres, as "a little gem" from her homeland.
Both instruments are intimate. Bell seemed prompted to make the voice of his instrument passionate and yearning. Martinez likes rhythms and the clicks and bites of words.
Bell at his amusing best ripped through Henryk Wienawski's Scherzo-Tarantelle, Op. 16, trying like an Olympic athlete to at least equal his record perforane at age 12. It is a sparkling, glittering miniature masterpiece. The work also ties Bell to a long tradition of violin super stars, tracing back to his 'great-grandfather.' Bell is a charming man.
Together for Morgen by Richard Strauss, intense feelings were lofted. This was the composer's wedding present to his wife, a soprano. The music is simple and still. This arrangement captured the texture of the voice of the singer and the voice of the violin in exquisite tones. All around us, the world stops and we are caught in a perfect moment.
Brahams wrote for Joseph Joachim when the violinist was in divorce proceedings with his wife, Amallie, a singer. Brahms hoped to repair the relationship. Joseph was not pleased. This may not be a work to choose for the Bells.
Yet composers Gustav Holst and Ralph Vaughn Williams both wrote for the violin and voice. Let's hope Bell and Martinez perform their works together soon.
MENDELSSOHN: "Ah, ritorna, età dell'oro" from Infelice
BLOCH: "Nigun" from Baal Shem
MASSENET: "Je suis encore tout étourdie" from Manon
HÉROLD: "Jours de mon enfance" from Le pré aux clercs
CHOPIN: Nocturne in E-flat Major, Op. 9, No. 2 (arr. Bell/Wallace)
DELIBES: "Les Filles des Cadi
Richard Strauss, "Morgen!"
WIENAWSKI: Scherzo-Tarantelle, Op. 16
GIMENEZ: "Zapateado"
NARCISO FIGUEROA: "Mi Rancho"
BERNSTEIN: West Side Story Suite (arr. Brohn/Czarnecki)
Joshua Bell, violin
Larisa Martínez, soprano
Peter Dugan, piano